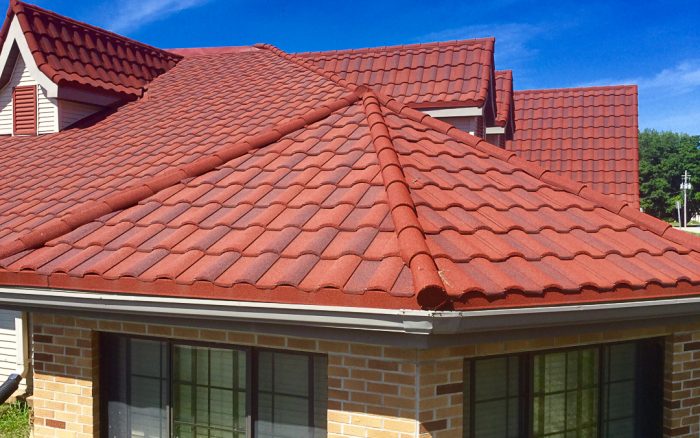 Metal roofing has a long history in the U.S. but until 20 years ago it was a bit player in residential construction with just a 3.6% share of the reroofing market. That number has roughly quadrupled since then, according to an industry trade group, as metal claims an increasingly larger slice of the pie.
What happened? Product offerings are more extensive than the simple corrugated panels that have long been used on barns and sheds. Metal roofing is available in a range of styles — from several kinds of standing seam to a variety of stamped metal shingles that look like slate, clay tile, and even asphalt. Paint and stone coatings are more sophisticated and more durable, giving roofing a very long service life while appealing to homeowners with a variety of aesthetic preferences.
The industry also is working harder to win over consumers who once thought that metal roofing was too hot, too heavy, noisy, or prone to rust, says Dick Bus, president of ATAS International and head of the Metal Roofing Alliance. "Those myths are gone, and people want to reroof with something that has some permanence to it," he said. "Metal roofing that's properly installed can last upwards of 50 to 60 years or more."
Metal roofing may never catch up to asphalt in the residential arena simply because of cost. Light gauge, through-fastened panels might be competitive with asphalt on a simple roof shape, but the industry acknowledges that a standing seam or metal shingle roof can be two or three times the initial cost of asphalt. Still, manufacturers think they can continue expanding on the strength of other attributes: long-term performance, recyclability, high fire resistance, and low maintenance.
Start with the base metal
Steel and aluminum are the two most common and least expensive metals used for residential…
Weekly Newsletter
Get building science and energy efficiency advice, plus special offers, in your inbox.
This article is only available to GBA Prime Members
Sign up for a free trial and get instant access to this article as well as GBA's complete library of premium articles and construction details.
Start Free Trial
Already a member? Log in