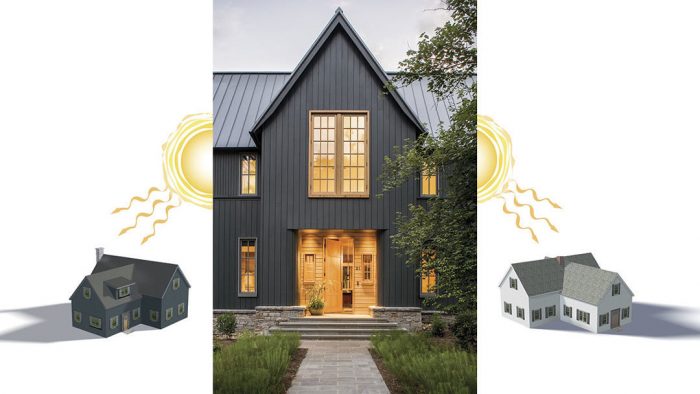 Design trends for siding seem to be steering away from muted, neutral colors into either pure white or rich, saturated and dark tones—including pure black. Bold cladding choices can make the architecture appear more dramatic, but there are some things to be aware of if you're considering dark (or black) siding.
Dark colors gather more solar energy than lighter colors. So on products that are prone to dimensional changes due to temperature—described as the coefficient of thermal expansion (COTE)—or that have low melting points, color options may be limited. Because darker colors heat up the substrate more, they will be more likely to increase movement. Another issue is fading. Most exterior finishes "chalk" to some degree, which protects the underlying product, but excessive chalking is not attractive. In other words, when it comes to dark colors, your choice of cladding matters. Let's take this material by material.
Vinyl
If you want a true black look, vinyl is not the siding option for you. There are some shades of vinyl that are fairly dark, but you won't find a true black. I asked one manufacturer why that is, and was told it's due to lack of market demand. Several manufacturers warranty their vinyl siding offerings against "excessive color fade," but don't always quantify what constitutes "excessive." Painting existing vinyl siding (or painting over cellular PVC boards such as Azek or Kleer) is another matter—it's possible, but in those cases, paints usually have to be kept to a light-reflecting value (LRV) of 55 or greater (see drawing below).
Generally, it's important to use a paint color no darker than the original color of the vinyl itself in order to avoid problems with expansion due to heat absorption, but Sherwin Williams has a line…
Weekly Newsletter
Get building science and energy efficiency advice, plus special offers, in your inbox.
This article is only available to GBA Prime Members
Sign up for a free trial and get instant access to this article as well as GBA's complete library of premium articles and construction details.
Start Free Trial
Already a member? Log in