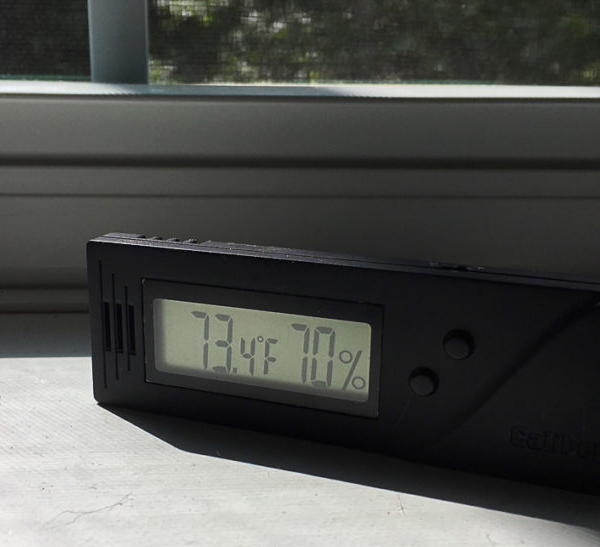 Moses Draper and his family are spending their first summer in their new house in southern Vermont. The 1,200-square-foot house is well insulated and very tight, so the summer should be a pleasant experience for the Drapers. Except that it's not turning out that way.
"Most of the summer, we've been experiencing high humidity inside the house," Draper writes in a Q&A post. "Our small, inexpensive thermostat/moisture meter, is usually at 99%. We have started to notice a couple isolated items with mold on them and I'm wondering what to do about it."
The house, constructed on a concrete slab, has double-stud walls 12 inches thick that are insulated with cellulose. The vented roof has 18 inches of insulation, and a blower door test measured airtightness at 0.39 ach50. Draper has installed two Lunos vents in the walls, which operate on high except when windows are open at night. Draper says that he is "religious" about running his range hood and bathroom exhaust fans. In other words, much about the house seems right.
Yet mold is showing up in what Draper describes as "isolated pockets" — shoes in the entrance closet, wooden toys, on a refrigerator magnet. It's possible the family imported some mold from its previous dwelling (a yurt).
"Do we need to increase our whole house ventilation, or is this just endemic to summers in a humid climate?" Draper asks. "Is something like a dehumidifier the best response?"
That's the question for this Q&A Spotlight.
Get a new hygrometer
It's very unlikely that either the indoor relative humidity or the moisture content of any wood in the house is actually 99%, says GBA editor Martin Holladay.
During the summer, indoor relative humidity in a house without air conditioning could easily be 60%. If…
Weekly Newsletter
Get building science and energy efficiency advice, plus special offers, in your inbox.
This article is only available to GBA Prime Members
Sign up for a free trial and get instant access to this article as well as GBA's complete library of premium articles and construction details.
Start Free Trial
Already a member? Log in