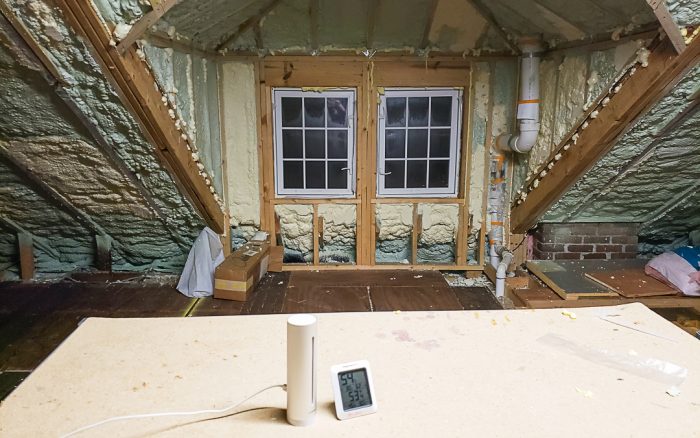 Jason Advani thought he was on the right track when he insulated the bottom of the roof deck in his walk-up attic with closed-cell spray foam. As planned, the R-40 worth of insulation has drastically reduced his heating bill, but now he faces another, unexpected problem.
"Since then, the space has been plagued with very high humidity," he writes in a Q&A post. "It's at 60% to 70%, maybe higher. I'm forced to run a dehumidifier up there. I'm spending more money on running the dehumidifier year-round than I previously was to heat the house!"
With outside temperatures ranging between -5°F and 95°F, attic temperatures range between 48°F and 92°F. Only about 10% of the hip roof is shaded, so it gets plenty of direct sunlight.
Advani hopes to finish the attic and install a minisplit, although he's not sure that will lower the humidity.
Most of the house is heated and cooled with a conventional gas-fired furnace and air conditioning system. But there is no effective way to circulate the air between the attic and the remainder of the house. Advani says he runs a dehumidifier in the basement during the summer and a whole-house humidifier in the winter.
"What do I do?" he asks. "Bath exhausts do go outside … all that typical stuff has been considered / examined."
That's where we start this Q&A Spotlight.
Sealing air leaks would help
Charlie Sullivan suggests that finding and sealing air leaks would improve conditions in the attic.
Air leaks in the lower part of the house — in the basement, for example — allow outside air with low humidity to get into the house. Advani is adding moisture to the air with a humidifier, and that hot air rises, finding ways of getting into…
Weekly Newsletter
Get building science and energy efficiency advice, plus special offers, in your inbox.
This article is only available to GBA Prime Members
Sign up for a free trial and get instant access to this article as well as GBA's complete library of premium articles and construction details.
Start Free Trial
Already a member? Log in