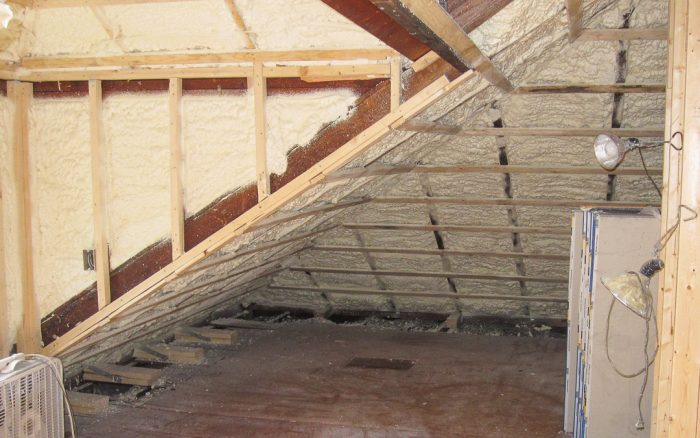 A GBA reader named 88Clayton is insulating the attic in his house with spray foam and has run into a problem: the level of insulation recommended by contractors is at odds with what the building inspector wants.
"I'm on the southern edge of [Climate Zone] 4," 88Clayton writes in a  Q&A post. "My spray foam contractor recommended R-20 of open cell. That's what is currently sprayed on my roof deck. The code inspector came by today and is insisting on R-38, as if it [were] a conventional vented attic with loose blown fibers."
With an air leakage rate of 1.7 ach50, the house is tight when compared with typical construction. Even so, the R-20 recommendation 88Clayton got from all four foam contractors is well below code required insulation levels for his climate zone (R-49 in the International Residential Code) and less than what he has in the walls of his house—R-25.
"It's a bit strange to have walls that are better insulated than [the] roof," he says. "Where is the realistic point of diminishing returns? I know the encapsulation itself has benefits that go beyond just raw R value, even though the inspector doesn't quite get this, but perhaps I do need more foam thickness before the diminishing returns kick in."
That's where we begin this Q&A Spotlight.
It's closed-cell foam you really want
When foam is sprayed directly on the underside of the roof deck, it should be closed-cell, not open-cell, writes Zephyr7. "Open-cell has moisture issues here!" he writes.
Open-cell foam is an effective air barrier, but it's vapor permeable. Closed-cell foam is both an air barrier and a vapor barrier, so moisture is not able to migrate through the foam and collect in the roof sheathing.
"I've…
Weekly Newsletter
Get building science and energy efficiency advice, plus special offers, in your inbox.
This article is only available to GBA Prime Members
Sign up for a free trial and get instant access to this article as well as GBA's complete library of premium articles and construction details.
Start Free Trial
Already a member? Log in