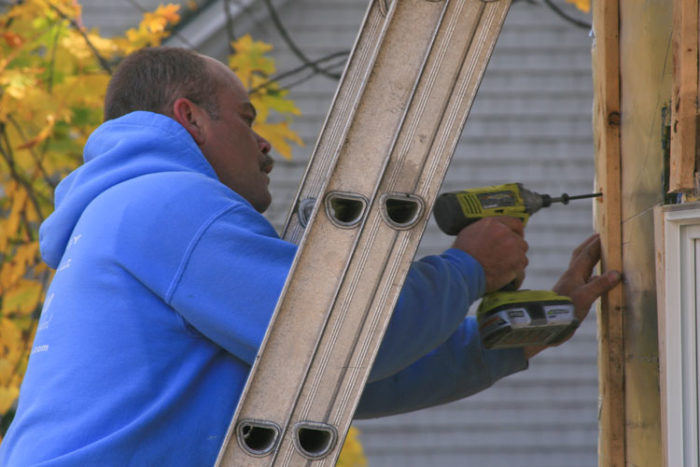 UPDATED March 1, 2012
If you're building a house with foam sheathing, and your siding is installed over vertical rainscreen strapping installed on top of the foam, how should you attach the strapping? Most builders screw the strapping through the foam into the studs; so far, so good. But what length screws should you use? And how closely should you space the screws?
Answers to these questions can be found in a new technical bulletin published by FastenMaster, the company that manufactures Headlok screws. The bulletin, "Attaching Exterior Wall Covering Assemblies with Foam Sheathing to Wood Wall Framing," is available from FastenMaster.
If you follow FastenMaster's prescriptive recommendations, your furring strips will adequately support the weight of the siding and will secure the furring strips to the wall in a way that resists wind and seismic forces.
First, the basics:
You have to use 1x4s, since 1x3s could split. (If you want thicker lumber to allow for more secure siding attachment, you might consider using 2x4s.)
Fasteners used to secure furring strips must penetrate studs by at least 1½ inch.
FastenMaster provides prescriptive advice for walls with foam up to 4 inches thick; if your wall has thicker foam, you'll probably have to consult an engineer.
FastenMaster's recommendations work for Type II ESP, Type X XPS, Type 1 polyiso, or for any foam with a density greater than one of these listed foams.
I have prepared two tables that incorporate FastenMaster's recommendations. (My tables are more logical and easier to read than the table in the FastenMaster document, shown as Illustration 2, below.)
The first table below is for houses with studs spaced 16 in. on center; the second is for houses with studs spaced 24 in. on center.
Weekly Newsletter
Get building science and energy efficiency advice, plus special offers, in your inbox.
This article is only available to GBA Prime Members
Sign up for a free trial and get instant access to this article as well as GBA's complete library of premium articles and construction details.
Start Free Trial
Already a member? Log in