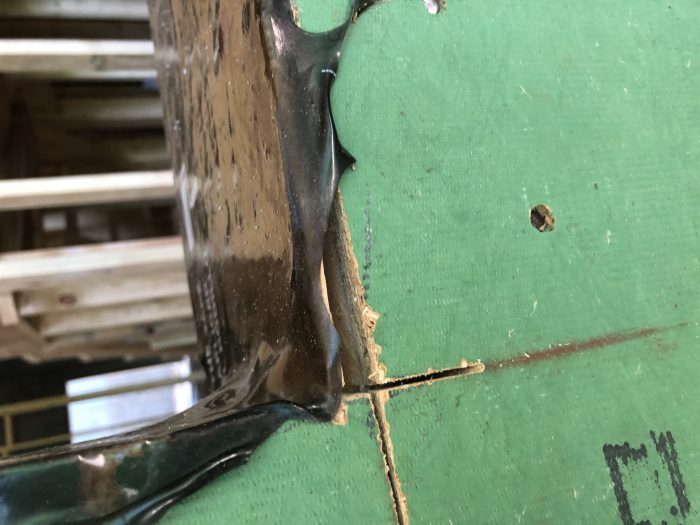 The Zip System R-sheathing that 88Clayton has chosen for his house is structural OSB sheathing with a water- and air-resistive coating applied to one side and a continuous layer of insulation applied to the other. When installed with Zip Tape, the sheathing provides the WRB for the walls and becomes an integral part of the house's air barrier and thermal envelope.
But when most of the nails attaching the sheathing to the house have been overdriven, some disappearing into the layer of foam insulation bonded to the back of the sheathing, Clayton wonders just how effective any of this is going to be.
"The framers building my house severely over-drove 90% of my sheathing nails on the Zip-R," Clayton says in a Q&A post. "It's into the foam in many cases. Thousands of nails. Not to mention, their tape job is horrendous, with improper lapping."
What to do next? Clayton isn't sure whether it's feasible to tape over every single one of the nail holes. Should he cover the ZIP sheathing with a layer of housewrap? Or, is there some other way of fixing this mess?
That's where we start this Q&A Spotlight.
Consider a liquid-applied flashing
Spenceday suggests that Clayton consider using Liquid Flash, a liquid-applied alternative to ZIP Tape made by Huber, the same company that manufactures Zip sheathing.
"It may sound daunting," he says, "but Liquid Flash may be an option here. It would be faster than taping to dab each hole with Liquid Flash and a putty knife. Same for fixing problematic tape joints or fish mouthing."
Like Malcolm Taylor and other GBA readers, Spenceday raises another issue: if the nails are that badly overdriven, has the shear strength of the sheathing been compromised? What are the structural…
Weekly Newsletter
Get building science and energy efficiency advice, plus special offers, in your inbox.
This article is only available to GBA Prime Members
Sign up for a free trial and get instant access to this article as well as GBA's complete library of premium articles and construction details.
Start Free Trial
Already a member? Log in