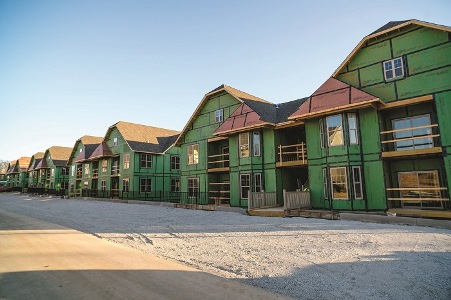 Huber Engineered Woods says it has settled a patent infringement lawsuit with a competitor, ending sales of an integrated weather-resistant sheathing panel similar to Huber's popular Zip System product.
In a press release, Huber said the agreement, which was filed in a federal district court in Texas, brings to a close the suit it brought late last year against RoyOMartin, a Louisiana-based wood products manufacturer. As part of the settlement, RoyOMartin agreed to stop selling Eclipse Weather Resistant Barrier products, Huber said.
Leigh Ann Purvis, corporate communications manager for RoyOMartin, confirmed in a telephone call that the two sides had reached a negotiated settlement but declined further comment.
Huber makes Zip System sheathing in versions for roof and sidewall applications, including one that is bonded to a layer of rigid-foam insulation. The coated OSB sheathing and the companion tape that seals seams between panels combines a water-resistive barrier and structural sheathing in one product. The green (wall) and orange (roof) panels have become a common site on construction sites.
RoyOMartin is a wood-products company based in Alexandria, Louisiana, that was founded in 1923. According to its website, the company is one of several wholly owned subsidiaries of an investment company privately held by members of the Martin family.
RoyOMartin sells a variety of products, including OSB radiant barrier sheathing for wind-prone areas, floor underlayment, industrial-grade plywood, and pine plywood siding.
It's not clear when the company began selling Eclipse Weather Resistant Barrier, or where it has been distributed. It was described online as a "superior house wrap tape-and-panel solution, integrating a new weather-resistant barrier with the energy efficiency of a reflective insulation and a structural panel."
Eclipse is no longer listed in the company's online product directory.
In a prepared statement, Huber President Brian Carlson said, "We are pleased to resolve the issue with RoyOMartin, and we will continue to defend and protect our brands and intellectual property portfolio as evidenced by our previously announced patent infringement lawsuit against Louisiana-Pacific Corporation."
That lawsuit, filed earlier this year, alleges that LP WeatherLogic Air & Water Barrier products infringe on at least eight of Huber's Zip System patents for sheathing and tape. Louisiana-Pacific's website says the panels are bonded to a water-resistive overlay, "eliminating the need for a secondary wrap." It comes with acrylic tape.
The case was filed in a federal district court in Delaware and is still pending.
Weekly Newsletter
Get building science and energy efficiency advice, plus special offers, in your inbox.