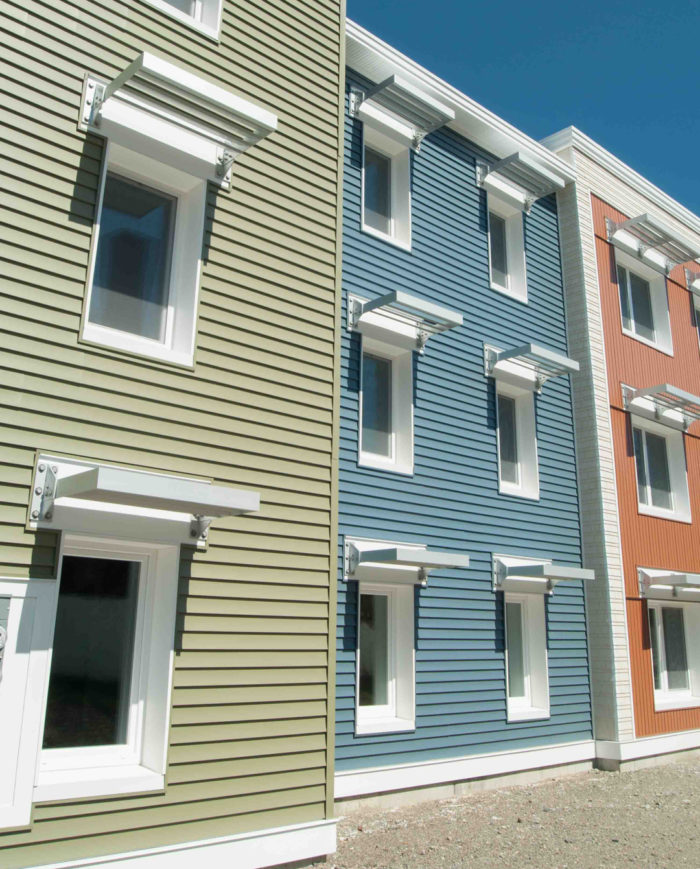 Back in 2016, a guest blog post for GBA posed the question, "can low-income housing be energy-efficient and affordable?" Nearly a decade on, some may think this query still has relevance; others consider it antiquated.
One of the great ironies of the green building market is that energy-saving measures often benefit those homeowners who can most afford them but least need them, at least as far as their balance sheets are concerned. Environmental imperatives aside, things like electric heat pumps, high-performance windows, and low-carbon insulation are part and parcel of an industrial complex that is keen on making a profit. We shouldn't fault those in the supply chain for wanting to make a buck, but in the long run, we cannot afford to wait for emerging markets to achieve some semblance of cost parity with the status quo. The environmental imperative must take precedence and be executed at exponential scales, regardless of market conditions.
This brings us back to our old(ish) friend, the Inflation Reduction Act, which will—and should—keep its steady finger on the scales of justice for as long as it's able. In that vein, last month, the U.S. Department of Housing and Urban Development (HUD) announced that the agency, starting later this year and through 2024, will be awarding $103.4 million in grants and new loans for energy efficiency and climate resiliency upgrades to more than 1500 low-income households.
These grants and loans are being funded through HUD's Green and Resilient Retrofit Program (GRRP), which was established by the IRA with $837.5 million in grant and loan subsidy funding. (HUD's loan authority stretches up to $4 billion.) To date, the GRRP has awarded more than $121 million of that funding via two of its three grant categories, those being "Elements" and "Comprehensive." The former applies to owners with proven efficiency and resiliency upgrades that are already underway; the latter, as its name suggests, is for properties that are most in need of upgrades regardless of status. "The Comprehensive program is our largest cohort … it's designed to meet properties where they are," says Ethan Handelman, HUD's deputy assistant secretary for multifamily. "We have a lot of need. And we have contractors who are ready to help guide [owners] through the due diligence and scoping of work. So, they can figure out what improvements to make and where to spend the money most effectively."
On the Leading Edge
This new round of funding represents the initial rollout of GRRP's "Leading Edge" category, which is reserved for owners with expressed plans for energy- and/or climate-related retrofits with a pathway to achieve certifications, like Phius's CORE REVIVE and LEED v.4 Gold or Platinum.
To qualify for a Leading Edge grant, the property must be receiving rental assistance from HUD. Beyond that, Handelman highlights the category's "low barrier to entry," provided owners can demonstrate in their application a clear plan of action and an understanding of what's needed to get their property up to snuff. "It's for properties that have a vision to meet a net-zero outcome. It's designed for applicants who have that vision and the team assembled … it is a particularly light touch approach in terms of program oversight. This [program] is not for everyone, it's for folks on the leading edge, hence the name. Terrible name, great program."
When the question is posed to Handelman whether low-income housing could in fact be affordable and efficient, he doesn't mince words. "Those things haven't been mutually exclusive for a long time. The GRRP is part of how we demonstrate that," he says. A stipulation for any property that is awarded subsidy funding through the GRRP is that it must perform benchmarking using EPA's ENERGY STAR Portfolio Manager, and allow HUD access to those performance and consumption metrics once the retrofit is completed, and track over time relative to past performance and peer properties. This extra step, in effect, provides empirical evidence that the efficiency and resiliency grants are working as designed.
"At HUD, we have a special ability to do what I think of as environmental justice work," says Julia Gordon, the agency's assistant secretary for housing and federal housing commissioner. "We have very low-income renters, and we know them in their buildings really, really well. We know how to reach them and how to work with them; we're able to deploy this money into those buildings and those communities pretty seamlessly. The fact is, we were given this money to do the thing we know how to do at the buildings where we know how to do it."
Gordon concedes that when it comes to affordable-meets-efficient conundrum, there are some clear barriers. "Outside the GRRP context, there are instances where the capital expenses of a retrofit can be difficult to manage, like on the single-family side," she says.
Building in equity
If you plot out two lines on a graph chart, representing "affordability" (relative to area median income) and "efficiency" (relative to standard building loads and performance), it will take time for those lines to eventually intersect. And therein lies the rub. Time is a luxury many of us can ill afford.
In-vogue efficiency upgrades, from triple-pane windows to heat pumps, are marketed and sold as long-term investments. Even once tax credits and rebates are factored in, most consumers must still contend with the upfront costs, and for many that is a bridge too far. Efficiency and resiliency upgrades help homeowners save on operating expenses, both in the near and long term. But the "investment" portion (i.e., upfront costs) is the barrier between "affordability" and "efficiency."
"The fact that you will save money on your electricity bill going forward doesn't necessarily help you afford those solar panels up front," Gordon says. It's helpful to have tax credit programs and other types of assistance to make sure that can happen. In the instance of what we're doing here, we are able to bring this GRRP money to bear, through loans and grants, in a way that that is very understandable to building owners and operators who are already used to working with HUD."
If GRRP's two previous rounds of funding are any indicators, eventual efficiency upgrades and resiliency interventions made in the Leading Edge category will run the gamut. "We're anticipating a very diverse mix of responses, from every state and territory. Every property has different needs," Handelman says. "We deliberately designed the program to work with specifics and not be a one-size-fits-all."
Fortunately, the Green and Resilient Retrofit Program doesn't feel like some pet project within HUD's broader mission, but rather at the vanguard of what the agency is becoming. "Part of the job of providing people with the kind of housing that everybody should have is being mindful of energy efficiency and climate resilience. That's not just a frill anymore," Gordon says. "This is a core issue that everybody who's either building or rehabbing a building needs to think about."
________________________________________________________________________
Justin R. Wolf is a Maine-based writer who covers green building trends and energy policy.
Weekly Newsletter
Get building science and energy efficiency advice, plus special offers, in your inbox.