Pat Andersen and her husband have been diligent about energy upgrades and maintenance on their 33-year-old Chicago home. They've sealed air leaks in the attic floor, replaced leaky windows, and checked the airtightness of the house with a blower-door test.
But one problem remains: condensation in the form or water droplets or frost on some ceilings on the second floor. Andersen would love to find a solution.
"I have a masonry/frame two-story house that's 33 years old," Andersen writes in a Q&A post at Green Building Advisor. I have R-25 fiberglass insulation in the attic, R-13 in the walls. I had my upper story exterior cedar siding replaced in 2011 with James Hardie board. The house was wrapped with Tyvek before installing the cement board."
Ever since the work was done, Andersen says, there was been condensation on ceilings in the area of soffit vents. Most problem areas show frost during the winter, but in one case there are water droplets forming on the ceiling.
"I was keeping my thermostat around 56-58 degrees during the winter in this upstairs portion of the house and the lower level at 64-66 degrees in the winter," Andersen says. "Now I'm going to keep the upstairs at 62 all the time, in hopes that this will correct the problem of the condensation. I have an automatic humidifier on my gas furnace that I keep at a bare minimal setting."
A blower-door test measures leaks of 1,710 cubic feet per minute at a pressure difference of 50 pascals, "pretty tight" in Andersen's view. Andersen has been given conflicting advice on whether to run a fan and humidifier, and she's told she needs an energy-recovery ventilator — an unwelcome expense.
"I'm confused. but mostly I want the condensation to go away," Andersen says. "Please, do you have any advice I can take away and live without my ceilings being ruined or take a chance of mold developing in the attic?"
Those are the clues for this Q&A Spotlight. What's the answer?
Add more insulation
GBA senior editor Martin Holladay suggests that Andersen add more insulation in the attic. The R-25 fiberglass batts provide roughly half the thermal insulation recommended in current codes.
"Someone needs to go up to your attic and improve the insulation thickness (R-value) of the ceiling near your soffits," Holladay writes. "The perimeter of your attic, where the rafters approach the top plates of your walls, has thin insulation. This is common.
"Ideally, your attic would have a full thickness of insulation (R-49) extending out to cover the top plates of your walls," he continues. "In some houses, this is impossible, because the builders forgot to specify raised heel trusses, and there is insufficient room between the top plates of the walls and the underside of the roof sheathing to accommodate the needed insulation."
In situations like this, a common solution is to use a two-component spray foam kit. They're not cheap, but the closed-cell spray foam provides much more thermal insulation per inch than does cellulose or fiberglass, making up for a lack of room in the area above wall plates with a higher R-value.
"In most cases, you'll want to install wind-washing dams and ventilation baffles before this work is performed," Holladay says. "While you're at it, disable the humidifier. The humidifier is contributing to your problem. Unplug it, or turn off the valve that supplies water to the humidifier, or hit it with a baseball bat."
Dana Dorsett also thinks the problem can be traced to missing insulation, or possibly a path for outdoor air from the soffit vents that is somehow getting underneath the attic insulation. But in any event, humidification should not be necessary, especially with the airtightness test results that Andersen has in hand.
"Active humidifidification would almost never be necessary in a house that tested at 1710 cfm50," Dorsett says. "A house that tight can usually be kept at a comfortable and healthy 30-35% relative humidity at 70°F in winter simply by controlling the ventilation rate. Unless there are specific health problems that require higher relative humidity, hold the line at 35% RH, no higher during the coldest 8-10 weeks of winter. If it creeps up above that point, ventilate. A few $10 Accurite monitors distributed to a few place in the house make it pretty easy to tell if the humidity is creeping up."
Can costs be recouped?
Andersen expects to live in the house for another 10 years, and would like to leave it in good condition for future owners. But carrying out more air sealing work and installing an ERV doesn't look like the best use of money at this stage.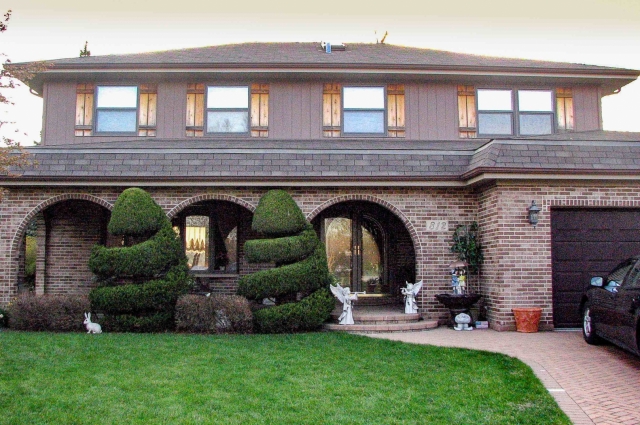 "I won't recoup that cost and the house doesn't have cold rooms or uncomfortable living conditions, in my opinion," Andersen writes. "If I was building again I would be all in for a perfectly tight air quality home, but at some point you have to ask yourself what is feasible and what is affordable when dealing with homes built before all the standards were in place and changing continuously. I can assure you that my home would not reap the financial benefit when selling to offset what it would cost me to achieve these standards. On a fixed income you have to weigh the options."
Forget the air-sealing work and the ERV for the moment, Holladay replies. No one is suggesting those steps.
"Dana and I are advising you to improve the R-value of the insulation above your ceiling and to disable the humidifier," he says. "This is not air-sealing work; this is insulation work. It won't affect whether or not your house needs an ERV."
Taking it one step further, Dorsett says that if "payback" is what's really important, Andersen should do nothing but paint over moldy sections of the ceiling when it's time to sell.
"Air-sealing and insulation will pay back in marginally better comfort if not dollars," he says. "If your wintertime indoor air is so dry that you need to actively humidify to get it up to 30% relative humidity, air-sealing alone would fix that."
Ventilation advice
"You may need mechanical ventilation even now," Dorsett writes. "Even air-leaky houses need ventilation. The random air leak points in a house does not guarantee that the ventilation air is going to where it's needed or that it's provided via an uncontaminated path. Higher air leakage does not in any way ensure good air quality."
Ventilation could come in the form an exhaust-only system, which Dorsett says is pretty cheap. Andersen could consider a part of ductless vents made by Lunos , which would be fairly simple to retrofit.
"A pair of ductless Lunos e2 or Lunos Nexxt HRV vents (they work in pairs) should be comparatively easy to retrofit if it came to that, and should assuage the conscience of the air sealing and insulation contractor, even if it isn't capable of meeting the ASHRAE 62.2 ventilation rates (which are arguably much higher than necessary, and almost never met anyway)," Dorsett says. "Then you would at least know the source and path the ventilation air, unlike continuous exhaust-only approach."
Get rid of that powered attic ventilator
In Comment #12, Andersen provides additional information: her house has a powered attic ventilator. This fan is a potentially big problem, Dorsett says, because it a much more powerful air-leakage driver than the stack effect alone.
The powered attic fan, Holladay adds, could help explain why the condensation is showing up in ceilings adjacent to soffit vents.
"You may be the first homeowner to post on GBA with both a humidifier and a powered attic ventilator," Holladay tells Andersen. "Lucky for you, we're simplifying your life and lowering your energy bills by telling you which appliances need to be unplugged — now. Disabling these two unnecessary (and harmful) appliances may be enough to entirely solve your condensation problem."
Humidity is still high, until…
Armed with three new hydrometers, Andersen can report relative humidity measures 51% to 62% in one upstairs bedroom when the average temperature is 59-62°F; in another bedroom with the same temperature, the relative humidity is 50% to 60%. Outdoor temperatures have ranged from 32°F to 68°F.
That's high, says Charlie Sullivan. A relative humidity of 50% is the most you'd want during the winter. A better level would be 35% to 40%.
"It's hard to know whether this is due to the fact that you have been deliberately humidifying your house for years, causing everything in your house to be saturated, or due to some other source of moisture," Holladay adds.
A month later, however, Andersen has better news:
"Well it's been a month now since this conversation started and I wanted to give you an update as to how things have been going," Andersen writes. "Since taking your advice and turning off the humidifier on the furnace and the powered attic fan, the humidity level is staying at 40% with a thermostat set at 62°F upstairs when outdoor temperatures have ranged from 4-19°F outside this past week. Plus my house feels so much warmer. Almost too warm! My bedroom ceilings don't show any signs of condensation and we do have a good deal of snow on the roof, so no signs of great heat loss. The first floor humidity is averaging between 30-34% with temp set at 66°F."
Our expert's opinion
Here's what GBA technical director Peter Yost had to say:
It's nice to start off my wrap-up with the problem pretty much solved: Deactivating both the humidification in the central space conditioning system and the powered ventilator in the attic will save the homeowner wasted energy and improve the moisture performance.
A few key points from my perspective:
ERV vs. HRV in cold climates in the winter: The latter dehumidifies (incidentally) better than the former. So if you are looking to control wintertime interior relative humidity, go with the HRV.
Identifying the source(s) of interior moisture: It's always good practice to follow the water in any building, establishing just what the main sources and strengths of the sources are, as described in this GBA blog.
Measuring relative humidity (RH): This is a surprisingly difficult thing to do. In the attached photo (see Image #2 below), taken in my basement just a couple of days ago, you can see two types of Onset HOBO temperature/RH data loggers and one Omega 4-in-1 meter, with quite a range of measurements for RH (from 19.9% to 27.9%) and a pretty tight grouping of dry bulb temperatures.
Each of these instruments cost considerably more than $100, and have a rated accuracy of plus or minus less than 1 F°, with RH accuracy ranging from +/- 2.5% to +/- 4%.
I will be covering RH measurement in more detail in an upcoming Building Science blog, but while we absolutely need to encourage occupants to ensure they have the ability to measure RH, we need to be careful about just what we recommend. Inexpensive hygrometers — such as the most basic Accurite units — have a stated +/- 10% accuracy, and that just may not be good enough for guidance.