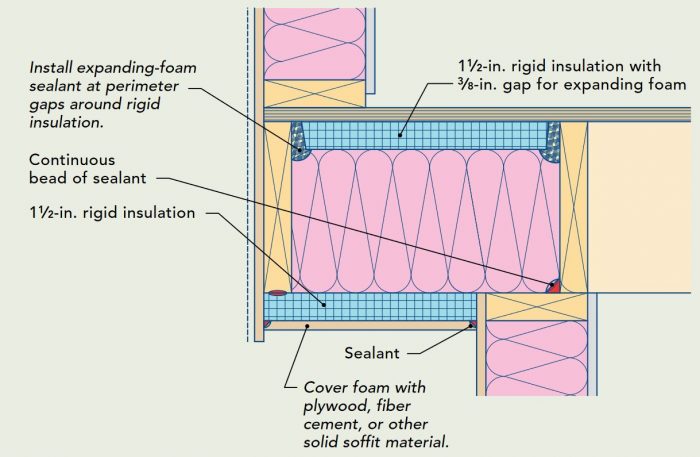 Most wood-framed floor assemblies — for example, floor joists over a basement — have conditioned space on all sides, and therefore don't need insulation. Sometimes, though, a wood-framed floor assembly has outdoor air on the underside — as is the case with a house on piers, for example, or the cantilevered floor of a bump-out, or the floor of a bonus room over a cold garage. In these cases, builders need to do a good job of insulating and air-sealing the floor assembly.
In 2012, I wrote a Fine Homebuilding article on insulating wood-framed floor assemblies. But that article was relatively short, and I haven't yet written a comparable article for GBA. It's time to revisit the topic.
Why do we insulate ceilings to a higher R-value than floors?
Building codes require that ceiling assemblies include more insulation than floor assemblies. Many builders explain this requirement by saying, "Heat rises." In fact, if we're talking about conduction and radiation — two of the three heat flow mechanisms — heat will flow equally in all directions, including downward, from warm surfaces to cold air. When we consider heat flow associated with air movement (convection), however, the issue gets more complicated. While we can't accurately say that "heat rises," it's certainly true that warm air rises.
In most homes, air leakage and the stack effect ensure that air near the ceiling is warmer than air near the floor. (For more information on these mechanisms, see "Cold Floors and Warm Ceilings.") That's one reason that codes require higher R-values for ceilings than floors.
The second reason for the requirement is that it is usually cheaper to install high-R attic insulation than it is to install high-R floor insulation or wall insulation. In other words, the fact that attic insulation is cheap to…
Weekly Newsletter
Get building science and energy efficiency advice, plus special offers, in your inbox.
This article is only available to GBA Prime Members
Sign up for a free trial and get instant access to this article as well as GBA's complete library of premium articles and construction details.
Start Free Trial
Already a member? Log in