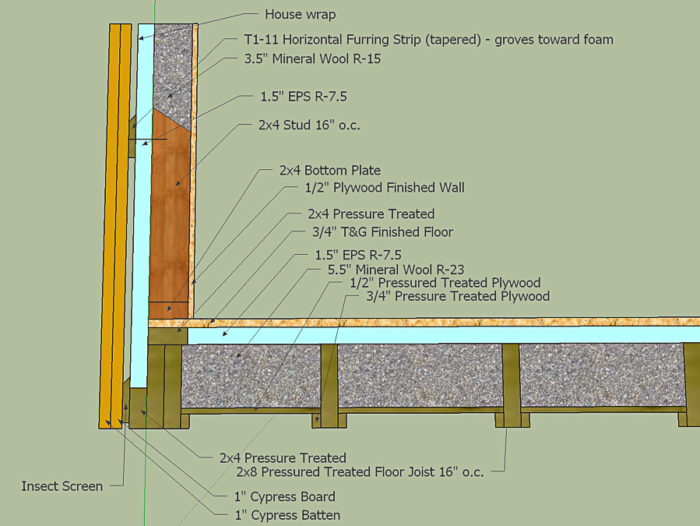 Peter Danube is planning to build a detached workshop in northern Delaware, a Climate Zone 4 locale. The 20-by-32-foot building will be constructed on concrete piers, rather than on a slab or over a crawlspace, and therein lies the dilemma. How should he insulate the floor?
"It is important that the shop have a warm wood floor and the project has to be something I can build myself," Danube writes in a Q&A post. "I would like the building's heating and cooling to be as efficient as possible and would like to apply best practices in building efficiency given this situation. "
Danube explains that the bottom of the floor assembly will be too close to the sloping ground underneath the shop to allow him to insulate from below. Instead, as the drawing at the top of this column shows, he wants to do the job from above, after the floor has been framed. First, he would install pieces of 1/2-inch pressure-treated plywood between the joists. Next, mineral wool between the joists; and finally, a continuous layer of 1 1/2-inch-thick foam on top of the joists to slow down thermal bridging. The shop floor will be made from tongue-and-groove OSB 3/4 inch thick.
An alternative would be to add 2×4 sleepers across the tops of the joists on 24-inch centers and fill the voids in between with extruded polystyrene (XPS) foam. The floor could be laid over the 2x4s.
"The above plan (and even the alternative) will allow me to set my joists and build everything from the top as I do not have access to the underside of the joists for attaching foam or plywood directly," he says. "Over what little space there is available under the building, I intend to put down a permeable fabric on the ground…
Weekly Newsletter
Get building science and energy efficiency advice, plus special offers, in your inbox.
This article is only available to GBA Prime Members
Sign up for a free trial and get instant access to this article as well as GBA's complete library of premium articles and construction details.
Start Free Trial
Already a member? Log in