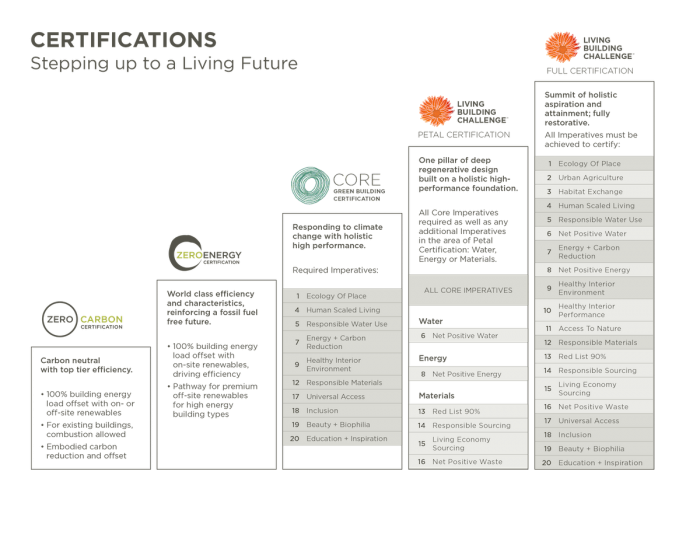 The International Living Future Institute has released a new version of its Living Building Challenge and announced a new certification category called Core Green Building Certification.
The Institute said that the changes are intended to simplify what it calls the "world's most rigorous" performance standard for buildings and to fill a gap between the highest levels of mainstream green building and the lowest rung of the Living Building Challenge.
"The resulting standard is streamlined, eliminating time-consuming requirements that were not directly influencing projects or markets," the Institute said in a statement about the changes. Revisions were based on feedback from the first 100 certified projects and another 100 that are still in development, the statement said.
Designers undertaking a Living Building Challenge project have a long road in front of them. Requirements cover a long list of social as well as building attributes. In order to win certification, a building must meet a number of performance requirements called "imperatives" that are organized into seven areas, or "petals." They include subject areas that might be expected for high-performance buildings — such as strict rules on water, energy, and materials — but also Beauty and Health + Happiness.
Unlike other green building programs, such as Passive House, certification requires that buildings be monitored for a year to show actual instead of modeled performance. Rather than designing buildings that simply do less damage to the environment than conventionally built homes, the Living Building Challenge encourages "regenerative spaces" that bring positive net change.
Fully certified buildings are as rare as hens' teeth. Only two single-family homes have been certified since the first building qualified in 2010, according to the Institute. They are a project called "Desert Rain" in Bend, Oregon, and a house near Ann Arbor, Michigan, named "Burh Becc." Twenty-three projects of all types have been certified.
New Core program outlines best practices
In addition to full certification under the Living Building Challenge — requiring that buildings meet all 20 imperatives in all seven categories — designers can shoot for several less rigorous benchmarks. They include Zero Carbon, Zero Energy, and the new Core certification. There also is  Petal Certification for projects that meet requirements for some but not all performance categories.
The institute described the new Core Green Building Certification as a list of the 10 characteristics that any building should have in order to be considered "green" or "sustainable." It was designed as both a stand-alone program and as a step toward meeting the requirements of full Living Building Challenge certification.
"It puts the connection to nature, equity and the need for a building to be loved on even footing with the typical water, energy and materials concerns," the institute's summary says.
In a prologue describing Core requirements, the Institute argues that the growth of green building practices over the last 30 years has been impressive, "yet when compared with the rate of change that is required to avoid the worst effects of climate change and other global environmental challenges, our progress has been minute and barely recordable."
Three types of projects are eligible for Core certification: new construction, existing buildings, and interior projects. Some project types don't have to meet all 10 of the Core requirements. For example, owners of existing buildings trying for certification don't have to meet a requirement for universal access or "ecology of place" but would still have to meet guidelines on energy, water use, and materials.
Among the requirements for Core certification:
Buildings must be located so they don't damage ecologically sensitive areas. No petrochemical fertilizers or pesticides may be used.
Projects should be scaled appropriately for their neighborhoods, provide weather-protected storage for "human-powered vehicles," and include at least two electric vehicle charging stations.
Potable water can't be used for irrigation, and projects must use less water than a baseline building of the same type. Stormwater must be treated on site.
Energy consumption must be lower than a comparable building in the same climate zone (70% less than an equivalent baseline building for new construction, 50% less for existing buildings). Renewables must be located on site in order to count toward energy reductions.
Eighty percent of the construction waste must be diverted from the landfill, with at least 20% of the materials budget coming from within 500 kilometers (311 miles) of the site.
Projects must be designed "to include elements that nurture the innate human/nature connection." All projects must schedule an annual open day for the public.
Weekly Newsletter
Get building science and energy efficiency advice, plus special offers, in your inbox.