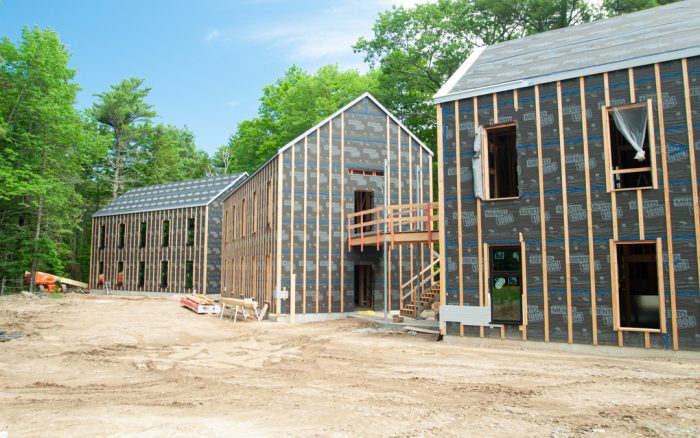 The expected completion this fall of a new home for The Ecology School in Saco, Maine, will not only mark a big step for the school but also the first Living Building Challenge project in the state and one of only about two dozen in the world.
A 9,000-square-foot dormitory is well underway, and a nearby 7,200-square-foot commons is beginning to take shape, part of a $14 million project that will transform a former horse farm called River Bend Farm into a new, year-round home for the 20-year-old school.
By late June, Drew Dumsch, the school's 52-year-old CEO and president, could at last start to see the payoff of years of planning, fund-raising, and a thorough immersion in the requirements of the Living Building Challenge, what is probably the most daunting building certification program on the planet. Dumsch, the school's board and staff, and the architects and builders who pulled it all together won't even know for at least another year whether they have been successful in meeting all of the requirements for certification. But they've moved the school from rented facilities to what will be a state-of-the-art campus despite the ongoing coronavirus pandemic. And for Dumsch, the tenets of the Living Building Challenge, the continued need for ecological education, and the current health crisis all seem to come together.
"The Ecology School helps people understand and embrace change," Dumsch said in a recent interview at the school. "The pandemic, as horrible as it is with the effect it's had on people's psyches and the economy and unemployment and all of that, gives us a chance to re-imagine the future, to do a reset. The pandemic has given us a sped up version in just a matter of months of what climate change, unaddressed, will do over…
Weekly Newsletter
Get building science and energy efficiency advice, plus special offers, in your inbox.
This article is only available to GBA Prime Members
Sign up for a free trial and get instant access to this article as well as GBA's complete library of premium articles and construction details.
Start Free Trial
Already a member? Log in