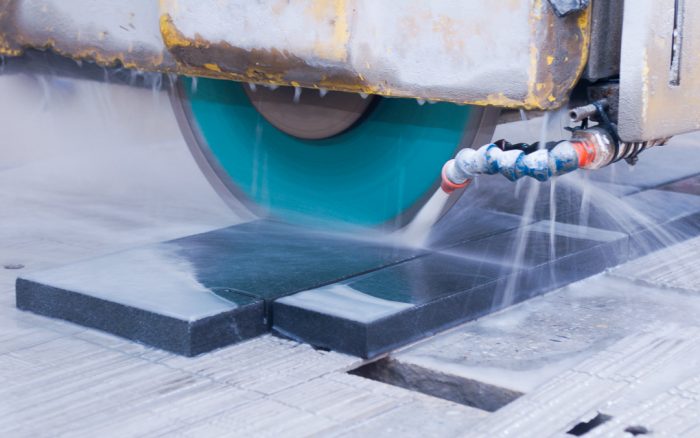 Fabricators in four western states who work with engineered stone to make kitchen and bath countertops are showing increased cases of a potentially fatal illness linked to job site exposure to silica.
According to a report from the Centers for Disease Control and Prevention, 18 workers in four western states were diagnosed with silicosis in a two-year period, including two fatalities. Most of them worked with engineered stone.
Engineered stone—sold under brand names such as Caesarstone and Silestone—is made of quartz and a resin binder. Unlike many kinds of natural stone, engineered stone doesn't need sealing or polishing, making it a popular choice among homeowners. But the material contains much higher levels of silica than does natural stone, the report says—more than 90% silica compared with the 45% or less in granite.
The material is delivered to fabrication shops in slab form and must then be shaped into counter and vanity tops with cutouts for sinks and edge detailing. All of those operations are potential dust producers, and workers who cut and grind engineered stone may be exposed to high levels of airborne silica. Cases had previously been reported among stone fabricators in other countries, but until now only a single case had been noted in the U.S. fabrication industry.
The spike in reported cases in Texas, Colorado, Washington, and California affected mostly Hispanic workers. The sharp increase in reported cases mirrors growing sales of the material; imports between 2010 and 2018 rose by roughly 800%.
Silicosis is an incurable disease caused by inhaling crystalline silica. Symptoms are progressive and irreversible and may result in death. Silica exposure also is linked to a number of other health problems, including lung cancer, tuberculosis, emphysema, autoimmune disease, and kidney disease, the CDCP said. Some of the patients identified in the report were in their 30s when they were diagnosed.
Silica isn't a health threat once a countertop has been installed. It's the cutting and polishing of engineered stone that can release dangerous levels of silica into the air. An estimated 100,000 workers in the U.S. are involved in the industry, according to a National Public Radio report on the CDCP study. They work in some 8,700 fabrication shops, many of them small operations.
"The fact that all of our affected workers worked with engineered stone, as did many of the workers reported internationally, is really important," Dr. Amy Heinzerling, an epidemic intelligence service officer with the CDCP, told NPR.
Steps to prevent exposure
Silicosis can be prevented by limiting worker exposure to dust. Shops typically approach this problem by keeping the stone wet, or with beefed up ventilation systems plus respiratory protection for individual workers.
The Occupational Safety and Health Administration in 2016 toughened regulations on workplace exposure. Industry groups, including the National Association of Home Builders, fought the proposal on the grounds that goals were technologically and economically infeasible.
The new rules were the first update since the 1970s and OSHA estimated that new limits would save more than 600 lives per year.
"Despite availability of exposure controls and recent passage of more stringent silica standards, exposure control and medical surveillance for silicosis in the stone fabrication industry remain challenging," the CDCP report states.
Many of the small shops where the engineered stone is worked are "small-scale operations" with limited awareness of the exposure rules, and limited money to invest in technologies that control exposure. Further, many employees in the industry are Hispanic immigrants with limited job options and reduced access to health care. They also may be fearful of retaliation if they report workplace hazards.
The problem is international in scope. Queensland, Australia, began screening all at-risk employees in 2018 and identified 98 cases of silicosis among 799 workers—12% of the total. That suggests there may be many more cases in the U.S. that have not yet been identified.
"Silicosis is preventable; the cases reported here highlight the urgent need to identify stone fabrication workers at risk and prevent further excess exposure to silica dust," the report notes. "Stone fabrication employers should be aware of this serious risk to their employees' health and ensure that they adequately monitor and control exposures in compliance with the updated silica standards."
NPR reported that a year after the new OSHA limits took effect, the Trump administration canceled a national emphasis program (NEP) on crystalline silica. In issuing the order, OSHA said it would determine "at a later date" whether a revised NEP is necessary. The program was aimed at providing guidance for inspecting worksites where silica exposure was possible.
-Scott Gibson is a contributing writer at Green Building Advisor and Fine Homebuilding magazine.
Weekly Newsletter
Get building science and energy efficiency advice, plus special offers, in your inbox.