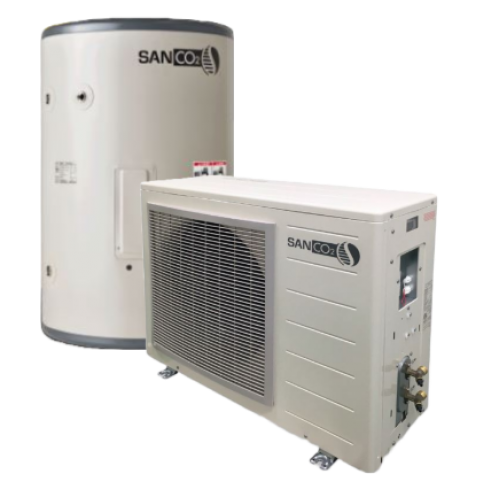 Over the last couple of years, there's been a lot of buzz about the SANCO2, a newer type of air-source heat-pump water heater (HPWH) from ECO2 Systems. Instead of the more common stand-alone HPWH, it's a two-part system comprised of compressor installed outdoors and a storage tank located indoors. Developed about 15 years ago by Japanese HVAC manufacturer Sanden (now reincarnated as ECO2 Systems) and the Japanese government, the HPWH uses CO2 as a refrigerant, which has a Global Warming Potential (GWP) rating of 1; CO2 is the gas used as the reference measurement for all other greenhouse gases. Even some newer types of refrigerants have a GWP of 124, as rated by the U.S. Environmental Protection Agency.
The compressor will make hot water in outside temperatures of down to -25°F. It's also extremely efficient: its first-hour rating is higher than any other water heater: the 43-gal. model, pictured above, can provide 63 gal. of hot water in an hour and has a fast recovery time. The company also claims that the unit is 80% more efficient than electric resistance heaters and 40% more effective than hybrid HPWH's. Depending on the price of your electricity and your hot water consumption, the return on your investment can be within five years.
Lean set of early adopters
So why isn't everybody and their uncle running out to buy one? For one thing, they are expensive–unit cost ranges from about $5000 for the 43-gal. model to a little more than $6000 for the largest 119-gal. unit.
"The Sanden/SANCO2 units don't seem to be getting much traction in the residential space," says building ­science consultant and GBA contributor Jon Harrod. "I think the big obstacle is the price tag. It's hard to justify that cost for what might only be $50-$100/year savings over a standard heat pump water heater.
Residential designer and GBA steward Mike Maines has a similar sense. "They are expensive and my clients always seem to be on tight budgets; spending a few thousand dollars extra to get slightly more efficient hot water is rarely something they want to consider."
"They do appear to be gaining more popularity in multifamily buildings," Jon notes, "where one or a few heat pumps can heat a large storage tank that serves many units."
Beyond the price tag
Additionally, because SANCO2 units have two separate components, they take more materials and time to install (contributing to their expense) than a standard heat pump water heater, which extracts heat from the air in the room where the water heater is located, transferring the heat to water in an insulated tank. For a split-type system like the SANCO2, plumbers must install not only the tank, but also the compressor, which requires some kind of mounting system, similar to that of an HVAC heat pump system. There are also the connecting water lines, power hookups, shut-offs, etc.
To some people they might seem too complicated. But installation is nothing out of the ordinary. "It's really basic stuff for plumbers," says Josh Salinger, founder of Birdsmouth Design-Build. An early adopter of the SANCO2, Birdsmouth has installed one in nearly all of its projects over the last few years. Asked what he likes about the model, Josh says: "From an architectural perspective, the tanks are very compact. They don't take up a lot of space, so you have options of where to install them. The unified HPWHs require a specific amount of space, plus they dump a lot of cold air and noise into that space, so there can be comfort issues as well."
If there's a recurring complaint about the SANCO2, it's that the system is somewhat vulnerable to freezing. When it first appeared on the market, customers in cold climates reported that the water lines between the compressor and tank were freezing, and occasionally rupturing in sub-zero temperatures. The company has addressed the issue by integrating heat-tape insulation to cover the exposed lines, and providing freeze-protecting relief valves that purge the lines. If a freeze is accompanied by a power-outage, however, the compressor becomes vulnerable. John Miles, managing director of ECO2 Systems, stated that the company does advise pairing the SANCO2 with electrical backup.
Mike Trolle, founder of BPC Green Builders, seconded that recommendation. His company has installed a dozen SANCO2 water heaters, and the only issue they've experienced is when they get hit with the double whammy of an extreme freeze and no power, the compressor pump will freeze, even when protected by the relief valves. For that reason, he says that they only recommend the SANCO2 units when there's backup power.
What about serviceability and maintenance? We heard only from Josh Salinger on that front. He says that one of the good things is that if the compressor goes, you can just swap it out, rather than having to take the whole thing apart. The warranty is 10 years on refrigerant parts, 15 years on the steel tank. 

Finally, Nick Whatley, a Maine homeowner who has worked with Mike Maines, has purchased two SANCO2 water heaters, is very satisfied with their performance, but he suggests that if you have a manually started generator and you are leaving town in the dead of winter, it might be a good idea to purge the system before you go. Just in case.
________________________________________________________________________
Chuck Bickford is a contributing editor. Photo courtesy ECO2 Systems.

Weekly Newsletter
Get building science and energy efficiency advice, plus special offers, in your inbox.