Editor's note: This is the fourth in a series of blogs chronicling the design and construction of a house owned by Brian Post and Kyra Salancy. The first blog in the series was titled Building a Small House in the White Mountains.
The winter of 2013-2014 started without much snow, but progressed into an extended period of cold and snow from February through March. Normally, we'd take advantage of this on skis, but the house project was occupying most of our attention.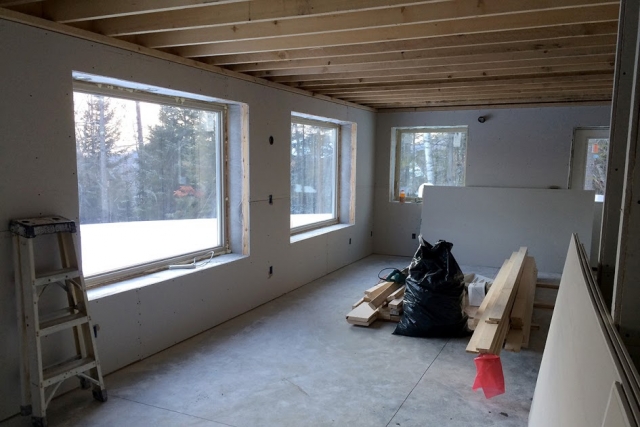 Drywall, window trim, and interior doors
The drywall crew completed hanging, taping, and mudding the drywall in early February 2014. We went with rounded corners and the crew did a great job.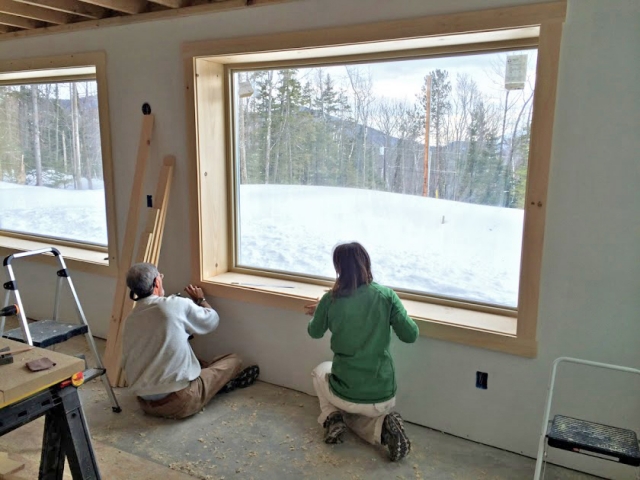 After this was done, I sealed up the rough window openings with canned spray foam and we started working on window trim. Kyra's dad came for the first of many visits at this time, helping on various projects with his woodworking skills.
We liked the look of simple pine trim and went with 12-inch pine boards for the jambs and 4-inch pine boards for the casing. The window trim work required a lot of shimming and other fitting work, but it came out well.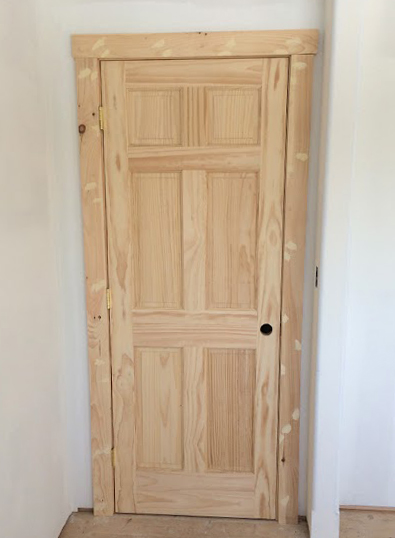 We were also focusing on the upstairs: painting, installing pine trim, and hanging interior doors. We were trying to keep costs down, but did get affordable solid pine wood doors. With finishing products, we went with no/low VOC and more natural products whenever we could. This included using Vermont Natural Coatings PolyWhey finish on all the pine trim.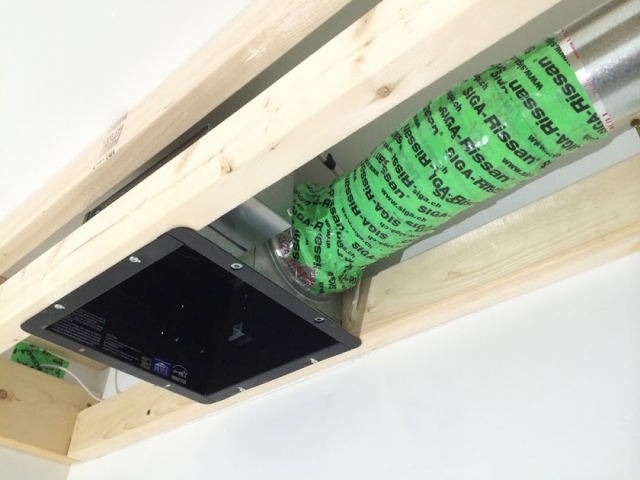 Exhaust-only ventilation
Based on the recommendation of our foundation/shell contractor, we went with an exhaust ventilation setup consisting of Panasonic WhisperGreen bath fans with Panasonic passive air inlets. We eventually settled on a WhisperGreen model that could run on continuous levels as low as 30 cfm and then be boosted (for set time periods or until turned "off") up to 80 cfm.
One fan was installed in the full bath upstairs and one in the half bath downstairs. Before insulation and drywall, we installed 4-inch rigid duct through the walls in the fan locations and the needed plastic duct for two passive air inlets (one downstairs and one in the main bedroom). The Panasonic passive air inlets are rated for 12 to 18 cfm, so we figured it would be OK to start with two, giving us up to 36 cfm of makeup air.
Later, when we first powered on the fans with our electrician, we figured out that the two passive air inlets were not providing enough makeup air. The house was getting depressurized even with one fan running at only 30 cfm. This was happening because the house is so tight and the passive air inlets don't allow as much air as advertised. (One online review said they tested at 10 cfm). For various reasons, adjusting our ventilation setup would be an ongoing theme as time went on; more on this later.
Cabinets and interior stairs
We made good (but slow) interior progress over the winter and into spring 2014. The snow bank on the north side of the house finally melted in early May 2014; we continued with interior work and turned some attention to outside.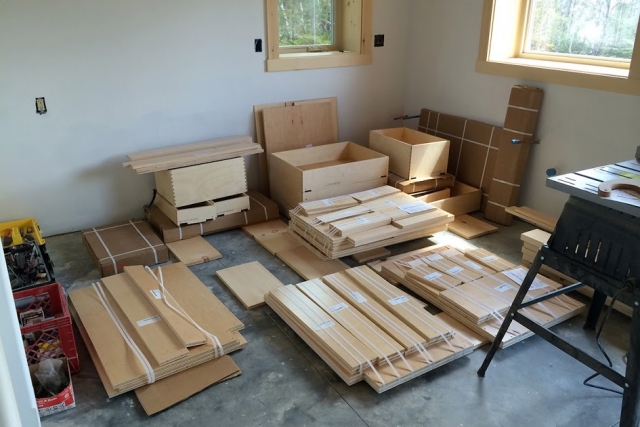 We had ordered ready-to-assemble cabinets from Barker Cabinets and kept everything stacked in the kitchen. We decided on Barker rather than a local cabinet company because the cabinets were higher quality for the price and the online ordering process was also straightforward.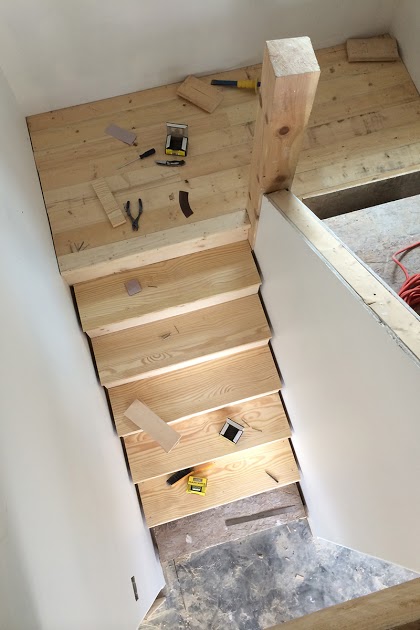 Kyra and her dad also worked on the stairs.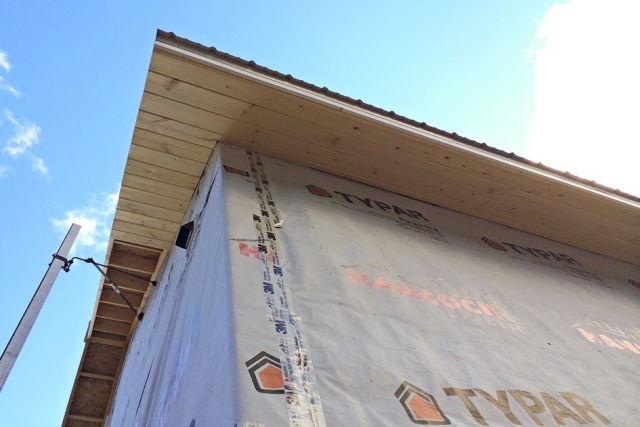 Soffits and small protective roofs
We rehired Eric, one of the workers who helped the foundation/shell contractor, to take the lead on finishing the soffit. We used 1×8 tongue-and-groove pine, treated with an exterior wood finish from Vermont Natural Coatings. It came out great, and we really liked the natural pine look.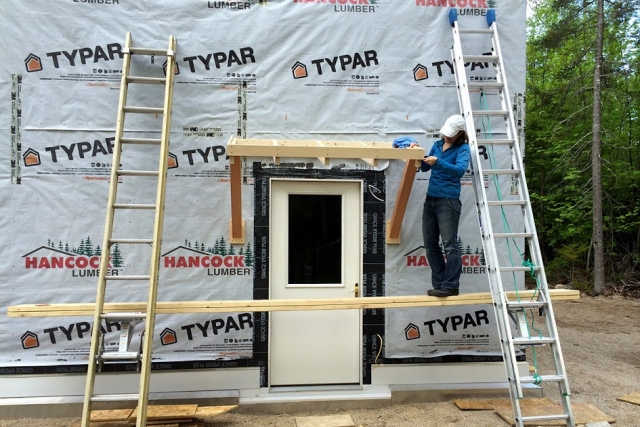 To protect the exterior doors and entrance areas, we also hired a friend, Ray, to help us build protective roofs. We used Douglas fir posts, 2x6s, tongue-and-groove pine boards, and pine trim. We also used some leftover synthetic roofing underlayment and small metal roofing panels.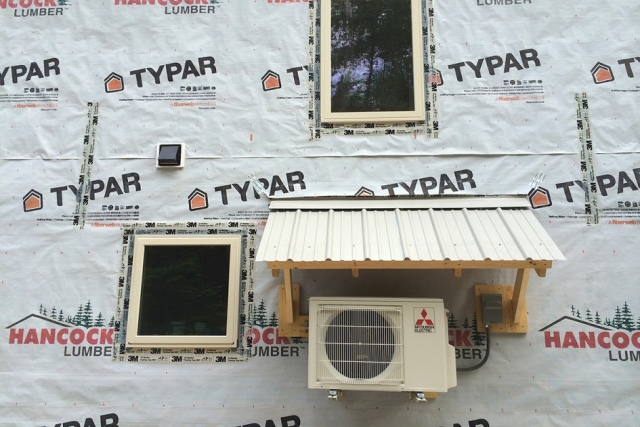 I helped Ray build the first roof and he helped us get started on the second. We took it from there and would end up using the same concept for overhangs over our large south facing windows and the exterior unit of the ductless minisplit.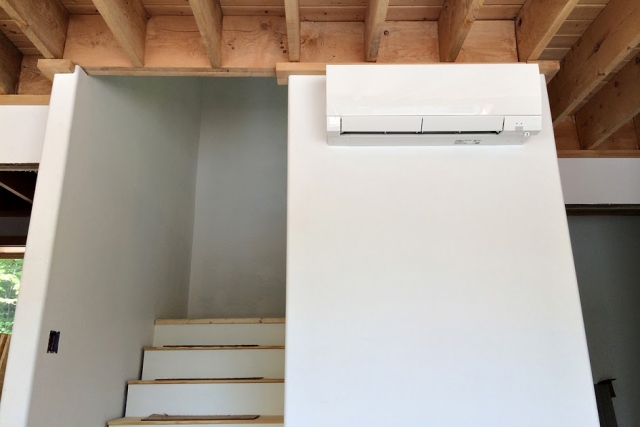 Space heat is all electric
We scheduled the installation of the ductless minisplit for early June 2014. One of these on the first floor would be our main heat source for the entire house. As backup on extremely cold nights (or if the minisplit malfunctioned) we planned to install small Stiebel Eltron wall-mounted electric heaters in each bathroom and bedroom, as well as a couple more in the open downstairs area.
We went back and forth about which size minisplit to get, but eventually decided on a Mitsubishi FH12NA. While our Energy Star HERS rater suggested we might be better going up one size, we thought the FH12NA would meet our needs. Fortunately, the installation was completed in time to take advantage of a $500 rebate from the state of New Hampshire.
Septic system and spruce floors
As spring turned into summer, the septic system was finally inspected, approved, and backfilled.
We continued on various interior and exterior projects. I ripped the Vycor Plus flashing tape off the exterior doors, spray foamed any gaps in the rough openings, used Siga Wigluv tape on the exterior part of the rough openings, patched up the housewrap, and installed some pine trim.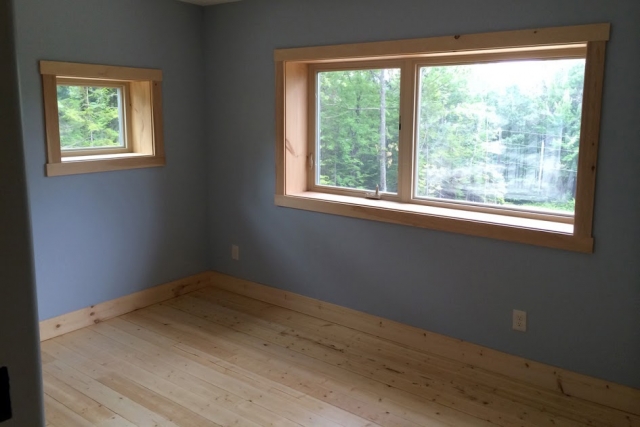 The 2×6 tongue-and-groove spruce used for the second-story floors had gotten pretty beat up during the main construction phase. We rented a commercial orbital floor sander and that (along with some hand-held orbital sander work) did a good job of cleaning up the floors. We used a product from Vermont Natural Coatings (Polywhey Floor Finish) to finish the spruce floors.
Kyra and I decided to finish the second bedroom first so it could serve as an initial finished room. We installed some pine baseboard and Kyra tackled the painting.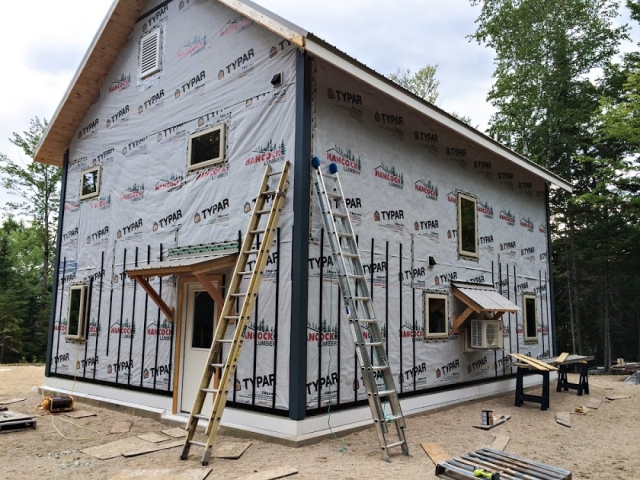 Quarter-sawn spruce clapboards
Starting in late July, we turned our attention to the exterior and specifically the siding. While we considered trying to tackle this ourselves, we hired Eric again. Besides his skill and experience, he also had staging and a siding nail gun. Eric took the lead on the entire siding project. I helped on and off the staging and Kyra (plus her dad) did tons of staining.
We had already ordered the siding in 2013 and stored it over the winter. The siding was quarter-sawn spruce clapboards from Ward Clapboard Mill in Vermont. Although quarter-sawn clapboards are more expensive than plain-sawn, they are more stable and less prone to cupping. We were willing to pay for this high quality, and balanced it by choosing Ward's cottage grade, which includes blemishes and knots.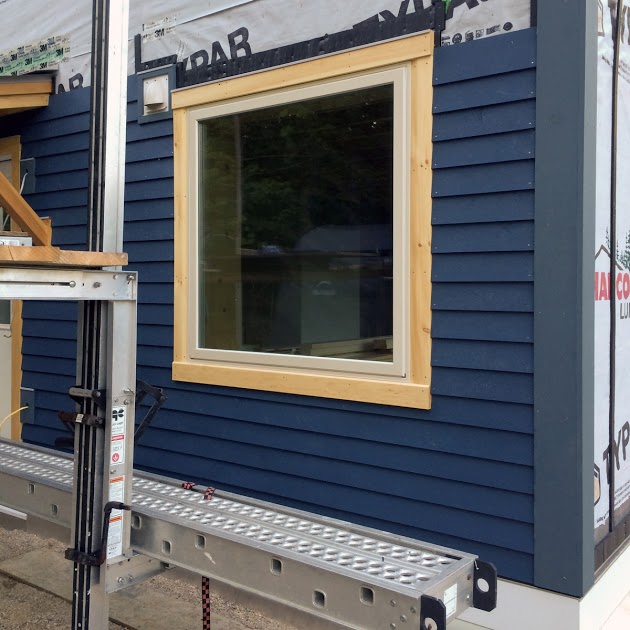 Kyra was concerned that the cottage grade might look junky, but we liked how it turned out on another house project we had been following online ("Building a super-insulated Vermont home"). We also saved enough by choosing cottage grade that we paid to have the clapboards pre-primed — a good call that meant huge time savings for us. We installed the clapboards rough side out, and it looks awesome.
The other big decision was what to do about a rainscreen.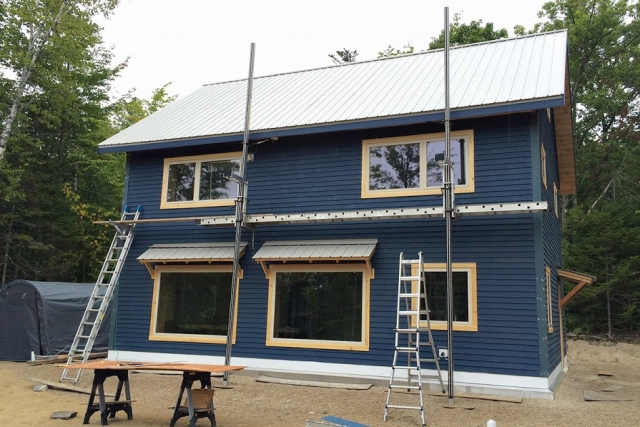 We knew this was an important feature to build into the exterior, but weren't sure about what materials to use. We ruled out 1×4 furring strips because we thought they would push out the siding too much and complicate the window trim. Ripping plywood sheets into strips was an option, but we settled on products from Cor-A-Vent, partially because we had seen them used successfully at the Up Hill House. We used Sturdi-Strips and SV-3 Siding Vent to create a â…œ-inch rainscreen gap, vented at both the top and bottom of the wall.
Keeping the waterline from freezing
Our well contractor was scheduled to come back in September to install the submerged well pump and well tank, and to hook it all up. Before this could happen, I had to do some stressful research and decision-making about what kind of heat cable to get.
Because the water line was already hooked into the well casing and backfilled, we would have to push the heat cable into the water line from the house. The water line ran about 175 feet from the house to the well with some sweeping turns around the house and back towards the well. We made the call to get a 120-foot in-pipe heat cable that would protect the most vulnerable part of the water line starting at the house. (The 50 feet + near the well was buried deeper.)
Our well contractor suggested a certain heat cable product, but I wasn't able to find enough information about the product to make me feel comfortable with the purchase. After some internet research, I came across a company based in Canada called Heat-Line. We went with the 120-volt version of their Retro-Line, 120 feet long. It cost almost $2,000, but we didn't have other good options. Pushing the 120-foot heat cable into the water line was straightforward. After all the stress, the work was completed in mid-September.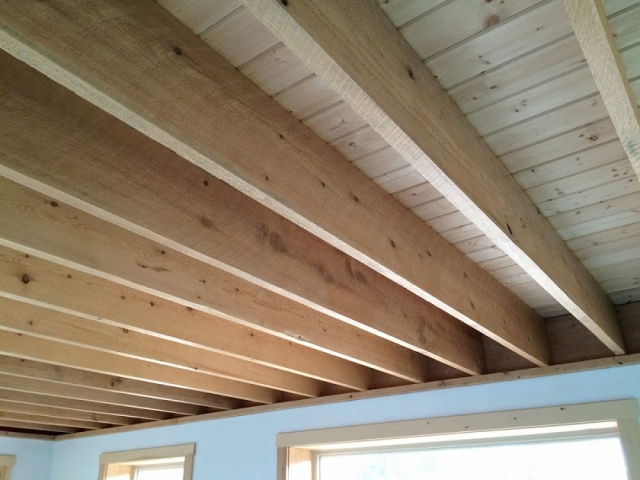 Finishing joists and floors
Kyra and I, with help from her dad, continued on various interior projects. I spent multiple days on a stepladder with a face mask and eye protection working on the rough-sawn hemlock floor joists. I used a wire brush to clean them up and did some light sanding. We installed two clear coats of Vermont Natural Coatings.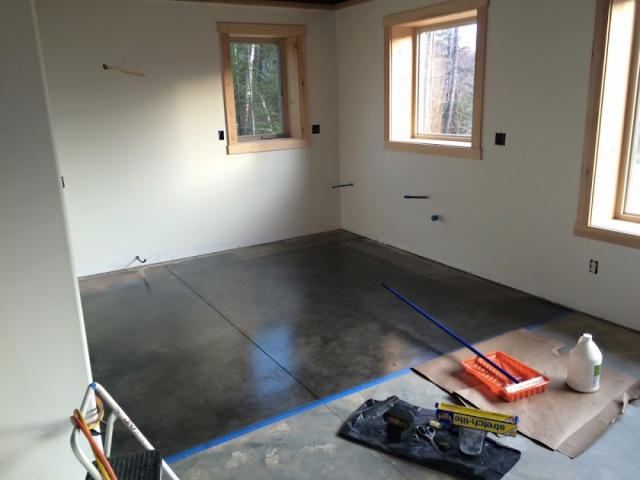 In early November 2014, we started finishing our concrete first floor. We had narrowed down our options to hiring a professional to grind and polish the slab or staining and sealing ourselves. Kyra and I decided this would be a good job to take on ourselves and save several thousand dollars. From Eco Safety Products we purchased several concrete finishing products, including their etcher and cleaner, stain, and finish/sealer.
The first step was to test colors. We did this in an area that would be hidden later; we decided on the "Black Granite" color for most of the floor area.
We tackled the kitchen first so that we could install cabinets before moving on to another floor section. The work was very labor-intensive. The steps consisted of: scrape/sand, clean floor with Simple Green, use etching/cleaning product, let floor dry, install two coats of stain, let dry, and install five or more coats of the finish/sealer.
This work also required a lot of vacuuming, taping, rinsing, and the somewhat impossible task of keeping random debris and dog hair off the floor. The work was tiring, but we were happy with how the floors were turning out. We finished the kitchen and saved the other floor areas for later.
The goal: an occupancy permit
Over the rest of November and December, we continued on interior projects that would help us get an occupancy permit:
Kyra and her dad put together the cabinet parts that we would install and secure to the walls later.
Kyra and I built simple open vanities for the bathrooms.
We had recently hired contractors to tile the shower and bathroom floors, Kyra and her dad installed the shower door.
Our plumbing contractor came back to install and hookup the toilets, sinks, and hot water heater.
I used my climbing skills and equipment to replace the plumbing vent flashing on the roof as it had a slight leak from a poor install job.
Speaking of hot water, we decided on a short 30-gallon Rheem electric-resistance water heater because it was cheap, would meet our needs, and would fit in the mechanical room under the stairs.
At this point in the house project, we were working hard towards getting the certificate of occupancy (CO), which we thought we needed to move in. While we had an affordable rental situation with friends, I was really itching to move into the house so we could stop paying rent and not have to commute back and forth.
There was no functioning kitchen, but the house had heat and functioning bathrooms (see Image #3, below). One day, I met with the Jackson building inspector about our remaining tasks and found out it was OK for us to move in without the CO. That was all I needed to hear.
Kyra was worried that the house wouldn't be comfortable to live in yet, but I convinced her to go for it. In a matter of days, we moved all our belongings up to the house and spent our first night on the floor of the guest bedroom. It was December 23, 2014. We had a long ways to go, but it felt great to be in the house.
Editor's note: This is Part 4 of a multi-part blog series on the construction of Brian and Kyra's home in New Hampshire. Here is a link to Part 5: Finishing Touches for a Pretty Good House in New Hampshire.
Brian Post is a photographer and website builder. He lives in Jackson, New Hampshire with his wife, Kyra Salancy, and a fluffy black dog. When not working on their house, Brian and Kyra enjoy climbing and skiing in the White Mountains.
Weekly Newsletter
Get building science and energy efficiency advice, plus special offers, in your inbox.