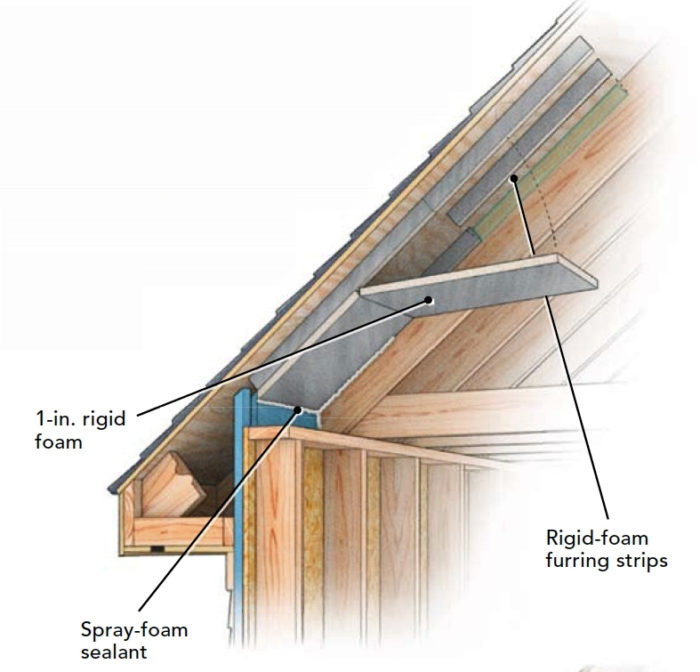 Roofs often require ventilation channels directly under the roof sheathing — either for a short section of the roof (for example, near the eaves) or for the entire roof, from soffit to ridge. When the wind is blowing, these ventilation channels allow air to move from the soffit vents to the ridge vents.
To establish a ventilation channel, it's usually necessary to install some kind of baffle. A baffle performs three functions: it defines the depth of the air gap; it keeps insulation from intruding on the air gap; and (if properly installed) provides an air barrier to limit wind-washing of the insulation. (Wind-washing degrades the thermal performance of air-permeable insulation materials like fiberglass, mineral wool, and cellulose.)
The value of providing ventilation channels under roof sheathing is often exaggerated. To a limited extent, these air channels can help keep roof sheathing dry and can reduce the chance of ice dam formation. However, ventilation channels aren't able to perform the miracles that some ventilation advocates claim. For more information on this issue, see All About Attic Venting.
Where the baffles belong
In a house with a vented unconditioned attic, ventilation baffles are only needed near the eaves. The baffles should begin above the ventilated soffit — just to the exterior side of the plane of the wall sheathing — and should extend far enough into the attic that they terminate above the top of the insulation on the attic floor. The deeper the insulation, the longer the baffles have to be.
In a traditional Cape Cod house with 4-foot kneewalls, there are two ways to install ventilation baffles. The preferred way is for the baffles to begin above the ventilated soffit and extend all the way to the small attic above the second-floor ceiling. (This approach is used when the triangular…
Weekly Newsletter
Get building science and energy efficiency advice, plus special offers, in your inbox.
This article is only available to GBA Prime Members
Sign up for a free trial and get instant access to this article as well as GBA's complete library of premium articles and construction details.
Start Free Trial
Already a member? Log in