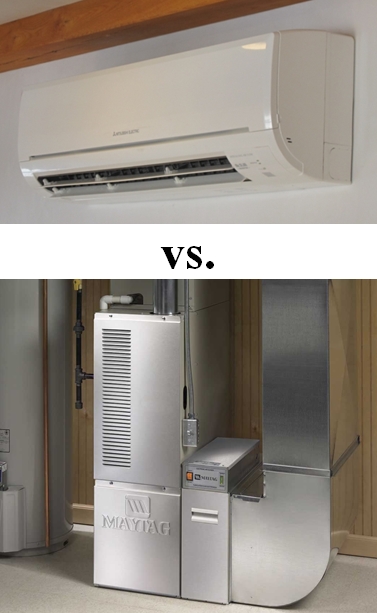 It's often presumed that heating with high-efficiency heat pumps has a lower carbon footprint than heating with other equipment (and often it is). But how do you really know?
Do the math!
How much CO2 is emitted by my state's electric utilities?
Since the EPA has promulgated its Clean Power Plan (CPP), Americans can, at least for the time being, make reasonable estimates of just how much carbon is emitted by their electricity use.
But first, some basics on the carbon emissions of different fuels. The U.S. Department of Energy's Energy Information Agency has tabulated a short list showing the pounds of CO2 per million BTU (MMBTU) of source fuel. The most common space heating fuels on that list are:
Heating oil: 161.3 lbs/MMBTU
Propane: 139.0 lbs/MMBTU
Natural gas: 117.0 lbs/MMBTU
Heating appliance efficiency matters
To reach a reasonable first estimate for an apples-to-apples comparison, it's important to factor in the heating equipment's efficiency. Better class oil-burning appliances have an AFUE (efficiency rating) of about 87%, while better-than-average appliances the burn propane or natural gas burners are in the 95%+ range. So, after adjusting for appliance efficiency, the carbon emission numbers look like this:
Heating oil: 161.3 / 0.87 = 185.4 lbs/MMBTU
Propane: 139.0 / 0.95 = 146.3 lbs/MMBTU
Natural gas: 117.0 / 0.95 = 123.2 lbs/MMBTU
To determine the heat pump numbers for comparison purposes, start with the heat pump's HSPF specification (an efficiency rating). An HSPF number can be converted into an efficiency percentage by dividing the HSPF by 3.412 (the number of Btu in one watt-hour of electricity). For example, a heat pump with an HSPF of 8.0 has an efficiency of 235%.
If a heat pump is properly sized for the heating load, the HSPF rating will be reasonably close the actual in-use efficiency for Climate Zone 4. In Zone 3 and warmer zones, the in-use efficiency is likely to be a bit higher than the HSPF, while in Zone 5 and colder zones, the in-use efficiency is likely to be a bit lower than the HSPF. You can assume a 0.85 multiplier to determine the degradation of a heat pump's efficiency for each climate zone colder than Zone 4. (There are exceptions to this rule of thumb, but a close examination of the topic is beyond the scope of this article.)
For example, if the HSPF of a heat pump is 11.3, the "adjusted" efficiency of the heat pump when installed in Climate Zone 6 (two zones colder than Zone 4) will be something on the order of:
0.85 x 0.85 x HSPF 11.3 = 8.2
The units of HSPF is BTUs per watt-hour, but electricity is metered and billed in increments of kilowatt-hours (=1000 watt-hours). So an HSPF of 8.2 means on seasonal average basis it delivers 8,200 BTU per kWh of electricity used. From there we can calculate the kWh input per MMBTU delivered:
1,000,000 / 8200 = 122 kWh/MMBTU
Utilities in each state have carbon targets
Meanwhile, the CPP has defined carbon targets for every state (except Vermont, which was exempted due to a dearth of fossil fired power generation in that state). The carbon targets include the 2012 estimated carbon intensity per megawatt hour (Mwh = 1,000 kWh), as well as a projection for 2020 in a "business as usual" without the CPP, and a target for 2030 with the CPP.
So, let's compare how well a heat pump fares in say, the Climate Zone 6 portion of Michigan, a state with a grid with medium carbon intensity:
2020 Projections (without CPP): 1,588 lbs/MWh = 1.588 lbs/kWwh
1.588 lbs/kWh x 122 kWh/MMBTU = 193.7 lbs/MMBTU
Under these circumstances, the heat pump is has a slightly higher carbon footprint than an 87% efficient heating appliance that burns #2 heating oil. (The oil-burning appliance has a carbon intensity of 185.4 lbs/MMBTU of heating.) When you include the electricity used by the air handlers, pumps, and burners, it's probably a wash. But the carbon footprint of the heat pump is considerably higher than the 123.2 lbs/MMBTU of a gas-burning appliance.
But assuming that Michigan hits its 2030 target under the CPP (and remember, by 2030, a heat pump installed in 2016 would have reached more than half its anticipated lifecycle), the heat pump will be at 1,169 lbs/MWh, or 1.169 lbs/kWh.
At that point the heat pump will have a carbon footprint of:
1.169lbs / kWh x 122 kWh / MMBTU = 142.6 lbs/MMBTU
That's considerably better than an appliance burning #2 oil, and right in there with the 146.3lbs/MMBTU for condensing propane, but still well above that of natural gas.
But for comparison, take a look at parts of Maine that are in Climate Zone 6:
2020 Projections (without CPP): 736 lbs/MWh = 0.736 lbs/kWh
0.736 lbs/kWh x 122 kWh/MMBTU = 89.8 lbs/MMBTU
Heat pumps make sense in "low carb" states
Right away it's obvious that in this state with a lower-carbon grid, the heat pump is "lower carb," far and away, than any appliance burning one of the common fossil heating fuels. And the heat pump will be even lower carbon going forward.
Clearly, in states like Wyoming with a high-carbon grid, even when the grid reaches the 2030 CPP target, a heat pump won't beat a condensing appliance that burns natural gas. But that's not to say it's impossible to get there in other ways. In deregulated electricity states like Michigan, it's possible to buy grid-supplied electricity from greener sources. A 100% renewables package purchased through brokers or a direct power-purchase agreement would provide electricity for the heat pump that is essentially zero-carbon power.
Wyoming has very favorable wind resources — resources that could be developed if there is a retail market for 100% wind power — but state regulators in Wyoming promote vertically integrated utilities, and haven't yet decoupled electricity markets. Wyoming also lacks net-metering for behind-the-meter (residential) PV, so until the regulatory framework changes, most heat pumps in Wyoming are going to have a higher carbon footprint than condensing gas, even if the state meets its CPP targets.
This isn't intended to be a precise model of what's going on; it's just a reasonable rough cut. There are many factors that can raise or lower a heating system's efficiency, and often local utilities within a state have much higher or lower carbon output per MWh than the statewide averages. But as a quick estimate, it's way better than a guess.
Dana Dorsett has lifelong interests in energy policy, building science, and home efficiency. He is currently an electrical engineer in Massachusetts.
Weekly Newsletter
Get building science and energy efficiency advice, plus special offers, in your inbox.