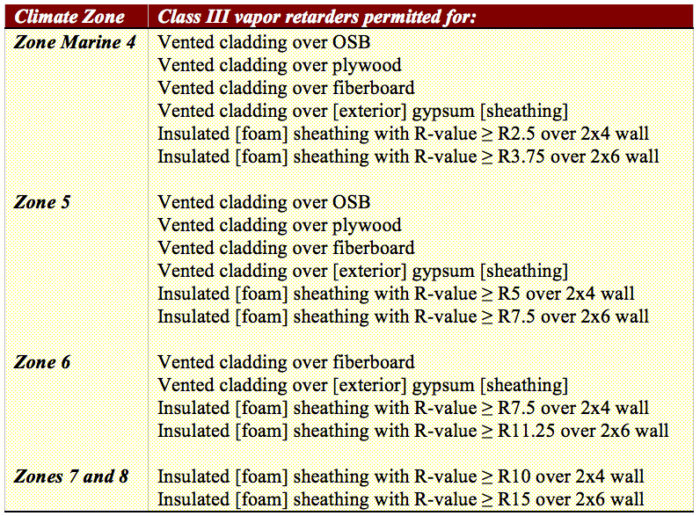 UPDATED on May 15, 2015
Although building science has evolved rapidly over the last 40 years, one theme has remained constant: builders are still confused about vapor barriers.
Any energy expert who fields questions from builders will tell you that, year after year, the same questions keep coming up: Does this wall need a vapor barrier? Will foam sheathing trap moisture in my wall? How do I convince my local building inspector that my walls don't need interior poly?
To begin a discussion of vapor retarders and vapor barriers, I'll answer a few of these persistent questions. Since I plan to return to this topic in a future blog, I invite readers to submit further questions.
Q. Why would I want a vapor retarder in my wall or ceiling?
A. Vapor retarders help slow the diffusion of water vapor through a building assembly. During the winter, a vapor retarder on the interior of a wall will slow down the transfer of water vapor from the humid interior of the home into the cool stud bays. During the summer, a vapor retarder on the exterior of a wall will slow down the transfer of water vapor from damp siding towards the cool stud bays.
However, a vapor retarder is a double-edged sword: while under some circumstances it can have the beneficial effect of helping to keep a wall or ceiling dry, under other circumstances it can have the undesirable effect of preventing a damp wall or ceiling from drying out.
Q. How often does water vapor diffusion through walls and ceilings cause problems?
A. Very rarely. In many cases, in fact, an interior vapor retarder does more harm than good. The main mechanisms by which moisture enters a wall are from the exterior (usually due to flashing defects that admit wind-driven rain)…
Weekly Newsletter
Get building science and energy efficiency advice, plus special offers, in your inbox.
This article is only available to GBA Prime Members
Sign up for a free trial and get instant access to this article as well as GBA's complete library of premium articles and construction details.
Start Free Trial
Already a member? Log in