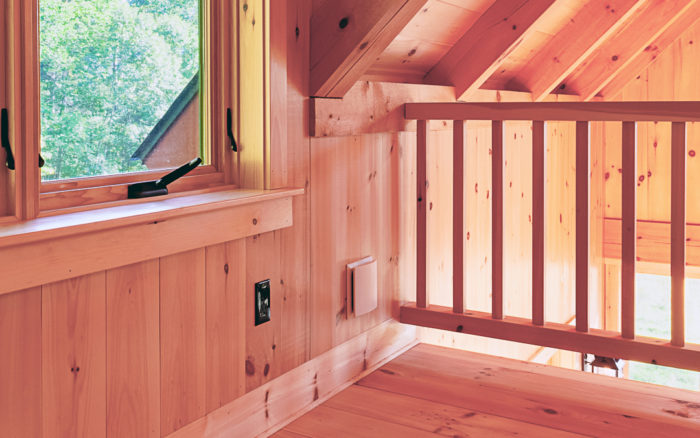 Houses with very low rates of air leakage and heavily insulated walls and roofs don't allow much natural ventilation. The whole point of building a high-performance house is to control the source and amount of outdoor air that gets inside.
That's why designers typically include some kind of mechanical ventilation, often in the form of a heat-recovery or energy-recovery ventilator (HRVs and ERVs). But as LH has discovered, providing fresh air for a very small house can be a little more complicated, particularly when factoring in a clothes dryer that vents to the outdoors.
"When we built our little home (720 sq. ft., basically 2 main rooms) 13 yrs ago, we made it very tight and well insulated, but we did not take into account the need for makeup air," LH writes in a Q&A post. "The first time we ran our dryer, we had air pulling in through the electrical outlets!"
LH's solution was to leave windows open a crack, and to install a fan to pull outdoor air into the laundry closet while the dryer was running. Because LH lives in the Pacific Northwest, the fan brings in cold, damp air during the winter.
Although wall and ceiling space is limited, LH wonders whether an ERV is a possible solution. In looking over the options, however, LH finds that advice on this issue seems to be appropriate for larger homes with forced-air heating systems.
"One thing I would like to see on this site is more advice for those with small homes," LH says. "Everything seems to be geared to having a forced-air furnace, which I don't have. It wouldn't make sense in a house this size, and I've never cared for the kind of heat they give."
Ventilation for LH's very small…
Weekly Newsletter
Get building science and energy efficiency advice, plus special offers, in your inbox.
This article is only available to GBA Prime Members
Sign up for a free trial and get instant access to this article as well as GBA's complete library of premium articles and construction details.
Start Free Trial
Already a member? Log in