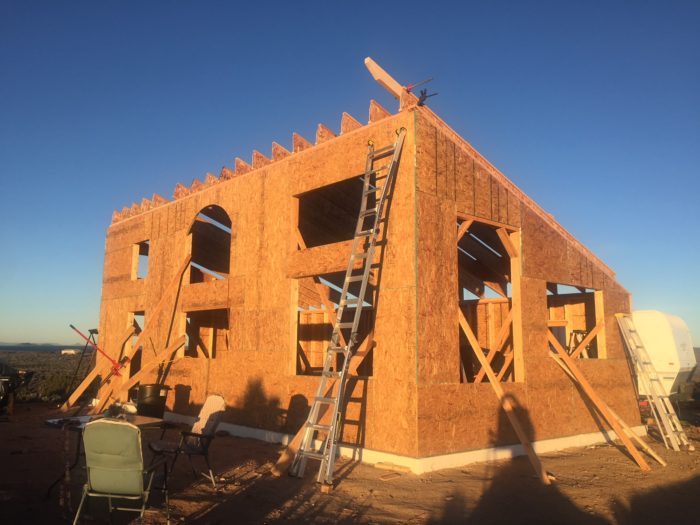 Zane Bridgers is building a single-story house in northern New Mexico and has nearly completed the framed exterior walls. As his mind turns to air sealing, he's considering whether to install an interior vapor barrier — and whether his uncle, a builder of 40 years, is giving him good advice on how to proceed.
Walls on the slab-on-grade structure will include R-19 fiberglass cavity insulation, 5/8-inch OSB sheathing, a 2-inch layer of polyiso rigid insulation, a drainage layer and, finally, three-coat stucco. In the roof, Bridgers plans 6-mil poly under the drywall, followed by 2 inches of polyiso, R-38 fiberglass batts, a 2-inch ventilation channel, OSB sheathing and metal roofing.
"This is a predominately cold and dry heating climate with big temperature swings," Bridgers writes in a Q&A post of the Climate Zone 5 locale. "I was talking with my uncle who has been a builder here for 40 years. He was explaining the importance of dry heat for optimal performance of fiberglass insulation, hence his recommendation to put the 6 mil plastic on the ceiling … I was planning to tape the foil faced polyiso for this effect, but he thinks it's a waste of time and effort vs. the 6 mil poly."
Bridgers is equally concerned about another bit of advice he's been given: Add a layer of poly to the walls.
"This caused a bit more concern as it seems it could potentially trap moisture in the wall cavity, especially since I had planned foil-faced polyiso under the stucco, also taped," Bridgers adds. "He suggested leaving somewhere for the moisture to go."
Bridgers has two other questions. First, is it a waste of time to seal the OSB and framing when the exterior foam and drywall seem like much easier ways of controlling air leaks? And second, with a continuous…
Weekly Newsletter
Get building science and energy efficiency advice, plus special offers, in your inbox.
This article is only available to GBA Prime Members
Sign up for a free trial and get instant access to this article as well as GBA's complete library of premium articles and construction details.
Start Free Trial
Already a member? Log in