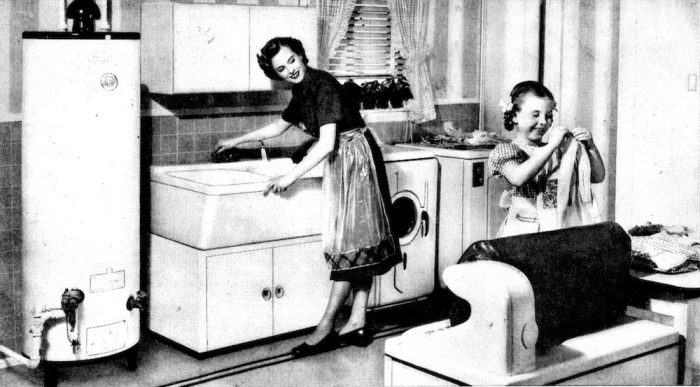 What's the first image that pops into your head when you see the term "water heating"? It's probably a water heater tank. Depending on your interests or what you have in your home, perhaps it's a tankless or solar water heater. For most people, hot water is all about the device that heats water. Water heating is a system, however, and the water heater is merely one component.
Water heating inputs
The water heater has two inputs: water and energy. The hot water that comes out of the water heater has to travel through a distribution system to reach the various fixtures—faucets, showers, dishwasher, etc.—where the hot water is used. The fixtures have controls. And then you have the people, an important part of any water heating system.
On the input side, the water varies from place to place and from season to season. The mineral content or water softening chemicals can affect the life span and maintenance of a water heater. The temperature of the water supply affects the energy use. In cold climates, the water coming into a water heater is colder than the water being heated in warm climates. The incoming water temperature is close to the average air temperature for a location, but it varies with location of the pipes and with the seasons. In winter, the water coming into a water heater is colder and needs more heating.
The type of energy input is an important choice. It could be electricity, natural gas, propane, wood, solar radiation, or some other type. The fuel you choose narrows your options for a type of water heater. Within types, though, you can choose low, medium, or high efficiency. You also may get to choose from models that store hot water in a tank or those that heat water on demand. I say "may get to choose" because a tankless water heater isn't always an option. You can't do solar water heating on demand, for example.
Water heating outputs
The output side of the water heater is the part that's gotten short shrift. When you choose combustion of a fuel to heat your water, there are two outputs: exhaust gases and hot water. Removing the exhaust gases is a critical health and safety issue. Sealed combustion or direct-vent water heaters are the safest, but the majority of gas water heaters use a natural draft exhaust gas flue, making it the appliance most likely to put carbon monoxide into your home's air. Consider carefully when buying a water heater. And remember that the exhaust gases are part of your water heating system. Choosing an electric water heater avoids the exhaust gas problem and uses a fuel that keeps getting cleaner.
Pay attention to the hot water distribution
For electric and solar thermal water heaters, the sole output is hot water. Sadly, the process of delivering that hot water is greatly flawed in most homes. The hot water distribution systems still being installed today are based on out-of-date ideas and technology. Since the 1992 Energy Policy Act lowered the upper limits on water-flow rates for different types of plumbing fixtures, hot and cold water lines have been oversized. The result is longer wait times for hot water, which wastes water and time. It also wastes energy because it strands more hot water in the pipes when the tap is turned off than would be stranded with right-sized pipes. Gary Klein is the guy who opened my eyes on this subject, and I encourage you to read his articles and watch his videos.
Also of great importance for the hot water distribution is the location of the water heater and fixtures. The greater the distance between the source of hot water and where it gets used, the greater will be the wasted water and energy. The most efficient hot water distribution system will be the one with the shortest runs in addition to having right-sized pipes. That setup in the vintage Rheem water heater ad [main image] shows an efficient placement of the water heater for laundry room hot water.
The convenience problem, of course, can be solved with a recirculating pump. A continuous recirculating pump that keeps hot water close to every fixture 24/7 will waste a lot of energy. Putting it on a timer so that it runs only during the high-use times can reduce the extra energy usage. A demand-type recirculating system is better. Just push a button, and your shower will be hot in a few minutes without wasting water or energy.
Down the drain doesn't have to mean lost forever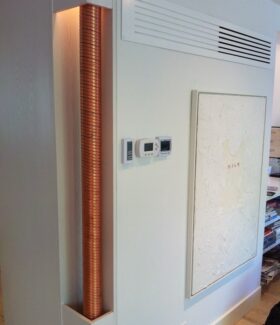 But wait! There's more. The water heating system also includes the drains at each fixture. When you heat water, use that heat briefly while showering or washing dishes, and then send it on its merry way down the drain, you're sending energy that you paid for down the drain, too. It's possible to recover some of that heat in a clever device called—even more cleverly—a drain water heater recovery system. It's simply a copper pipe wrapped around a drain, absorbing heat from the drain water. Cold water runs through the copper pipe and gets pre-heated on its way to the water heater. Showers are the hot water fixture that can best take advantage of this energy-saving device because the hot water runs down the drain for longer periods. Do your homework, though. You'll need space beneath the bathroom and enough showering to make it cost effective.
So there's your 10,000-meter look at hot water. Water heating is a system, not simply an appliance that heats water.
_________________________________________________________________________
Allison Bailes of Atlanta, Georgia, is a speaker, writer, building science consultant, and founder of Energy Vanguard. He has a PhD in physics and writes the Energy Vanguard Blog. He is also writing a book on building science. You can follow him on Twitter at @EnergyVanguard.
Weekly Newsletter
Get building science and energy efficiency advice, plus special offers, in your inbox.