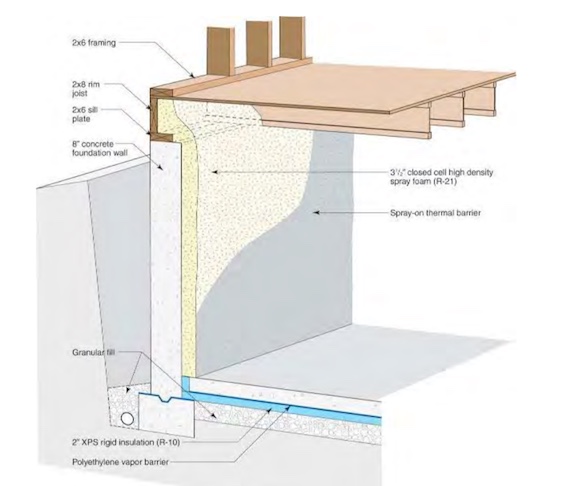 Dave Feldman is building a new house near Boston, Massachusetts, that will have a walkout basement with a tile floor. His goal is to have the floor comfortably warm in this Climate Zone 5 locale even in the dead of winter.
Feldman plans to insulate the basement walls with closed-cell spray polyurethane foam. For insulation below the slab, Feldman is considering two types of rigid foam insulation—expanded polystyrene (EPS) and extruded polystyrene (XPS)—as well as closed-cell spray polyurethane foam.
He's uncertain whether to insulate the slab with 2 inches of foam (which he estimates at R-10 to R-14) or invest in 4 inches of foam and double the R-value.
"I don't want to waste materials if there's not a useful impact," he writes in a post in the Q&A forum, "but [I] also don't want to skimp on something that's pretty much impossible to change once the house is up."
His request for feedback is where we begin this Q&A Spotlight.
Please, skip the spray foam
The spray foam that Feldman has in mind is Demilec's Heatlok HFO High Lift, which uses a hydrofluoro-olefin (HFO) blowing agent developed by Honeywell. HFOs have a much lower global warming potential than conventional blowing agents, but in Dana Dorsett's view, spray foam is still a poor insulation choice.
"Why?" he asks. "That is some of the lousiest bang/buck going, and one of the least green methods of insulating a framed wall possible, despite using HFO blowing agents. Expensive (financially & environmentally) closed cell foam between framing is a waste."
Dorsett directs Feldman to this article from Fine Homebuilding magazine explaining the basis for his conclusions while suggesting that dense-packed cellulose is the best choice for cavity insulation.
"Save the foam budget for…
Weekly Newsletter
Get building science and energy efficiency advice, plus special offers, in your inbox.
This article is only available to GBA Prime Members
Sign up for a free trial and get instant access to this article as well as GBA's complete library of premium articles and construction details.
Start Free Trial
Already a member? Log in