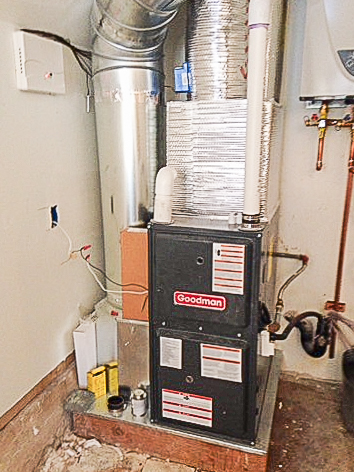 John Melichar has upgraded the furnace in his two-level San Francisco home, one of several improvements that should have made the house more comfortable as well as more energy-efficient. The new furnace has the capacity recommended by his heating contractor, but so far the house seems less comfortable, not more comfortable.
In a post at GBA's Q&A forum, Melichar explains his concerns:
"Our contractor told us to buy a 60K Btu/h furnace; we opted for 96% AFUE with two-stage variable blower — the Goodman GMVC960603BN.
"We get high winds from the vents," Melichar continues. "We thought that the variable blower and two stages meant that the unit would operate on a low flame and low fan (cubic feet per minute) level but that doesn't seem to be the case. The furnace starts out slow then ramps up to gale storm."
These problems prompt Melichar to ask whether the furnace has been installed incorrectly. Maybe the contractor has recommended a furnace that's too big for the house. Can some adjustments be made to improve its performance?
Further complicating Melichar's situation is a language barrier with the contractors who installed the furnace: He's able to speak with only one of them.
That's the backdrop for this Q&A Spotlight.
Did the installer do his homework?
GBA senior editor Martin Holladay's first question is whether the heating contractor has taken all the necessary steps to ensure the furnace was specified and installed properly.
That process, he writes, should begin with Manual J and Manual D calculations to make sure the furnace is matched to the heating loads in the house, and that the ductwork is designed correctly. Following installation, the system should be commissioned to make sure it operates as intended.
"There…
Weekly Newsletter
Get building science and energy efficiency advice, plus special offers, in your inbox.
This article is only available to GBA Prime Members
Sign up for a free trial and get instant access to this article as well as GBA's complete library of premium articles and construction details.
Start Free Trial
Already a member? Log in