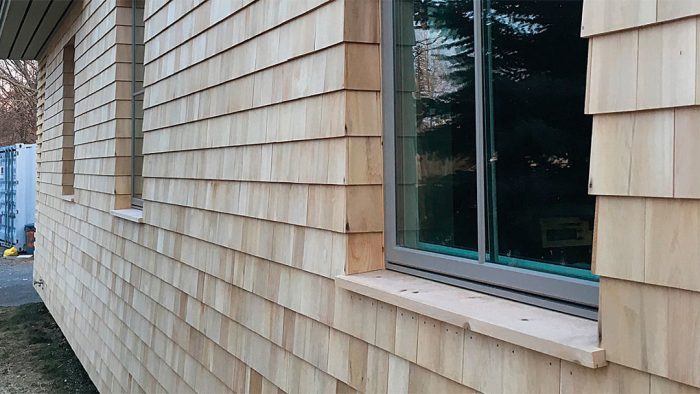 Thick, highly insulated walls are great for lowering energy bills and creating a more comfortable interior environment for occupants, but they present some unique challenges for builders when it comes to installing windows and doors.
I've designed and/or built homes with many different types of thick walls, including 2×4 walls wrapped with continuous exterior insulation, cross-strapped 2×6 walls (aka "Mooney walls"), 12-in. double-stud walls, and 18-in.-plus panelized walls—and that's not all of the different types of thick walls out there. Here, I'll describe some of the snags I've hit when installing windows in these thick-wall assemblies, and the solutions I've designed or used in response. The details shown here are for moderately high-performance envelopes in climate zones 3 and higher, but they can be used for warmer zones or adapted for Passive House performance levels. In a future column, I'll address the issue of installing doors in thick walls.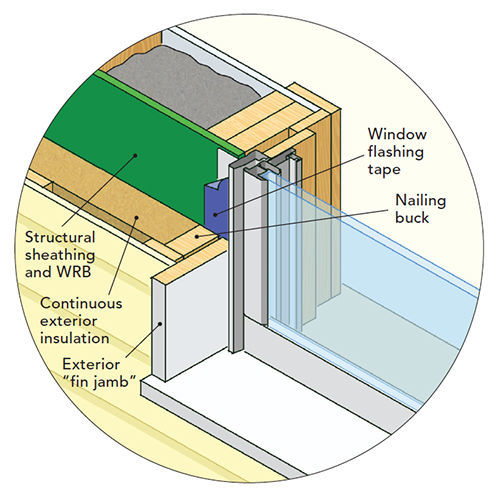 Recessed windows with "fin jambs"
Windows have to perform the functions of both the water-resistive barrier (WRB) and the air barrier. With the WRB and airtight layer at the sheathing, in some ways it's easiest to keep the window flanges at the sheathing as well. This leaves the window recessed from the wall's exterior plane and provides some welcome shadowlines, which are often absent from modern facades where everything is in plane. Before the continuous exterior insulation is installed, it's business as usual. Once you add the exterior insulation, though, you have to create extension jambs toward the exterior, as well as a sill extension. This takes extra time and materials. One way to keep the added cost to a minimum is to eliminate the conventional exterior casing and allow the extension jambs to be the only exterior trim. It's a modern look that not…
Weekly Newsletter
Get building science and energy efficiency advice, plus special offers, in your inbox.
This article is only available to GBA Prime Members
Sign up for a free trial and get instant access to this article as well as GBA's complete library of premium articles and construction details.
Start Free Trial
Already a member? Log in