Dr. Wolfgang Feist is the founder of the Passivhaus Institut in Darmstadt, Germany. On September 22, 2014, after Feist gave an address at a Passive House conference in Portland, Maine, he agreed to be interviewed. (For links to my two previous interviews with Dr. Feist, see the "Related Articles" sidebar below.)
Q. What will it take for a higher percentage of new buildings to be built to the Passivhaus standard?
Feist: In North America, the most important thing now is to involve industry to make better components available on a broader level. Far too much is imported now from countries too far away. What is really needed is to have better windows and ventilation systems. That is getting started now. In many European countries, triple glazing is now standard. That means that it is no longer more expensive. It can happen here too. In Germany, if you insist on a double-pane window, it might be more expensive than a triple-pane window.
In North America at the moment you have a lot of educated architects, but they still do it by combining products that are not really suitable for a Passivhaus. Even without the right products, it is possible to succeed, but that is more expensive.
The other step is education of all involved. At the moment, that means especially the construction workers and the HVAC contractors. The HVAC contractors are the most difficult, in Europe as in America.
Q. Is it correct to say that the European Union will require new buildings in Europe to meet the Passivhaus standard beginning in 2020?
Feist: That is almost correct. The EU has said that from 2020, the national governments in Europe are required to establish new construction standards with energy performance levels that are as low as the Passivhaus standard.
You have to be cautious with making the Passivhaus standard mandatory. First you need to demonstrate that it is working. Then you need a certain level of qualified architects and engineers, and for that you need incentive programs. If you make it mandatory too early, you get too much resistance from people who don't want it. You get a backlash. And then you waste all of your creativity having these discussions with people who don't like it.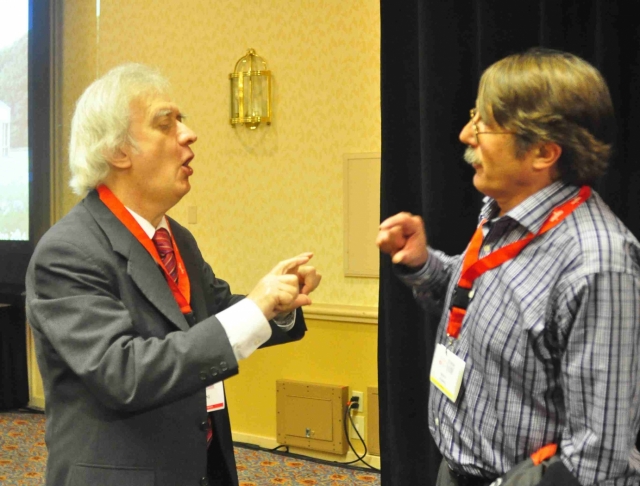 Q. Since Europe is moving in the direction of establishing the Passivhaus standard as a minimum code requirement, why did the Passivhaus Institut develop the Energy Conservation Buildings standard, which is less stringent that the Passivhaus standard? Is the Energy Conservation Buildings standard intended for North America?
Feist: This refers to the discussion going on about building to a high performance standard having higher upfront costs. Some people say that it has no higher upfront cost, but it is not true. Yes, some architects are clever enough to do it at no more cost, but in that case you could still change the windows and have a less expensive building. So, if you take the idea that the upfront costs are higher, in our economy at the moment there are some fraction of building contractors who only look at upfront cost. They should be trained in some of the important things, like airtightness and avoiding thermal bridging. And these things are not very expensive. So this new standard is for all these guys who don't think in terms of net present value. If the government wanted to do something really good, they would make net present value calculations mandatory.
What we need is to have all these guys who are doing construction now to be able to do it at the lowest possible upfront cost, so that they won't need to have any training in 2020.
But really, all these certification things are less important than some people think. It is how we get better quality. It's just a tool.
Q. We are continuing to see cold-climate Passivhaus designs with very thick levels of insulation — levels that aren't cost-effective. (1) Just this week, a reader posted a question about the best way to build an R-80 wall, which he reported was necessary for a Minnesota Passivhaus. Can you comment on this issue?
Feist: You shouldn't be fixed on this. Look at the real economy instead. What do you care about more? You are drilling and fracking, causing lots of wasted investment! So why care about a few more centimeters of insulation? If the Minnesota designer comes to us for certification, we will tell them how to do it better. This person in Minnesota has done something wrong. There may be mistakes in the calculation. Maybe he is using the wrong windows. Maybe he didn't calculate for the negative thermal bridge effect. All you need is 40 or 50 centimeters [16 to 20 inches] of insulation — that is enough.
But I don't care too much about this. It is not killing anybody. There is no real danger from this insulation. It is not so important that you have to convince people that this is nonsense. I think you are very much interested to keep this discussion going, otherwise it will be boring. Insulation is just a tool. Maybe you might really need 80 centimeters [31 inches], and if you do, it's not that bad.
Q. PHIUS is developing different standards for different climates. Would the Passivhaus Institut consider a similar approach in Europe?
Feist: No.
Q. Do you see any possibility of a reconciliation between the Passivhaus Institut and PHIUS?
Feist: No. It's not depending on us. I don't think it is good to go deeper into the reasons on both sides. We don't want to deepen this discussion.
Footnote
1. After I published last week's blog, I had a discussion on Twitter about this issue with Steven Toomey. Along with Anne Decker, Toomey has built a Passivhaus in Bolton, Connecticut that they call the Hayfield House. Toomey kindly supplied energy budget information from two iterations of PHPP for his house in Bolton, which is a two-story house built on a raft foundation. The raft slab has an area of 1,248 square feet. The foundation is insulated with a horizontal layer of R-35 rigid foam, as PHPP required. Using R-35 rigid foam saves 68 kWh/year of site energy (worth about $10.35 if electricity costs $0.15/kWh) compared to using R-20 rigid foam. Upgrading from the R-20 foam to R-35 foam cost about $1,872 (assuming that the foam cost about 10 cents per R per square foot). So the extra foam has a simple payback period of 180 years. If the same $1,872 had been invested in a PV system costing $4/watt, Toomey could have bought a 0.468 kW PV system producing 541 kWh/year, worth about $81. So a investment in PV would yield more than 7 times more energy than the investment in extra foam.
Postscript: In comment #18 below, David White (who prepared the PHPP calculations for Steven Toomey) presents numbers that differ from Steven's calculations. White made a slightly different comparison (R-19 versus R-35) and calculated that the thicker insulation saves 211 kWh/year ($32) assuming that the heat pump has an average COP of 2.5, or 141 kWh/year ($21) assuming (as PHPP recommends and as Toomey assumed) that the heat pump has an average COP of 3.76. Using White's numbers and the pessimistic scenario for heat-pump efficiency (2.5 COP) shortens the simple payback period for the insulation upgrade from 180 years to 58 years. These assumptions lead to the conclusion that an investment in PV would yield 2.5 times more energy than the investment in extra foam. Using White's numbers and the optimistic scenario for heat pump efficiency (3.76 COP) shortens the simple payback period for the insulation upgrade from 180 years to 89 years. These assumptions lead to the conclusion than an investment in PV would yield 3.8 times more energy that the investment in extra foam. None of these scenarios show that the upgrade from R-19 or R-20 foam to R-35 yields anything close to the same energy savings as investing in PV.
Martin Holladay's previous blog: "Report from the Passive House Conference in Maine."
Click here to follow Martin Holladay on Twitter.