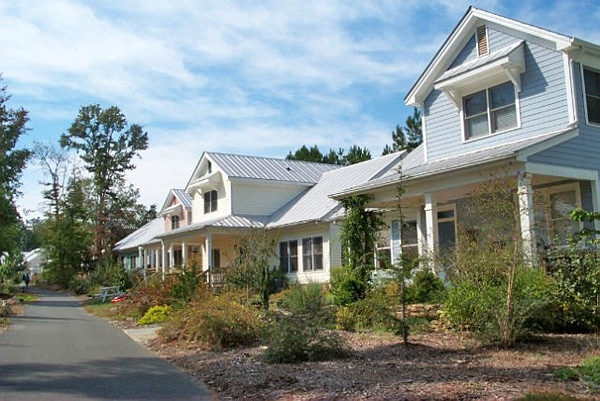 #Twenty-two homes in a cluster made for walking
Eno Commons takes the idea of green homebuilding to another level — the community level. The Durham, North Carolina, project includes 22 energy-efficient homes that, in accordance with the community concept at the heart of Eno Commons, encircle a comfortable walking path while car traffic and parking are kept to the perimeter.
Smart planning makes the best use of space
By clustering the development in the middle of the site, more than 75 percent of the land was left undisturbed, allowing wildlife to freely cross the property. The relatively level home sites made it easy to provide accessibility by bringing footpaths right up to each front door. The homes have well-thought-out open floor plans, with all of the important amenities on the first floor, making the layout equally comfortable for a growing family or a retired couple. The smart layout also means a lot of function is packed into a small footprint.
Well-designed homes can be comfortable and affordable
Sustainable building doesn't have to come at a premium. Simple, traditional details and production building methods kept construction costs low — around $65 per sq. ft. — about half what it would have cost to build a typical single-family house in 1998. The passive solar design of the homes dictated their orientation, but the open floor plans allowed placement of a "front" door on whichever side faced the footpath.
This flexibility gives each home a distinctive identity, even though there are only two unique designs. Ground-source heat pumps and tight building envelopes complement the passive solar heat and make the homes' operation more affordable. Inside temperatures are kept stable by reflecting summer heat with a metal roof and storing winter heat in the concrete floors. Both of these materials will last a long time. The homes illustrate the fact that straightforward designs based on simple principles can make great-looking, affordable houses. In fact, they're among the most energy efficient houses built in the last decade.
Weekly Newsletter
Get building science and energy efficiency advice, plus special offers, in your inbox.
Lessons Learned
Even with such a dedicated, team effort, there are usually surprises. Because the first two horizontal loops for the ground-source heat pumps were so destructive to a site that was to be left 75 percent undisturbed, the remaining loops were inserted into drilled vertical wells at significant extra cost. On a less serious note, even though local building officials were uncomfortable with the lack of driveways, buyers were most interested in the home sites farthest from the parking area.
General Specs and Team
Location:
Durham, NC
Cost:
65
Additional Notes:
Completed: 1998-1999
Bedrooms: 2-4
Bathrooms: 21/2

Living space: 962-1,974 sq. ft.

Owner/developer: Sherri Zann Rosenthal
Builder: Craig Morrison, Cimarron Homes
Architect/designer: Jeffrey Davis
Landscape architect: Ken Coulter, Coulter Hart Jewell Thames
Engineer: Jim Thames, Coulter Hart Jewell Thames
Environmental building consultant: Arnie Katz, Advanced Energy Corp.
Geothermal contractor: Bill Evangelist, Evangelist Service Co.
Construction
Foundation: slab on grade, 1 in. EPS insulation at perimeter and extending 20 in. under slab (R-3.6)
Walls: 2x4, 16 in. o.c.; damp-spray cellulose (R-15)
Windows: low-e, double-pane, argon-filled on east-, west-, north-facing; south-facing, clear (not low-e), argon-filled (Caradco)
Roof: 2x8, 16 in. o.c.; vented; blown cellulose on flat ceilings, fiberglass batt in sloped ceilings (R-30)
Garage: None
Energy
Windows laid out for ample daylighting and cross-ventilation
Passive solar design, including slab floor as thermal mass
Roof overhangs, reflective roof, and natural cross-ventilation reduce cooling load
Energy Specs
Heating/cooling: closed-loop 1.5- or 2-ton GSHPs (water furnace)
Water heating: electric water heater
Annual energy use: 19 MMBtu average
Water Efficiency
Low-flow plumbing fixtures
Drought-tolerant, native plants
Indoor Air Quality
Most flooring is concrete or wood
Green Materials and Resource Efficiency
100% recycled PET carpeting
Most materials locally sourced
Alternate Energy Utilization
Although solar hot water was not included in the initial construction, water heaters were located for future solar collectors.
Certification
None: (development predates most certification programs)