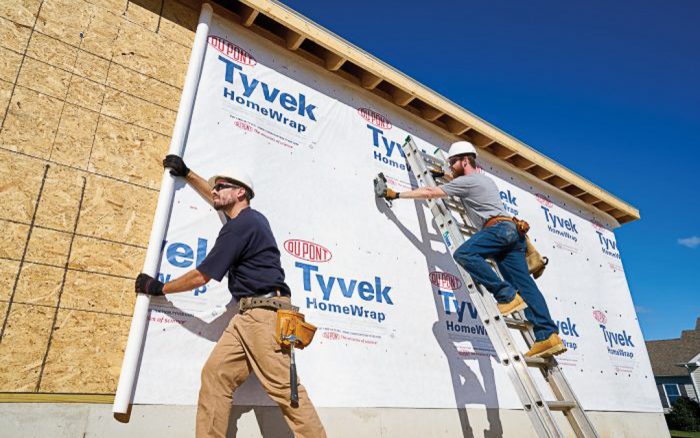 In the midst of framing his new house, Joe Norm has switched gears and opted out of Zip System sheathing in favor of CDX plywood. The question he faces now is how he should air seal the exterior side of the walls—tape the seams between sheets of plywood, or tape the seams of the water-resistive barrier (WRB) he installs over the sheathing? More to the point, will a common WRB like DuPont's Tyvek be good enough, or should he be prepared to spend more on an "exotic" product?
"I priced out VaproShield IT and it looks to be 3x the cost of Tyvek," Joe writes in a Q&A post. "Solitex Mento looks to be about 2x the cost. Why are these products so much more and how are they justified over Tyvek?"
That's where we start this Q&A Spotlight.
Staple-up WRBs are not the best air barriers
GBA Editor Brian Pontolilo has just finished a series of blogs on WRBs and has come to at least one conclusion: "There is no easy answer when it comes to the performance of individual products."
In order to win code approval, a WRB must pass certain criteria of the International Code Council's Evaluation Service. Reports on test results offer only limited information, but Pontolilo adds that there are better choices for an air barrier than a staple-up housewrap.
"It is well known that staple-up housewraps like Tyvek don't make the best air barriers," he says. "At least they are challenging, at best, to detail as an air barrier. If you choose this type of product, taping the plywood seams is a more straightforward approach to air sealing."
If Norm wants his WRB to double duty as an air barrier, Pontolilo would recommend the Zip…
Weekly Newsletter
Get building science and energy efficiency advice, plus special offers, in your inbox.
This article is only available to GBA Prime Members
Sign up for a free trial and get instant access to this article as well as GBA's complete library of premium articles and construction details.
Start Free Trial
Already a member? Log in