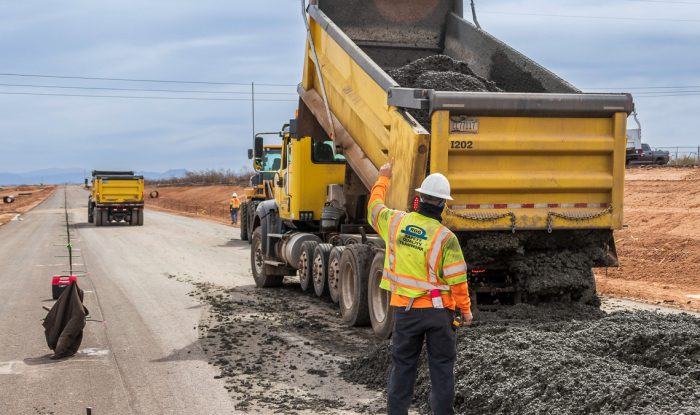 When it comes to the Inflation Reduction Act, we shouldn't sully good intentions, nor should we pave the road with them, literally.
Last March, the Federal Emergency Management Agency (FEMA) announced it will provide additional funds to states, tribes, territories, and local communities that rebuild using low-carbon construction and building materials in the wake of natural disasters. The IRA authorizes FEMA to foot the bill on "eligible" low-carbon materials, through 2026, via the agency's grant programs, even when the low carbon options are costlier than the standard ones. The eligible materials in question are concrete, steel, asphalt, and glass with a reduced Global Warming Potential (GWP) compared to industry averages in North America. So far so good.
Climate resiliency is now part and parcel of FEMA's broader mission, and this comes not a moment too soon. Within the last ten years, six were the costliest in terms of cumulative climate disaster events since the agency began recording such numbers in 1980. (The years 2021 and 2022 rank #4 and #3, respectively, each surmounting $150 billion.) Peruse the various tentacles of fact sheets, press releases, and FAQs interrelated to the IRA and you will inevitably stumble upon language about "whole community resilience" and advancing a "clean energy economy."
Quality of materials
There is some bite to FEMA's new policy. The agency has backdoor access to the federal government's enormous annual purchasing capacity of $650 billion. And thanks to the Biden-Harris Administration's Federal Buy Clean Initiative, there's newfound incentive to procure U.S.-made, low-carbon construction materials. The question is whether that bite has teeth. And that might all come down to the efficacy of low-carbon materials.
"The stronger your concrete is, the longer it's going to last," says Chris Bennett, owner of Bennett Build, a Portland, Oregon-based consultancy focused on sustainable concrete solutions. This logic seems simple enough, until one begins playing around with concrete's base ingredients. "Low-carbon concrete usually requires significant changes to mix designs," he says, referring to the process that determines appropriate proportions and types of aggregate (sand and gravel), cement, water, and admixtures. "When the mix is changed, adjustments to finishing and curing aren't typically accounted for. This can lead to problems like slower strength gains and longer schedules, which can be cost prohibitive to owners."
Globally, concrete is consumed at a rate second only to water. It's cheap and it's plentiful, and messy. Along with the other eligible building materials, FEMA wants to tackle the low carbon question with the aid of Environmental Product Declarations (EPDs), which are used to identify lifecycle impacts but not endorse any one product's environmental superiority over another. They're the equivalent of your English teacher providing constructive feedback on your essay sans an actual grade.
"EPDs are good for identifying constituent materials that are low carbon," Bennett says. But they fail to address some important questions like durability and porosity. "We're baking a different cake."
Bennett is fond of pointing out that "low-carbon concrete equals low-budget concrete," provided the equation accounts for changing variables. Ensuring a long lifecycle for low-carbon concrete versus the standard made using Portland cement is not an apples-to-apples equation. It demands adjusting the chemistry, methodology, and timing for finishing, curing, and consolidating (removing air voids that weaken the concrete over time), in addition to the mix design, which Bennett feels receives too much of the attention at the expense of the other three. In pretty much every case, the low-carbon alternative will add days or weeks to one's construction schedule and, at least in today's market, higher costs to one's budget. Scaling up can eventually help solve the cost issue. A mix of patience, education, and wholesale culture change will be needed to address the scheduling concerns. And in America, where we tend to like things fast and cheap, that's a tall order.
Ironically, when low-carbon building materials are treated the same as their emissions-heavy counterparts, it yields an inferior product, resulting in a shorter lifecycle, which upon end of life creates unwanted embodied carbon for something that was otherwise "low carbon" up front. In that regard, failing due diligence and proper scheduling, procuring lower-carbon construction materials may qualify for one of FEMA's grants and score political points; what it won't do is build community resilience and contribute to long-term carbon savings.
Inclusion of more products
Of course, we haven't yet addressed the elephant in the room, which is, why only those four materials: concrete, steel, asphalt, and glass? Yes, this list does comprise the most emissions-intensive industrial sectors, so it makes perfect sense to want to transition them into a cleaner energy economy. But expanding the eligible materials would also be good for business.
Carbon-storing engineered timber is a more than suitable alternative to steel, and there already exists nearly two dozen mass timber plants in North America that support regional economies and supply chains. As for concrete, "the sky's the limit," Bennett says. The more common "green" cement alternatives include fly ash and blast furnace slag. Waste plastic, paper fibers, and other post-consumer materials like glass and concrete debris make suitable aggregate alternatives. "There are thousands of different things to replace traditional cement."
One would hope there are implicit gray areas within FEMA's policy that would enable communities and homeowners to rebuild as they see fit, on their own terms, with resiliency and autonomy, while also tapping into bonus federal relief dollars. If that's not the case, and construction schedules are already tight, it may be worth those communities asking what true resiliency really looks like.
________________________________________________________________________
Justin R. Wolf is a Minnesota-based writer who covers green building trends and energy policy.

Weekly Newsletter
Get building science and energy efficiency advice, plus special offers, in your inbox.