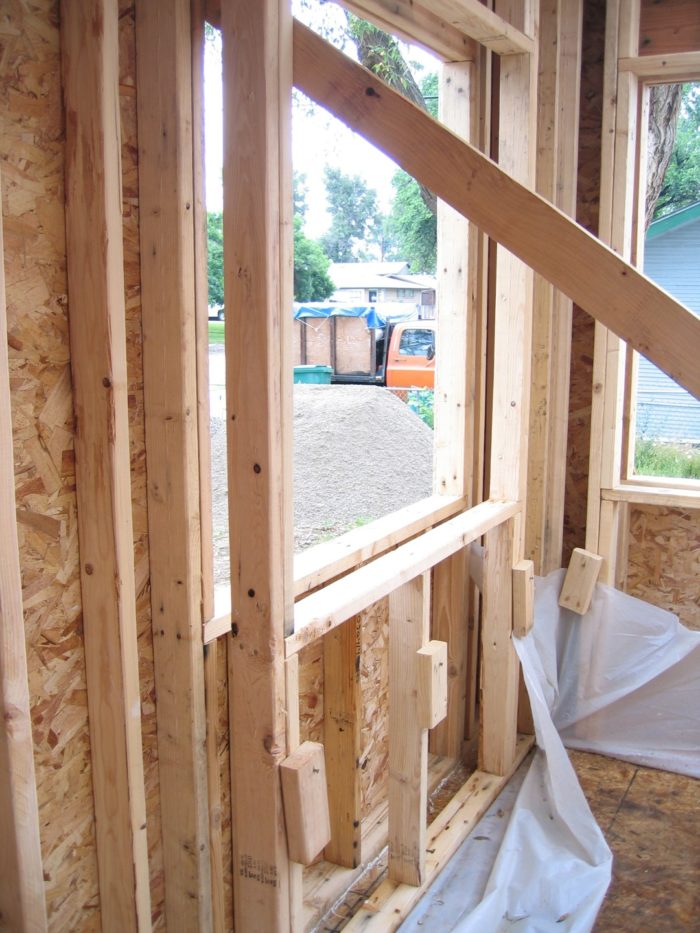 Adam Peterson is building a house with double-stud exterior walls, and he's run into a problem.
"Blame it on lack of clarity on my part," Peterson writes in a post at GBA's Q&A forum, "but when my framer built my double-stud walls he didn't oversize the window rough openings to account for 1/2-inch plywood sheathing connecting the inner to the outer walls. He figured that this gap could be covered solely with drywall."
The back of the inside stud walls have been covered with MemBrain, an air barrier and "smart" vapor retarder, which has been bedded in acoustical sealant and stapled in place. This is in advance of blowing cellulose into the wall cavities. Later, Peterson will insulate the inner 2×4 wall, which is the service cavity for plumbing and wiring.
But what should he do about the lack of a solid connection between inner and outer stud walls at the window openings?
"I'm wondering how the lack of plywood here will impact airtightness," Peterson writes. "Should I take extra measure to apply acoustic sealant to the drywall window return?
"I will need to blow in the insulation prior to drywall, of course, so I will need some sort of blocker at the rough openings in order to prevent the cellulose from flying out of this gap. Perhaps just some more MemBrain stapled wall-to-wall? Just trying to think of the implications this will have on my build."
Peterson's dilemma is the topic for this Q&A Spotlight.
Installation of MemBrain is a problem
Having the MemBrain installed now is not ideal, says GBA senior editor Marin Holladay.
Holladay agrees with earlier comments from Michael Maines and Dana Dorsett that gussets should be installed to connect the two stud walls.
"You certainly need some…
Weekly Newsletter
Get building science and energy efficiency advice, plus special offers, in your inbox.
This article is only available to GBA Prime Members
Sign up for a free trial and get instant access to this article as well as GBA's complete library of premium articles and construction details.
Start Free Trial
Already a member? Log in