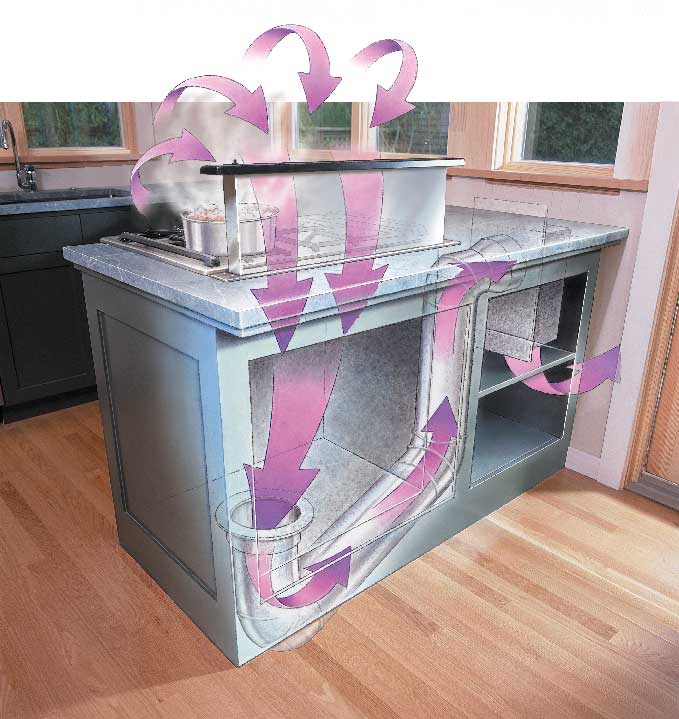 Downdraft exhaust hoods have powerful fans that can depressurize a house.
[Click to enlarge]
Mechanical pressure usually beats natural pressure
Mechanical forces created by fans — either ventilation fans or furnace fans — can completely overwhelm wind and the stack effect. "If we blow air into a building, we pressurize it," Straube says. "Everywhere. If I have a 10 Pascal pressurization, it will spread through the whole building and everything will be pressurized. And if I negatively pressurize, everywhere around the building will be negatively pressurized."
High-end houses with mammoth downdraft range hoods often have powerful exhaust fans. Exhausting cooking smoke and odors requires a huge air flow, so downdraft range hoods tend to have fans rated at 1,000 cfm and up.
Big fans can suck air through the walls and floor
"[These are] very powerful fans," Straube says. "You turn them on and there's this big wind-up, like a Boeing jet on the runway, and you've got to keep the kids away or they're gonna get sucked onto the stove."
If you don't provide makeup air for such a large volume of exhaust, the whole house becomes strongly negatively pressurized. "You start sucking on the garage, and you'll [breathe] air sucked backwards through your water heater vent. It'll suck air backwards down your fireplace," Straube says. "People have died—people continue to die every year—because of things like this."
If you want to avoid sucking backward through the combustion appliances in your home, you must provide makeup air for your dryer, range hood, and other exhaust appliances.
Related Articles
Questions and Answers About Air Barriers
Airtight Wall and Roof Sheathing
Pinpointing Leaks With a Fog Machine
PDRTJS_settings_1467312 = {
"id" : "1467312",
"unique_id" : "default",
"title" : "",
"permalink" : ""
};
---