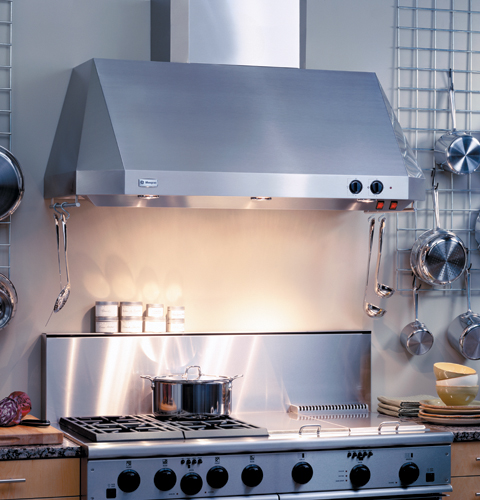 UPDATED on January 8, 2018
Most homes have several exhaust appliances. These typically include a bathroom fan (40-200 cfm), a clothes dryer (100-225 cfm), and perhaps a power-vented water heater (50 cfm), a wood stove (30-50 cfm), or a central vacuum cleaning system (100-200 cfm). But the most powerful exhaust appliance in most homes is the kitchen range-hood fan (100-1,200 cfm).
Every time an exhaust fan removes air from your house, an equal volume of air must enter. The air that enters cracks in a home's envelope to replace air that is exhausted is called "makeup air." Two trends affecting makeup air are causing increasing problems for homeowners: homes are getting tighter, and range-hood fans are getting more powerful.
So where does a powerful range-hood fan get its makeup air? If the house doesn't have enough random air leaks around windows, doors, and mudsills, the makeup air is often pulled backwards through water-heater flues or down wood-burning chimneys — a phenomenon called backdrafting. Since the flue gases of some combustion appliances can include carbon monoxide, backdrafting is dangerous. In some cases, it can be life-threatening.
Range hood manufacturers can't answer homeowners' questions
Most residential Q&A columns get regular questions from homeowners asking how to solve backdrafting problems or how to provide makeup air for exhaust fans. Yet range hood manufacturers are notorious for failing to provide installers with any guidance on makeup air. Several years ago, I looked into the problem and reported what I found in an article published in the August 2006 issue of Energy Design Update.
The genesis of my research was a homeowner query posted on Breaktime, the Web forum maintained by Fine Homebuilding magazine. Cheryl Morris described problems with her expensive new 1,200-cfm GE Monogram range hood. "It will pull a negative in the house,"…
Weekly Newsletter
Get building science and energy efficiency advice, plus special offers, in your inbox.
This article is only available to GBA Prime Members
Sign up for a free trial and get instant access to this article as well as GBA's complete library of premium articles and construction details.
Start Free Trial
Already a member? Log in