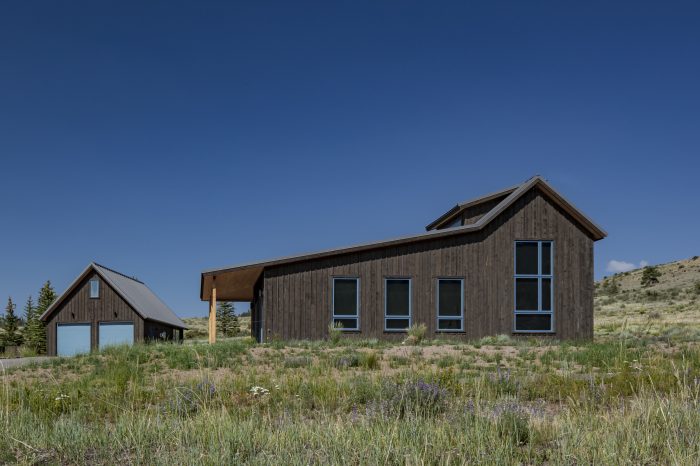 EDITOR'S NOTE: This post is part of a series in GBA's new Expert Exchange program. We will address a quarterly set of topics, the first of which is "Getting to Net Zero." The series will culminate with a webinar panel discussion among contributing experts.
Nestled in Colorado's San Juan Mountains, Creede America is a small community of modest-sized houses that architect/developer Avery Augur describes as "houses for mere mortals," ranging in size between 850 and 3000 sq. ft. Construction that emphasizes sustainability and livability while keeping to a tight budget is foundational to Creede America, a vibrant neighborhood inspired by the tenets of New Urbanism—walkable, dense, and connected—in this decidedly non-urban landscape.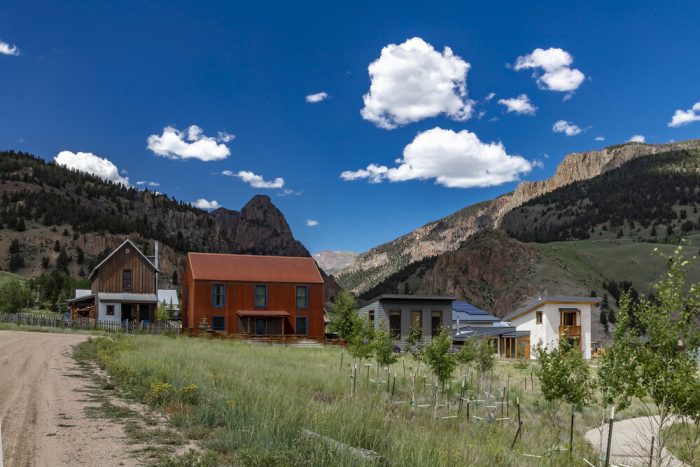 Due to the lengthy and extreme cold season, the biggest energy demand for buildings in this climate is heating; and designing heating systems to be as efficient as possible is a priority. At last count there were 22 houses in the Creede community. While all can be considered eco-friendly, so far just one is net-zero.
"My client didn't want to do a system that burned gas," explains Augur as to why propane wasn't an option. "His priorities were green technologies and net-zero [energy use]."
"A propane system is considerably cheaper and a custom-designed air-source heat pump and solar array can add as much as $50,000 to construction cost," continues Augur. "The value of no utility bills ever is getting the attention of banks and appraisers, who are beginning to factor the tradeoff between no utility bills and home values into the calculations of what buyers can afford."
Augur has installed geo-thermal systems in several of his houses and touts their high level of energy efficiency. But the prohibitive expense of installing geothermal wells required by a water-source system, the historical go-to for heat-pump systems, dissuaded his client. In the end, they opted for an air-source heat pump manufactured by Space Pak, one of a new generation of such systems that has hit the market recently. The beauty of newer heat pumps, notes Augur, is that they "are capable of operating in considerably colder climates than earlier technologies."
Augur worked closely with a team from Resource Engineering Group, his longtime mechanical and structural engineering partner, who specified the heat pump for the home using temperature and sun data from a range of sources. Based on historic climate data for the region, the engineer ran load calculations for the house and sized the system and accompanying solar array accordingly. Because the array is a grid-tied system, the team also had to understand the local power provider's policies regarding the rates that the owner is credited for power that is generated and put back into the grid.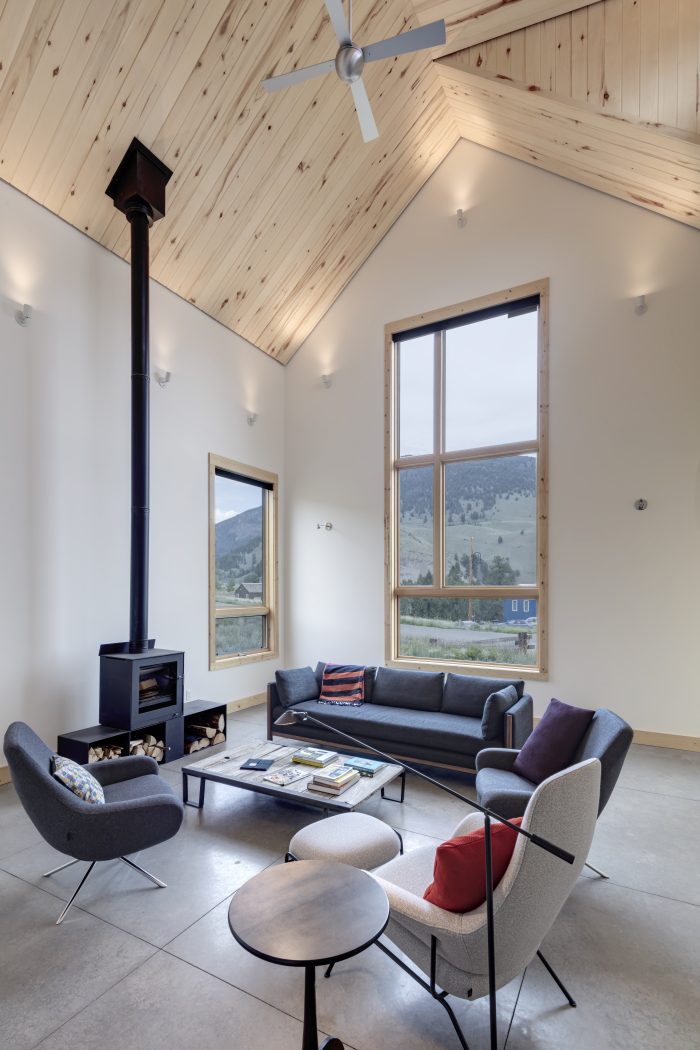 To improve performance further, the system pushes glycol through-tubing in the concrete slab floor of the shallow, frost-protected foundation, which is also the finished floor. This allows the floor to act as a powerful heat sink to retain warmth inside the house while using considerably less energy than a propane system. Augur concedes that the production of concrete is "a pretty energy-intensive process." But once it's on-site, he counters, "There are no longer any emissions." In the winter, the radiant floor heating keeps the house warm and eliminates the need for forced air, which in turn, eliminates the sound of compressors and fans.
Regarding the house's other sustainable-construction features, using locally sourced beetle-killed spruce siding minimized the emissions associated with long-distance material transportation. "The wood is not kiln-dried, so you have to spend a little more time for it to air dry and get to the moisture level you want," explains Augur, but that's offset by the wood's reasonable price and low maintenance over the long term. "We'll stain it, but in this weather, it will split and crack. If you're not keen for that character, it's the wrong material for you." The look befits Augur's intention to pay homage to the town of Creede's mining history through architectural nods to the regional vernacular. Inside, ceilings are tongue-and-groove pine and trims and finishes are minimal. Low-VOC paint was used on all the walls. "We're a design-build firm and most of our projects have budgets that don't include an interior decorator," says Augur.
Like all the Creede America houses Augur builds, this one is tightly insulated with Demilec open-celled spray foam in the walls and closed-cell in the ceiling. "The envelope is pretty conventional, but we used a spray foam with a blowing agent that's supposedly more environmentally friendly in terms of greenhouse gas emissions during the installation." And like all Augur's houses, this one has an air exchange heat recovery ventilator (HRV) to introduce fresh air into the house when the doors and windows are closed without paying a huge energy penalty associated with reheating the outside-temperature air. Without such a system, the indoor air quality can diminish and even become unhealthy. "I wouldn't build without one in this climate," says Augur.
The air exchange system has another timely feature given a universal concern for fresh air and ventilation when it comes to the albeit short cooling season. Despite the intense summer heat from the high-altitude sun, the cool nighttime and morning fresh air can keep the house comfortable even in the warmest summer months.
In the winter, the radiant floor heating keeps the house warm and eliminates the need for forced air, which in turn eliminates the sound of compressors and fans.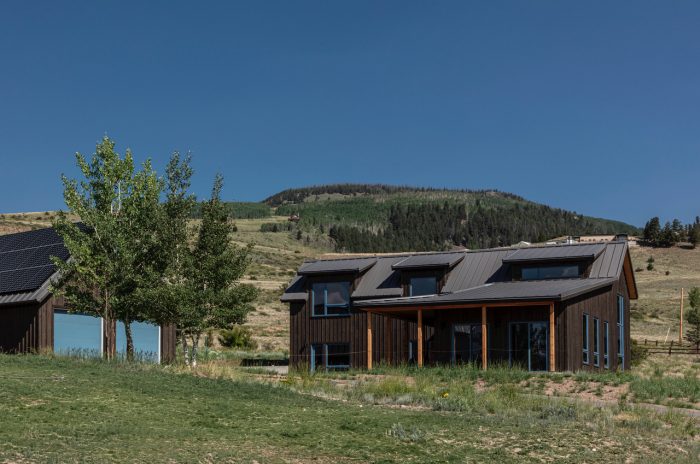 The entire house is electric—there is no gas, propane, or oil-fired equipment in the house. Electrically, in its first year the solar array produced 17,000 kwh while the house consumed only 10,300 kwh.
"The house includes many of the things we do in all our projects, such as a tightly insulated building envelope with a heat recovery ventilator to ensure good indoor air quality, and locally sourced beetle-kill spruce siding," explains Augur. "It just takes it a step further in terms of net zero by getting rid of natural gas and adding the air-source heat pump and solar system."
_______________________________________________________________________
Janice Rohlf is a contributing editor at Fine Homebuilding magazine. Photos by Charles Davis Smith, FAIA.

Weekly Newsletter
Get building science and energy efficiency advice, plus special offers, in your inbox.