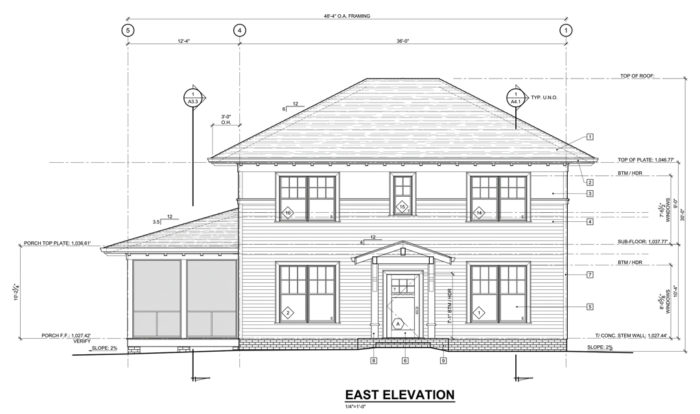 Carl Seville and his wife are building themselves a new home in Decatur, Georgia. This is the first blog in a series describing the construction project. Links to all of the blogs in this series can be found in the "Related Articles" sidebar below.
After two failed attempts at building a new house, I'm finally ready to get started. My first plan, started in 2009, was shot down by the historic commission.
The second plan was approved, but due to the recession, I found myself unable to finance the construction. At that point, fed up with my ratty cottage and having some spare cash, I decided to renovate.
Although I have been thoroughly enjoying my cottage, having recently gotten married, and with both of us working at home, 800 square feet just isn't working. After reconsidering the last, approved design, we decided to, once again, start over with a new design.
We started design work in October, working with my friend, the architect Tom Hood. We received approval from the historic commission in March, and finally wrapped up all the details and obtained the building permit in July.
Ch-Ch-Ch-Changes
The previous plan was very typical for the neighborhood: a two-story Craftsman style house with a full width front porch, with a one-car garage between the new and existing houses.
Since the cottage had been expanded, and there is a limitation on the total area of accessory buildings, I was no longer able to build a garage. Instead we needed to build a carport. Wanting space for two cars, we decided to reduce the size of the front porch and move the house closer to the street, providing enough space for a larger carport.
We worked very closely with the historic commission staff during the design process, ultimately coming up with a plan that was approved over numerous (and I feel unreasonable) objections of several neighbors, many of whom could be considered either NIMBYs (Not In My Back Yarders) or possibly even BANANAs (Build Absolutely Nothing Anywhere Near Anything).
The most complicated issues in the project were working around existing trees to comply with a very restrictive tree canopy preservation ordinance, and permeable area requirements. The lot coverage requirements necessitated using pervious paving, currently planned to be combination of pavers and concrete. I look forward to working with the materials, if not the extra cost of installation.
So many green certifications, so little time
My city, Decatur, has a green building certification requirement. I would certainly certify the house whether or not it was required, and I am currently working on certification for several local builders.
The big question for me is which program or programs to use for my house. Most of my single-family certification work is with EarthCraft House. Multifamily projects tend to be either NGBS or EarthCraft. We do the occasional LEED project as well.
Ultimately, I have decided to certify the house as LEED Version 4 – the most recent version that will become the only one available for all projects registered after October of this year. I decided it would be useful to have experience in Version 4 before I have to work on someone else's project, and will hopefully be able to work out any kinks in the process. I will probably also certify under EarthCraft and NGBS. Lots of paperwork in my future.
Decisions, decisions
I have decided to do some different things in this house, somewhat out of the mainstream, but not unusual for readers of GBA.
First, I am going to avoid spray foam insulation, and limit foam board as much as practical. I will be using Owens Corning spray-applied fiberglass in the exterior walls and on the attic ceiling. Exterior sheathing will be Zip-R with an R-3 polyiso layer. I considered using mineral wool for the exterior thermal break, but the added thickness and complexity of construction led me to the combined sheathing and insulation product.
I am going to use a passive-house type of detail on the top floor ceiling. The Zip sheathing will be installed on top of the ceiling joists, taped to the side wall sheathing, provide a complete air seal on top of the joists, instead of relying on the ceiling drywall. HVAC will be ductless mini splits from Mitsubishi, eliminating any ducts in the attic area.
The foundation will be stem walls, filled with a slab floor. Because of the low floor height required and the pervious paving, any crawl space would likely end up being a swimming pool, and I'm not a big fan of crawl spaces anyway.
My first draft with REMRate came up with a HERS rating of 43. Hopefully it will end up lower at completion. Since I have a full stand of mature trees surrounding the house, there are no opportunities for any PV, so I won't be able to get anywhere near net zero.
More posts to come as construction progresses, including some time-lapse movies of the construction. Feel free to comment, complain, and argue with my decisions.
Weekly Newsletter
Get building science and energy efficiency advice, plus special offers, in your inbox.