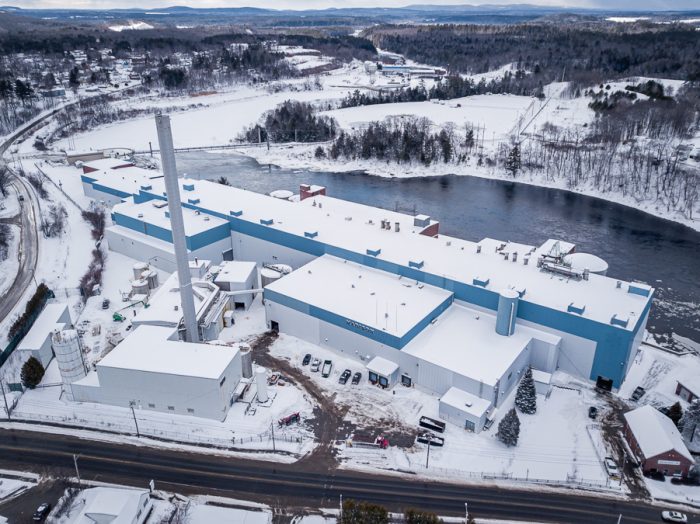 The paper and pulp industry was once a hallmark of Maine's economy. It's what steel was to Pennsylvania or what oil was to Texas. Big, scalable, and to varying degrees, dirty. But with each example of these so-called heritage industries, past tense matters. They're not dead by any means, but any reasonable person would agree that they don't represent the future drivers of any economy's GDP.
That said, hastening the demise of any polluting industry in the name of environmental justice is no justice at all, particularly if those in charge (and by extension the towns and people who support these regional economies) are ill-equipped to transition to something else. Something clean, scalable, and economically viable. Thankfully, the world isn't short on innovators.
After several years of fundraising and tireless planning, Madison, Maine–based TimberHP cut the ceremonial ribbon on its operable mill last July, making it the only facility in the U.S. to produce wood-fiber insulation, made principally from residual softwood timber. As of this summer, TimberHP is now producing and selling fill insulation to Northeast distributors, the first of its eventual three high-performance products.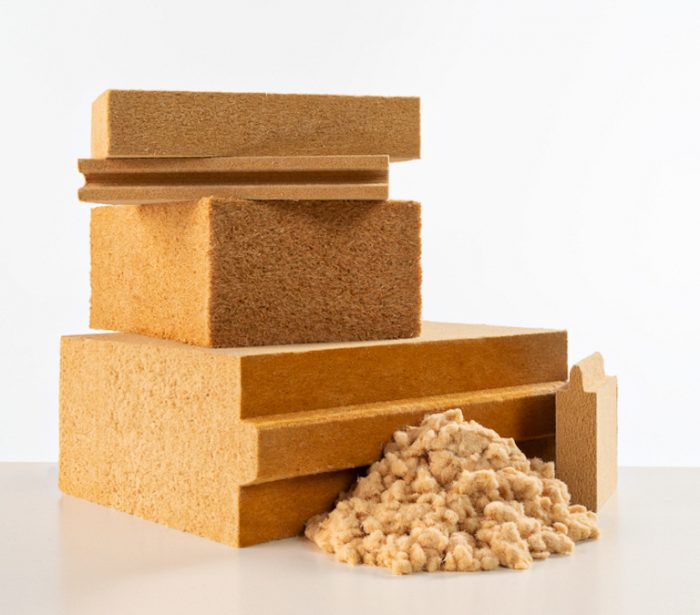 TimberFill, the company's loose fill insulation, can be blown into wall cavities, attics, ceilings, and floors using the same equipment that's used for cellulose, fiberglass, and mineral wool. This will be followed by TimberBatt, its semi-rigid, high-density press-fit batt insulation, which is slated to roll off the lines this November, and TimberBoard, its continuous exterior insulation product, slated for January 2024. Each engineered product is a composite of leftovers, the remnants of FSC-certified timber sourced within the Pine Tree State.
Adapting to changing times
Like other industrial Maine towns that lie along the river's edge, Madison was once awash in regionally sourced wood pulp. The town's mill, built in 1906 and operated by the Great Northern Paper Company, made good use of it. The post-industrial years, however, were not kind, and following decades of declining demand, Madison's mill shuttered in 2016 and left its 214 employees in the wind. (Of Maine's paper mills, six closed between 2014 and 2020; five remain open.) One year later, TimberHP—co-founded by Matthew O'Malia, an architect specializing in Passive House design, and Dr. Joshua Henry, a materials chemist focused on energy conservation—purchased the 600,000-sq.-ft. mill and got to work on repurposing it.
Still, for a startup looking to corner a market that has merely a nominal presence in North America, it would make sense to start small and scale up over time. According to O'Malia, that wasn't an option.
For wood fiber to make a noticeable dent in an industry already crowded with spray foams and fiberglass and synthetic wools, there was no version of a "smaller factory" that could come close to accomplishing that, according to O'Malia. "If you're going to make three full production lines of insulation in one facility, it requires a pretty large manufacturing setup," he says. "To move the needle on wood products, you have to be at full scale. As a startup and a first mover [of wood-fiber insulation] in North America, that was a huge challenge."
Filling a performance void
TimberHP may be the first mover in these parts, but European-made wood-fiber insulation has been on the market for nearly three decades (it was invented in the 1930s) and has managed to become cost- and performance-competitive with several products that claim greater market share. The U.S. showing up late to this party exposes a cruel irony.
According to 2021 Census data vetted by the National Association of Home Builders (NAHB), 92% of all new homes built that year were wood-framed, and O'Malia is quick to point out that wood fiber is "perfect for the wood-frame market." But across Europe, where wood-fiber insulation has grown to become a $700 million market, as GBA's Scott Gibson reported in 2021, wood-frame construction represents only 24% of the total market share, according to O'Malia.
The prospect of continuing to import a product that, at least on a ledger, comes across at high volumes but with low value, was not only unsustainable in the strictest sense, but had little chance of becoming cost competitive. Dollars and cents aside, filling a market void wasn't TimberHP's primary objective in starting this operation. Rather, O'Malia cites the "performance void" as something that really stood out. "We just don't have the right materials to align with our goals of building sustainably," he says. Wood-fiber insulation benefits from having zero volatile organic compounds (VOCs). It is durable and fire-resistant (the fill and batt hold Class A ASTM E-84 fire ratings). And the continuous insulation board is both highly vapor permeable and offers above-average compressive strength. "It's truly a game changer," says Scott Dionne, TimberHP's Chief Marketing Officer. "Our products are drop-in replacements or can work together to provide a comprehensive, above-grade thermal and acoustical solution, all made from one material."
Compared to mainstream options, O'Malia highlights TimberFill's overall cost and performance competitiveness with mineral wool and blown-in cellulose, as well as TimberBoard's competitiveness with open-cell foam insulation like EPS, although he concedes that closed-cell XPS does offer higher R-values per inch.
From a logistical standpoint, when looking at other examples of industries reinventing themselves in the 21st century, converting Madison's old paper mill into one that produces wood-fiber insulation is as seamless as they come. Yes, the manufacturing equipment and labor needs are drastically different, but the raw material that feeds this new supply chain hasn't changed one bit. Perhaps best of all, for insulation contractors, it's an apples-to-apples swap. Procurement, equipment, and installation processes all remain the same.
Short of identifying that low-carbon silver bullet that will enable the building industry to deliver on its net-zero goals, O'Malia remains laser focused on what's been his goal for decades: to create high-performance buildings. "Sustainability is a lot of gestures that add up to something meaningful," he says. (As co-founder of GO Logic and OPAL, two leading Maine-based firms specializing in Passive House design, he's recorded more than a few worthwhile gestures in his career.) But the scalable products at his disposal, including many of the so-called "low carbon" ones, were simply "trading one problem for another."
Off and running
Filling a void in the market may not be central to TimberHP's conscientious objectives, but that doesn't change the fact that it has a very marketable product. According to Dionne, national installers, distributors, and insulation specialists have already expressed great enthusiasm for TimberFill's disruption potential, which suggests the market's broader desire for cost comparable products that are "carbon smart," high performance, and easier to cut and install.
TimberHP has no designs on being the only game in town (or country) for too long. And yet, even from its remote pocket in Maine's interior, the company's reach isn't exactly limited. The fill and batt products will soon be inventoried by distributors and retailers "from Maine to Indiana and as far south as the Carolinas," Dionne says. But the kind of scalability required to achieve greater market share will require new competitors and regional growth, and not just in the Northeast but wherever responsibly managed softwood supplies are located. Purchasing a shuttered paper mill in an economically depressed town is certainly one way to go, but by no means should it be the template. For the time being, it will certainly do.
________________________________________________________________________
Justin R. Wolf is a Maine-based writer who covers green building trends and energy policy.
Weekly Newsletter
Get building science and energy efficiency advice, plus special offers, in your inbox.