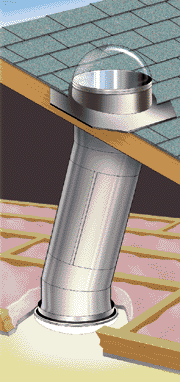 Much attention is focused on efficient lighting—from CFLs and LEDs to advanced controls. But for daytime lighting you can avoid electricity use altogether–with daylighting. Most daylighting is provided with windows or skylights (roof windows that are installed in the plane of the roof). For a lot of applications, there's another, easier option: tubular skylights.
Tubular skylights have three components: a round, domed plastic skylight that mounts on the roof; an 8- to 22-inch-diameter cylindrical metal tube with a highly reflective interior surface that is usually less that 12 feet long, but in some cases may be over 20 feet; and a diffuser that mounts on the ceiling. Sunlight shines through the skylight dome and bounces its way downward through the reflective tube to the diffuser, which delivers the light below. For cold climates, some manufacturers offer an additional layer of glazing in the tube or diffuser to reduce heat loss back up through the tubular skylight.
While a standard skylight requires structural modifications to carry roof loads as well as a large, insulated light-well to bring the light into the living space, a tubular skylight is thin enough that it can fit between roof rafters or trusses and ceiling joists. The installation is much easier and less expensive. Most tubular skylights come with very good flashing kits to make the roof penetration weathertight–though the challenges of any roof penetration shouldn't be underestimated, and an experienced contractor should be used.
Tubular skylights reduce daytime electricity use for lighting. Daylight is only provided only during the daytime, of course, so savings will only occur in applications where spaces are used during the daytime. It's a great option for home offices, home daycare spaces, and homes for retired seniors—but not as good when homeowners are gone all day.
Tubular skylights are most effective in providing illumination to upper-floor or single-story houses where the ceiling is less than 10 or 12 feet from the roof. Installations in which tubular skylights extend through a second storey to provide light to a first-floor space are less common–but can be done.
The key to effective operation is the highly reflective interior surface. These aluminized surfaces often reflect more than 95% of the light striking them. But because the reflectivity is less than 100%, there are light losses with increasing length of these skylights. A tubular skylight delivering daylight through 20 feet of reflective tube will deliver significantly less light that one with just six feet of tubing. Keep that in mind when planning installations.
I haven't lived in a house with tubular skylights, but I've spent time in a handful of homes, apartments, and commercial buildings with them. In a space illuminated by a tubular skylight, you're not really aware that it's sunlight providing the light. From the interior it looks like a fairly standard (really bright) light fixture, with the light evenly distributed by the round, typically white, diffuser. One 13-inch tubular skylight provides as much light as six or seven 100-watt incandescent light bulbs!
Some proponents of skylights point out that full-spectrum light is provided–which can help to stave off "Seasonal Affective Disorder" (SAD), which is thought to result from too little natural light during winter months.
Some products are available with integral electric lighting to provide illumination after the sun goes down. A few other add-ons from some of the dozen or so manufacturers include daylight dimming baffles that allow users to adjust the light level and integral ventilation fans, which may make sense in a bathroom or kitchen.
Costs range from about $150 at the low end to over $600 for the largest, deluxe models, plus installation. Among the leading manufacturers of tubular skylights are Solatube International, Sun-Pipe Company, Velux, HUVCO Daylighting Solutions, Daylighting Technologies, Tubular Skylight, Tru-Lite Skylights, and Sun-Tek Manufacturing.
I would avoid models that earn the 30% federal tax credit, such as the 160 DSe and 290 DSe from Solatube. They satisfy the tax credit requirements for fenestration products by using glazing that limits the U-Factor to 0.28 and solar heat gain coefficient (SHGC) to 0.20 (less than the maximum 0.30 for each). I like the U-Factor limit, but the low SHGC may not make sense for a product designed to deliver daylight. For less solar gain (and illumination), just install a smaller-diameter tubular skylight.
I invite you to share comments on this blog. What's your experience been with tubular skylights?
Alex Wilson is the executive editor of Environmental Building News and founder of BuildingGreen, LLC. To keep up with his latest articles and musings, you can sign up for his Twitter feeds.
Weekly Newsletter
Get building science and energy efficiency advice, plus special offers, in your inbox.