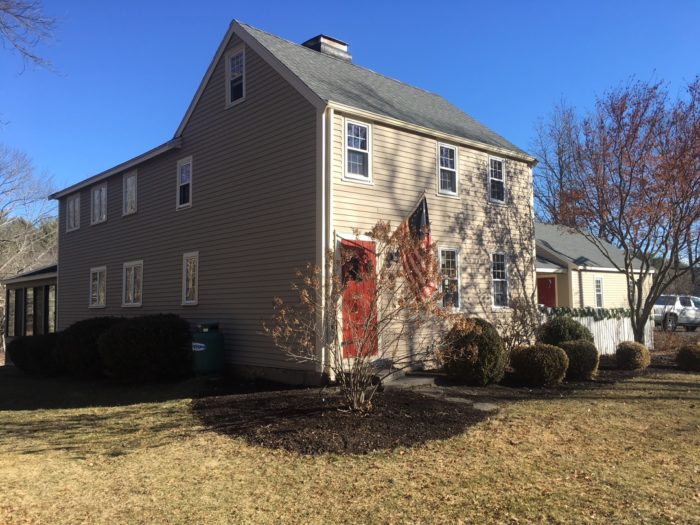 In coastal Massachusetts, Justin Brown is looking for ways to upgrade the energy performance of his very old house. It sounds as if previous owners had taken some steps to tighten up the building envelope, but they didn't go far enough with either air sealing or insulation. Now, Brown wants to complete the job.
One area of particular concern is the attic. It's insulated with a mix of fiberglass and cellulose, he writes in a Q&A post, but a cold snap this winter produced some frost on the underside of the roof sheathing.
Completing the insulation of the foundation walls also is on Brown's to-do list (see the floor plan and images below). The foundation is a mix of poured concrete and fieldstone, and while Brown has added 3 inches of rigid insulation to the concrete foundation walls, the fieldstone walls remain to be done.
"I spent hours digging through cellulose and air sealed some wall plates and open wall cavities that the previous homeowner's air-sealing and insulation contractors clearly missed," Brown writes. "There is one 30-foot exterior wall plate in the eaves I cannot reach to air seal from inside the attic."
The 10 recessed lights in the attic floor have been upgraded with LED airtight retrofits, but are not covered with any insulation. In the basement, the rim joists have been insulated with 2-inch extruded polystyrene and spray foam. But the inside of the foundation walls, a mix of poured concrete and fieldstone, have not been insulated.
Brown has found an ally in his efforts to upgrade. Technicians from Mass Save, a utility energy efficiency program, have visited the house and are offering to remove the existing attic insulation, seal any air leaks that have been overlooked, and add insulation to bring the entire…
Weekly Newsletter
Get building science and energy efficiency advice, plus special offers, in your inbox.
This article is only available to GBA Prime Members
Sign up for a free trial and get instant access to this article as well as GBA's complete library of premium articles and construction details.
Start Free Trial
Already a member? Log in