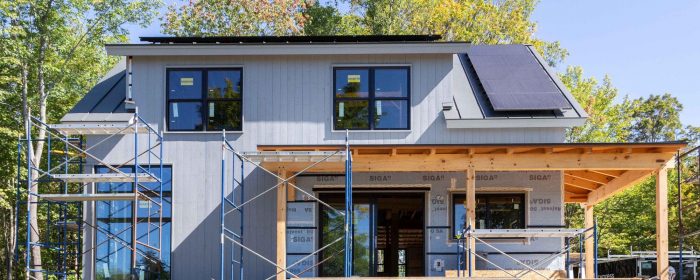 There's a lot to like about the new category of peel-and-stick house wraps but working with them isn't as simple as stapling a water-resistive-barrier (WRB) to the sheathing. This article is intended to offer helpful tips around self-adhered WRBs—from choosing the right product to installing it well, including the potential need for primer, getting a neat installation when rolling for adhesion, and integrating flashings.
Pros and cons
To create a fail-safe WRB, manufacturers have made steady innovations over the past few decades—from asphalt-saturated felt paper to fluid-applied membranes. Recently, adhered membranes have come onto the market promising both a water and an air barrier of uniform thickness that require no fasteners or seam-taping—attractive benefits. The disadvantages of adhered membranes include a labor-intensive process to avoid wrinkling the material, and sometimes the requirement to prime the sheathing for proper adhesion (which may compromise permeability). Some also require the use of special accessories and mastics at penetrations and terminations.
Manufacturers that make peel-and-stick WRBs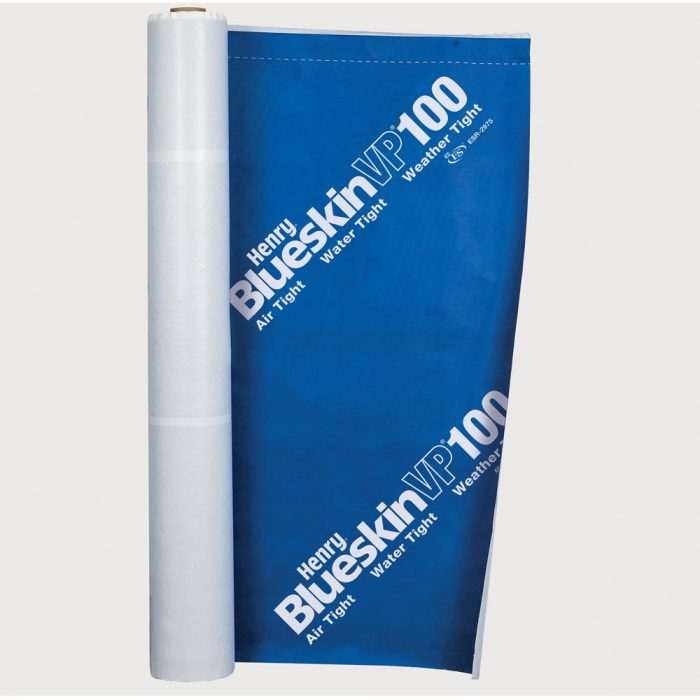 Henry Blueskin 1-2-3 Moisture Control System offers four types of self-adhered WRBs in 100-ft. rolls in five widths—from 4 in. to 48 in. Three membranes qualify as impermeable, while only Blueskin VP100 and VP160 are manufactured with 33 perms. When the material is applied at temperatures below 40ºF or on substrates such as gypsum board, masonry, concrete, and metal, it requires a primer (see below). The UV and climate exposure guarantee runs up to 150 days before cladding installation.
The manufacturer offers two impervious, self-adhering membranes—one for low-temperature applications and one with an aluminum shield for long-term UV exposure. Henry also touts the product's "self-sealing" technology, which ensures its airtightness isn't compromised by any penetrations.
Henry sells two primers to roll or spray on walls before applying the membrane. The company says…
Weekly Newsletter
Get building science and energy efficiency advice, plus special offers, in your inbox.
This article is only available to GBA Prime Members
Sign up for a free trial and get instant access to this article as well as GBA's complete library of premium articles and construction details.
Start Free Trial
Already a member? Log in