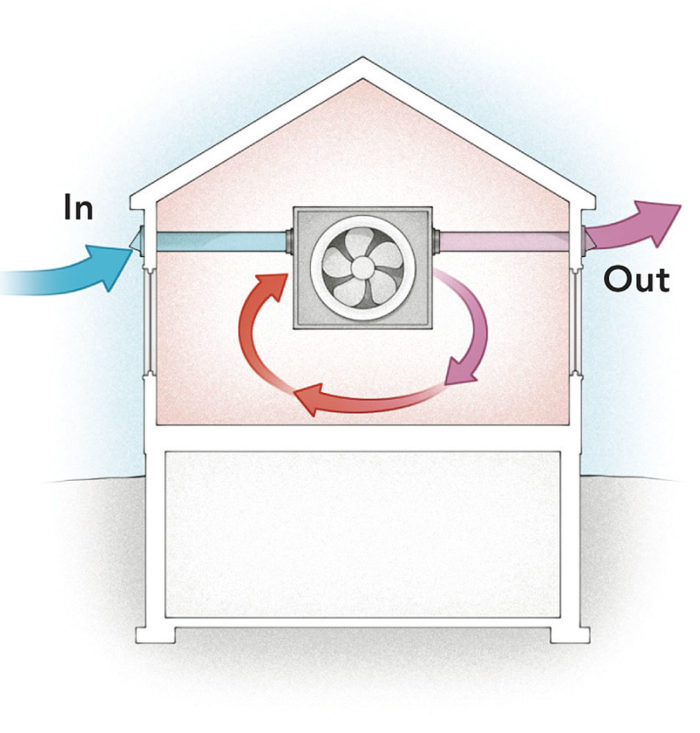 Houses need fresh air. Without ventilation, the quality of indoor air can rapidly become worse than that of the outside air; that holds true even in urban areas. Common contaminants include gases, odors, and moisture, and these can stem from utility rooms, garages, basements, bathrooms, and kitchens.
Until recently, fresh air entered a typical house through various openings, whether intentional (a fan or open window) or unintentional (holes and leaks around windows, rim joists, door jambs, and sheathing penetrations). Over the last few decades, however, houses have become tighter, and the unintentional flow of air through the building envelope has been reduced. Once a house reaches about five air changes per hour (ACH), it's important to start thinking about using mechanical ventilation to ensure indoor-air quality.
In regions with moderate to significant heating and/or cooling loads, HRVs and ERVs are the most efficient means of mechanical ventilation. Depending on the efficiency of the heat exchanger, it can transfer anywhere from 50% to 91% of the conditioned air's heat and energy to the supply air.
Homeowner satisfaction with a recovery ventilator will depend on the answers to three questions: Does it keep the air temperature comfortable? Is it cheap to operate? Is it excessively noisy?
Does it keep the air temperature comfortable?
Comfort speaks to a unit's thermal efficiency. Thermal efficiency is the recovery ventilator's ability to transfer the temperature of the outgoing air to the incoming air. When a unit transfers a high percentage of the heat or cold to the incoming air, the fresh air can be diffused directly into the living space without creating cold drafts in the winter and warm eddies of air in the summer.
To compare the effects of efficiency on indoor-air temperature, let's say the indoor temperature…
Weekly Newsletter
Get building science and energy efficiency advice, plus special offers, in your inbox.
This article is only available to GBA Prime Members
Sign up for a free trial and get instant access to this article as well as GBA's complete library of premium articles and construction details.
Start Free Trial
Already a member? Log in