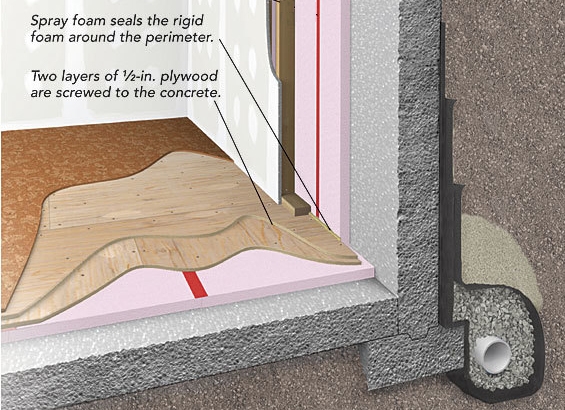 If you're building a new cold-climate home with a basement, you'll probably want to install a continuous horizontal layer of rigid foam under the basement slab. Even though the rigid foam won't save enough energy to justify its cost, it's worth installing for another reason: it will reduce summertime condensation and mold accumulation, and will therefore help your basement smell better. (To learn more about sub-slab foam, see "All About Basements.")
What if you're living in an older house that has an uninsulated basement slab? If you want the benefits of floor insulation, you'll have to install the rigid foam on top of your existing slab.
Three ways that slabs get wet
Before we discuss slab insulation, it's worth reviewing the three basic mechanisms that can make a basement slab damp:
Weekly Newsletter
Get building science and energy efficiency advice, plus special offers, in your inbox.
This article is only available to GBA Prime Members
Sign up for a free trial and get instant access to this article as well as GBA's complete library of premium articles and construction details.
Start Free Trial
Already a member? Log in