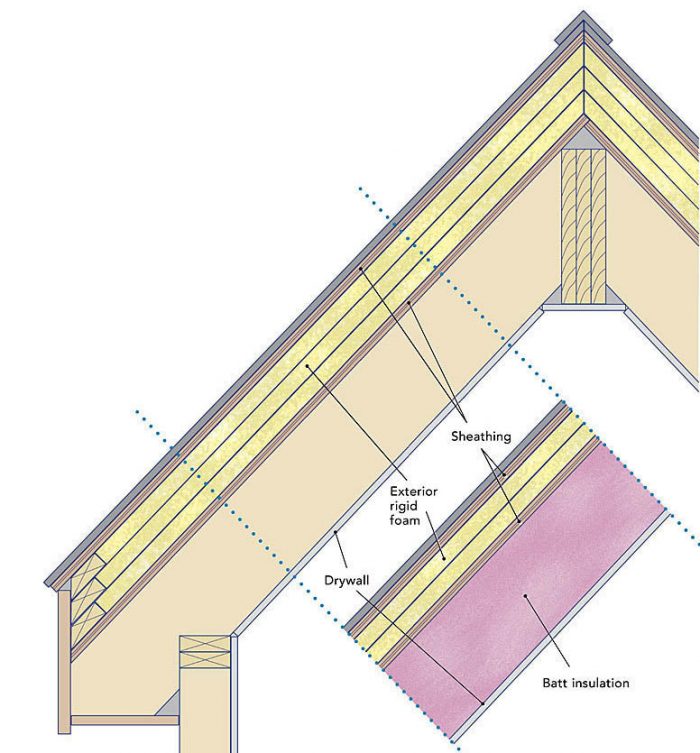 In a traditional house with a gable roof, attics were usually vented and unconditioned, with insulation installed on the attic floor.
These days, however, builders often choose to install insulation that follows the sloping roofline. The reasons for this trend are many:
This approach can be used to create an unvented conditioned attic, allowing attic ducts to be installed inside a home's thermal envelope.
Many modern designs include cathedral ceilings, and cathedral ceilings need insulation that follows the roof slope.
In a Cape Code house, or any house with a half story on the top floor, insulation should usually follow the roof slope.
There are many ways to insulate a sloped roof. The roof assembly can be vented or unvented; insulation can be installed above the roof sheathing, between the rafters, under the rafters, or in a combination of these different locations. For a complete description of all the different ways to insulate a sloped roof, see "How to Build an Insulated Cathedral Ceiling."
In 2015, I wrote an article ("How to Install Rigid Foam On Top of Roof Sheathing") that explained how to create an unvented insulated roof with a continuous layer of rigid foam on the exterior side of the roof sheathing. It's time to update the article with new advice.
An excellent way to insulate a roof
Why is installing exterior rigid foam such a good way to insulate a sloped roof? For at least two reasons: the rigid foam interrupts thermal bridging through the rafters, and it keeps the sheathing warmer and drier than it would be if all the insulation were on the interior side of the roof sheathing.
In recent years, building codes have increased minimum R-value requirements for ceilings and roofs. Code requirements vary by climate and jurisdiction, but in general, the…
Weekly Newsletter
Get building science and energy efficiency advice, plus special offers, in your inbox.
This article is only available to GBA Prime Members
Sign up for a free trial and get instant access to this article as well as GBA's complete library of premium articles and construction details.
Start Free Trial
Already a member? Log in