Although I wrote a 2012 article for Fine Homebuilding on ways to insulate the cramped attic behind a kneewall, I've never written such an article for GBA. So it's clearly time for a comprehensive article on the topic.
A kneewall is sometimes defined as "a short wall under a sloped ceiling." A typical kneewall is between 3 and 5 feet high. In most cases, a room with a kneewall has a sloped ceiling that extends from the top of the kneewall to normal ceiling height—about 8 feet off the floor. At that point the sloped ceiling usually transitions to a horizontal ceiling.
This description applies to the top floor of many one-and-a-half-story homes (like Cape Cod homes) or to a typical bonus room above a garage. Kneewalls can also be found on the top floor of some three-story or four-story buildings.
The illustration below shows the various components I'm talking about. (Note that the word "kneewall" refers to the short wall—not to the cramped attic behind the kneewall.)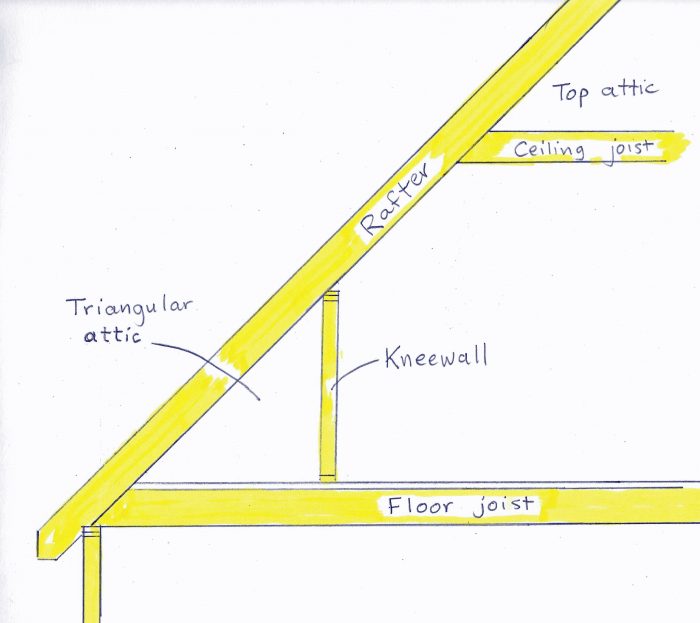 Insulation challenges
If you are insulating a house with kneewalls, you face an important decision: Should the triangular attics behind the kneewalls be included in the home's conditioned space, or should they be excluded?
For a variety of reasons, the best approach is to include these triangular attics within the home's conditioned space. Bringing the triangular attic into the home's conditioned space makes the task of air sealing much simpler, and is the only acceptable method to use if the triangular attic includes ducts or plumbing pipes.
If you go this route, you'll need to insulate along the sloped roof assembly, all the way from the area above the top plate of the exterior wall (at the floor of the attic) up to the "top attic" above the…
Weekly Newsletter
Get building science and energy efficiency advice, plus special offers, in your inbox.
This article is only available to GBA Prime Members
Sign up for a free trial and get instant access to this article as well as GBA's complete library of premium articles and construction details.
Start Free Trial
Already a member? Log in