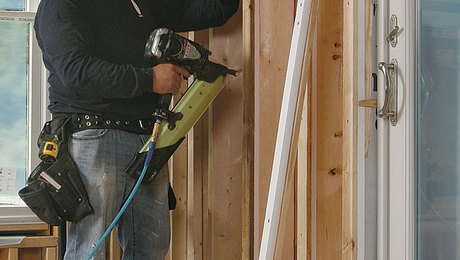 Writing from Long Island, New York, Joe C describes repairs that he's been making to his house to correct water and insect damage. Two of the four walls of the room are exterior walls, and Joe is concerned that thermal bridging through the new framing he's adding significantly degrade energy performance.
"With all the extra studs, I'm concerned there will be a lot of thermal bridging," he says in a Q&A post. "To counteract this I'm considering installing rigid foam [insulation] on the interior side of the wall framing."
For reference, on the outside of the studs is a layer of exterior gypsum board, followed by a small air gap, and then brick veneer.
His plan is to insulate the stud cavities with fiberglass, then add 1/2-inch thick extruded polystyrene (XPS) on the interior side of the wall before installing drywall over the rigid foam. The only 1/2-inch foam available from Home Depot is Owens Corning Foamular, which he says has an R-value of 3.
"Is this a reasonable plan of attack?" Joe C asks. "There shouldn't be any issues drying to the outside. Would condensation on the outside face of the foam board in the summer (AC on in the house) be an issue?"
That's where we start this Q&A Spotlight.
The foam isn't thick enough
Martin Holladay doesn't try to steer Joe C away from his interior insulation approach, but he does suggest the layer of foam Joe wants to use isn't thick enough. For starters, a realistic R-value for 1/2-inch rigid foam is R2.5, not R-3.
"I don't think it's worth doing with less than 1 inch of rigid foam," Holladay says. "Of course, 1 1/2-inch foam would be even better." For more details, Holladay…
Weekly Newsletter
Get building science and energy efficiency advice, plus special offers, in your inbox.
This article is only available to GBA Prime Members
Sign up for a free trial and get instant access to this article as well as GBA's complete library of premium articles and construction details.
Start Free Trial
Already a member? Log in