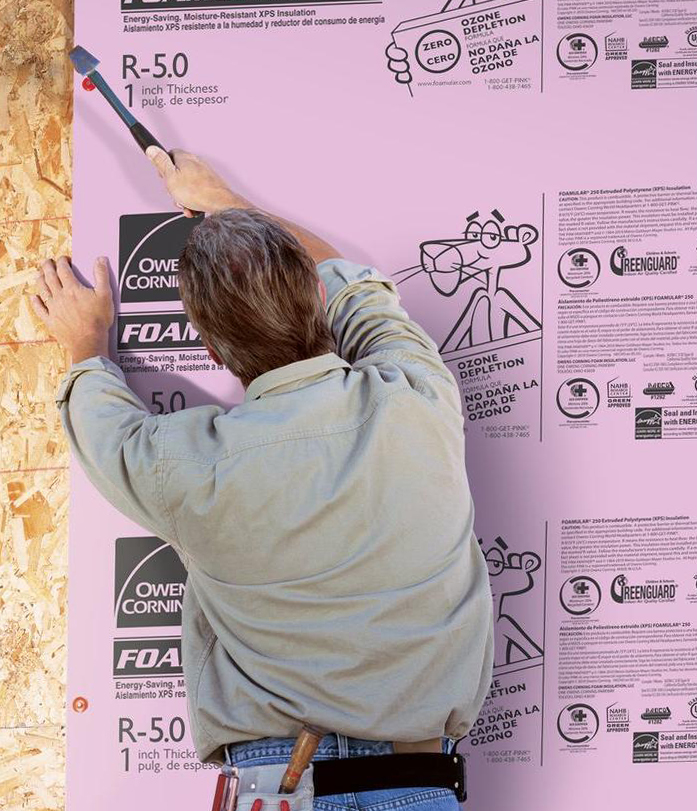 Builders who follow the prescriptive requirements of the 2012 International Residential Code (IRC) in Climate Zone 6, 7, or 8 are required to install a minimum of "20+5 or 13+10" wall insulation. What does this mean? According to an explanatory footnote in the code, the "First value is cavity insulation, [and the] second is continuous insulation or insulated siding, so '13+5' means R-13 cavity insulation plus R-5 continuous insulation or insulated siding."
Here in Vermont (a Climate Zone 6 state), builders have been framing walls with 2x6s for at least 35 or 40 years. Nobody installs R-13 insulation in walls in Vermont, so the most likely way that Vermont builders will comply with this code provision is to install R-20 insulation between the studs and R-5 rigid foam insulation on the exterior side of the wall sheathing.
While this approach meets minimum code requirements, it violates a tenet of good wall design: namely, that any rigid foam installed on the exterior side of wall sheathing needs to be thick enough to keep the sheathing above the dew point during the winter. (For more information on this issue, see Calculating the Minimum Thickness of Rigid Foam Sheathing.)
If you want to eliminate an interior vapor barrier, the code requires thick foam
Cold wall sheathing is more likely to be damp than warm wall sheathing, so the "20+5" requirement is problematic. There's more, however: the 2012 IRC still maintains antiquated vapor barrier requirements. In section R702.7, the code notes that "Class I or II vapor retarders are required on the interior side of frame walls in Climate Zones 5, 6, 7, 8 and Marine 4." That requirement has always been unfortunate, but it has proven to be hard to change.
Of course, if you're building a wall with exterior rigid foam, the wall can no longer dry to the exterior; it needs to be able to dry…
Weekly Newsletter
Get building science and energy efficiency advice, plus special offers, in your inbox.
This article is only available to GBA Prime Members
Sign up for a free trial and get instant access to this article as well as GBA's complete library of premium articles and construction details.
Start Free Trial
Already a member? Log in