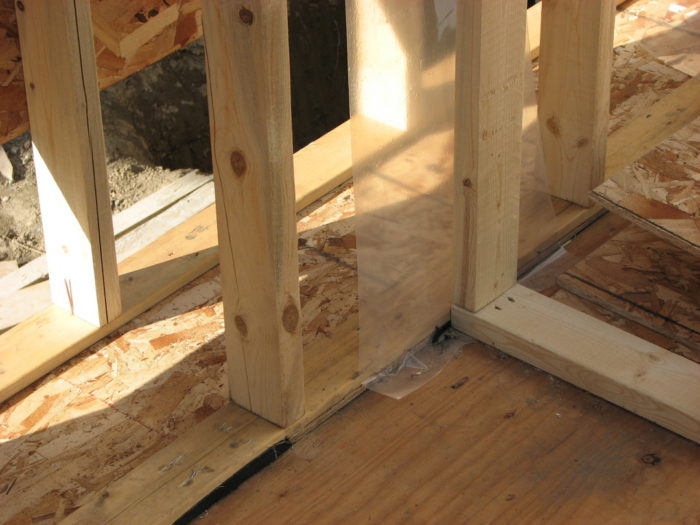 At the recent BuildingEnergy 17 conference in Boston, there were at least two presentations that touched on double-stud walls. John Straube, a professor of building envelope science at the University of Waterloo in Ontario, used his presentation to raise a warning flag, noting that "these walls will work if everything works — if there aren't any defects — but they don't work if there is something wrong."
Jesse Thompson, an architect from Portland, Maine, was one of several presenters at a session called "Evolving Assemblies." Thompson is clearly more of a double-stud fan than Straube. On many of his projects, Thompson said, discussions "keep coming back to the double-stud wall. We tell builders, 'Let's build a house, and then we'll put an extra wall on the inside.' It's easy to explain."
So who's right? Is the double-stud wall risky or robust?
Measuring the moisture content of OSB sheathing
John Straube's comments were made in a presentation called "Moisture Safe? The Writing on the Wall." His co-presenter was Kohta Ueno, an engineer at Building Science Corporation.
Straube told the audience, "There has been a rise in interest in double-stud walls in the last decade. If labor is cheap, this is an inexpensive wall."
Over the years, Straube has been involved in many research projects that show that the sheathing on a double-stud wall has a higher moisture content in late winter than the sheathing on a wall with continuous exterior rigid foam.
At the Boston conference, Straube described one of these research studies. (A report on the study cited by Straube can be found on pages 55 through 117 of The Hygrothermal Performance of Exterior Insulated Wall Systems by Trevor Trainor.)
Straube explained that at the University of Waterloo, "We built a test hut with seven different wall types.…
Weekly Newsletter
Get building science and energy efficiency advice, plus special offers, in your inbox.
This article is only available to GBA Prime Members
Sign up for a free trial and get instant access to this article as well as GBA's complete library of premium articles and construction details.
Start Free Trial
Already a member? Log in