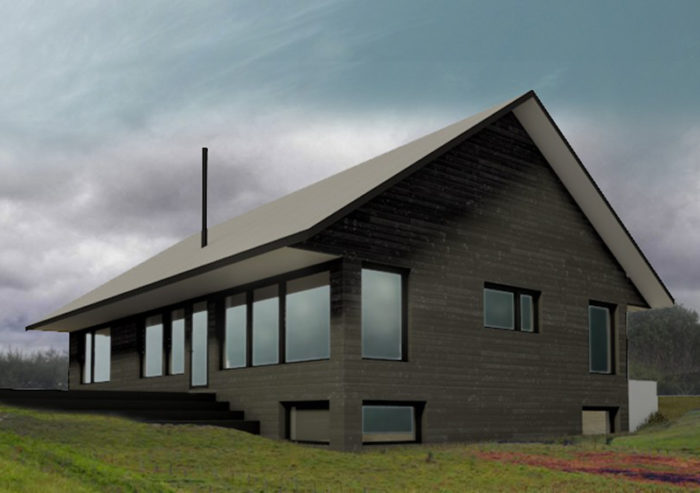 This is something I've been wrestling with since we decided on building a superinsulated, highly energy efficient home. And really this is something that I think a lot of builders, architects, and designers of eco- and green homes have been debating since the Passivhaus concept came to North America in the past few years.
When we initially got going on our project, I was pumped on the possibility of "not needing an active heating system," as Passivhaus enthusiasts have touted. However, that really is not quite true. Although many of these Passivhaus homes in Europe don't necessarily use a boiler or furnace as we do in Canada, they do still technically require some way of heating.
Often that is a heating coil attached to the existing ventilation unit that warms the incoming ventilated air. For our house, the possibility of using such a system simply made no sense.
Passivhaus often justifies some of its standards on "user comfort." Certainly, I agree that user comfort is critical. However, in order to meet some of the rigorous standards of Passivhaus, people have tended to sacrifice comfort to meet the certification. For example, in our project, yes, we could have used this method of heating as a secondary option, but it would not be sufficient to meet all of our heating needs despite the superinsulation. Furthermore, we need a thermal mass (concrete floor) to take advantage of the solar gains to cut down on our heat load.
Those of you who have walked around on a cold concrete floor know that this is pretty uncomfortable (as a physiotherapist, I cannot count the number of people I see who complain about knee, back, and foot pain due to walking on concrete floors at work). That being said, a warmed concrete floor is very pleasant, and strangely comfortable.
Given that we wanted a concrete floor for both thermal mass and aesthetics, it made no sense to me not to use in-floor hydronic heat. In this case, we had to choose user comfort over Passivhaus standards.
Strict energy limits are tough to meet
Another major criticism of the Passivhaus standard concerns the annual source energy limit and the annual heating/cooling consumption limit. These standards are very strict, at 120 kWh per square meter per year and 15 kWh per square meter per year. But is this possible in a very cold Canadian climate?
Indeed this has been shown to be possible in a handful of projects in Canada. But not that many. Why is that? Recently we've run our numbers through the HOT2000 software, a Canadian tool for energy-efficient homes used to calculate energy consumption. It's not as thorough as the PHPP Passivhaus software, but it's pretty good, and it's a lot cheaper to have done.
OK — so here are our numbers:
House size: 1,240 square feet (main floor) + 1,240 square feet (basement) = 2,480 square feet of treated floor area = 230 square meters of treated floor area.
Estimated annual space heating requirement: 7,159 kWh (or 31.13 kWh/m2/year).
Estimated annual electrical space heating (not counting expected wood stove use): 2,342 kWh (or 10.18 kwh/m2/year).
Estimated annual energy use for domestic hot water: 3,409 kWh
Estimated annual energy use for appliances: 8,760 kWh
Total annual energy use: 19,328 kWh (or 84.04 kWh/m2/year).
Wood heat will be important
First, let me explain a couple things. One, we expect to use our wood stove a lot in the winter. I love a wood fire; there is something incredibly comforting about watching wood burn.
Two, I do think that the annual appliance use is on the high side, and I would also argue that our total space heating is also a bit high when comparing it to the Mill Creek NetZero house, an eco-house project using the same wall system in a similar climate.
Nonetheless, let's give these numbers some context:
Our home's projected annual energy use for space heating = 31.13 kWh/m2/year
Our home's annual energy use for space heating (not counting wood stove heat) = 10.18 kWh/m2/year. Compare this to the Passivhaus limit for annual space heating of 15 kWh/m2/year.
The average Canadian home's annual space heating use is 137.2 kWh/m2. (Holy crap, that's high!)
OK, so you can look at the comparison numbers I've provided above for Passivhaus and the average Canadian home versus our place at 31.13 (overall heat requirement) and 10.18 (electrical space heating requirement). Both of these numbers are a lot less than the Canadian average. I'll use the 31.13 number because it is the highest possible use we would need in an extremely cold year without using any wood heat. That is 77.3% less than the average house in Canada! Pretty awesome! And yet, it is twice as high as the Passivhaus standard!
Superinsulation and lots of south-facing glazing
I'll remind you that we are using the following: R-100 ceiling, R-56 above-grade walls, R-28 below grade walls, and R-28 under-slab insulation. We are also having significant south glazing and minimal north glazing. We will be installing the highest efficiency fiberglass windows and we expect the airtightness of the house to meet the Passivhaus standard of 0.60 air changes per hour at 50 pascals.
The bottom line here is that Saskatchewan is a lot colder than Germany. The number of heating degree days in Germany in 2014 was 3,100. The number of heating degree days in Saskatoon in 2014 was 6,035. Well, that's about twice as much, which would account for our need for twice the heating energy – makes sense! Therefore, I have a hard time understanding how the standards for a German Passivhaus can be applied to a very cold Canadian climate.
If we look at our expected total energy consumption (84.04 kWh/m2/year), however, we are actually significantly lower than the Passivhaus standard of 120 kWh/m2/year. [Editor's note: The Passivhaus limit of 120 kWh/m2/year refers to total source energy, not site energy. For a discussion of the difference between source energy and site energy, see Understanding Energy Units.]
This raises the question: In Germany, what accounts for the 105 kWh/m2/year difference? Is their appliance energy use and hot water use that much higher? Or is this particular standard higher to account for the larger homes and buildings that are typically built with Passivhaus?
Anyway, what do these numbers really mean, except to compare apples (Germany) to oranges (Saskatchewan)? We weren't going to be pursing Passivhaus certification anyway. (The approximate price tag for certification is $10,000, and I'd rather put that money into solar panels). But I think it provides an interesting discussion.
A number I can live with
In the end, we will be building a highly efficient, superinsulated house that will consume about 75% to 80% less energy than the average Canadian house. We truly won't know our overall energy consumption until we actually live in the house, so all of these numbers are just estimates.
Yes, you can build a "true" Passivhaus on the prairies, but you'd be looking at making huge financial investments and sacrificing comfort to meet the standards.
I'm reminded of a discussion I had with a local energy efficient home builder recently. He said: "Anyone can build an extremely energy-efficient house with enough money. But to build one on a budget — now that is something impressive."
In the end, we are building on a budget, which should come in at or below the cost of building your average stick-framed house and our energy bills (100% electric) should be in the range of $100 per month. I think I can live with that.
Kent Earle and his wife, Darcie, write a blog called Blue Heron EcoHaus. The blog documents their journey "from urbanites to ruralites," as they plan to build a net-zero superinsulated house on the Canadian prairies.
Weekly Newsletter
Get building science and energy efficiency advice, plus special offers, in your inbox.