Ontario, Canada's most populous province, will increase the energy performance of homes by 15% starting in 2017. The changes are required under the province's updated building code known as SB-12. The two biggest changes are complementary: All new homes must have heat-recovery on their ventilation systems while incentives will be put in place for making buildings more airtight as verified by air leakage testing.
Gone are the days of a principal exhaust-only bath fan as a means for ventilating a house. As of 2017, either a heat-recovery ventilator (HRV) or an energy-recovery ventilator (ERV) will be mandatory. Amen! But are homeowners ready? What about builders, trades, and municipal building inspectors?
Most homeowners don't know much about their ventilation systems, much less how to operate and maintain them. Adding insult to injury, HRVs are poorly understood by building officials and builders alike.
We commission ventilation systems in custom homes and with surprising regularity what we're finding in the field is disturbing. If it's not the homeowner turning the system off, it's tradespeople botching the installation and the municipal inspectors failing to catch installation errors.
The industry is poised for a collision due in large part by lack of education.
Is your tight home a cesspool of mold, mildew, and rot?
The 1980s launch of Canada's avant-garde R-2000 program for high-performance homes never took off. Though tens of thousands of R-2000 homes were built, wide-scale adoption never took hold, largely because of resistance from the home builders association in the early days.
The standard called for very tight homes with heat-recovery ventilators, not to mention limited carpeting for better indoor air quality. Some 30 years later, there's a lot of conjecture about these high-performance houses and why they weren't more popular; ironically, the most damaging allegation is they suffered from poor indoor air quality.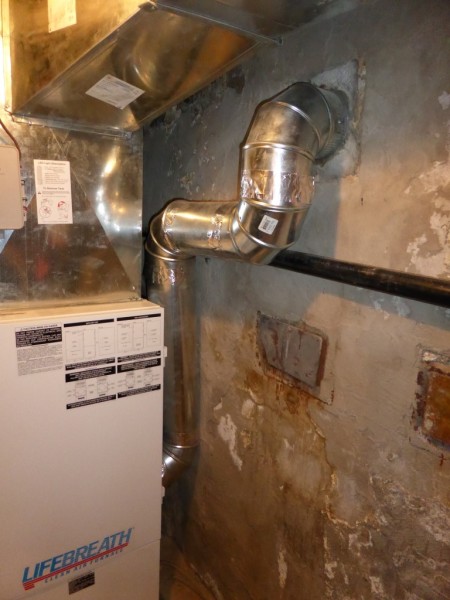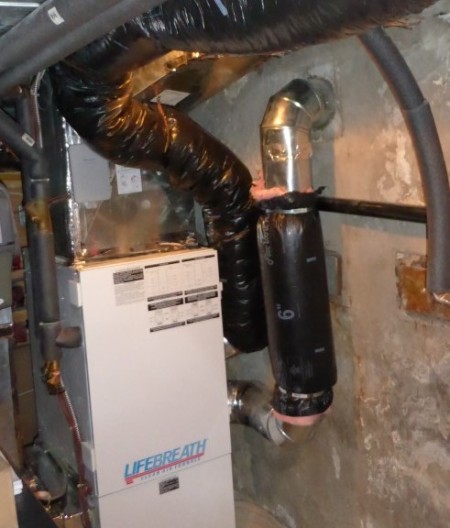 Even celebrity renovator Mike Holmes is on record (in Canada's national newspaper) spewing hyperbole such as, "I remember stories of test homes built so tight, the windows would break if someone slammed the front door. The windows were tiny, and you could literally suffocate in the houses if there was no heat exchanger." This last sentence shows a persistent conflation of windows and ventilation. This notion needs to be dispelled; windows are for connection to the outside world, daylight, and fire egress, not for reliable ventilation of conditioned living space.
Keep in mind that all these homes had HRVs in them. Holmes egregiously adds, "What they didn't realize then was that tight houses were also prone to rot. If homes don't let in some air, they also don't let moisture out, and that moisture gets inside the walls and eats away at the structure. Your nice, tight home becomes a cesspool of mould, mildew and rot. Houses have to breathe."
I'm sure Holmes would take back many of the above statements, but the stigma persists for airtight houses. It doesn't take much for homeowners to get the jitters. It's even possible that a few ignorant people have suffered illnesses because they unplugged their mechanical ventilation system or because it was improperly installed.
Houses need to dry, not breathe
Houses need greater energy efficiency, and the lowest hanging fruit for energy savings is improved airtightness. These days, we're also adding more envelope insulation. The high R-value assemblies result in colder wall sheathing. If conditioned indoor air sneaks through cracks in the envelope, the moisture the air carries may condense inside the colder assembly. So it's crucial that high R-value assemblies be more airtight for the sake of durability.
Prior to this code change, mechanical ventilation systems in Ontario largely consisted of crude and wasteful exhaust-only systems. These bath exhaust fans would grind away in the background, forcing air out of the house, typically through one large principal bath exhaust fan. That would pull fresh air indiscriminately through leaks in the building envelope.
But as we add heat recovery to mechanical ventilation systems, more of the energy contained in the exhaust air will be retained in the living space.
Pulling the plug on loud
In my years of energy auditing, I've found a direct relationship between noise and machine use. The more noise a machine makes, the less likely occupants are to use said machine, even if their health depends on it.
In the last year alone, I visited two homes where the homeowner had unplugged the HRV because it made too much noise or because it caused a draft. Loud kitchen exhaust fans over gas stoves in homes tend not to be used, and ditto loud bath fans — even if the mold on the wet window frames is screaming for fresh air.
The irony is that homes are getting quieter indoors as they become more airtight and better insulated. These significantly quieter new homes tend to make small noises from mechanical equipment seem louder. As a designer, if you're thinking of cheaping out on the ventilation system, be forewarned. The system may get unplugged, and the homeowner will suffer.
In a three-month span, I found two homes in the municipality of Toronto, each less than 1 kilometer from the Humber River, that had disastrously installed HRVs. (See the various photos on this page for more details.). Both systems were permitted by the municipality, and it's reasonable to infer that both systems were inspected and given the green light by the municipality.
For the record, it's not just domestic HRVs — even the expensive European systems are subject to botched installations.
Help homeowners learn about ventilation
The province would be wise to push ventilation system literacy onto homeowners so they don't accidentally pollute the air they breathe. Further, the province would be wise to train building inspectors, designers, and HVAC technicians on what to look for in a properly installed HRV. A bit of training on why it's preferable to have low sone ratings on ventilation equipment and why fully ducted systems are preferable to a "simplified installation" would also be helpful.
As for the mechanical designer of the home or the mechanical system, you'll be mandated to choose equipment that provides heat recovery — so make the house tight to ensure that the HRV earns its keep. You can size a smaller heating plant using actual air leakage rates as described in CAN/CSA-F280. Further, consider having these "lungs of the house" commissioned, not only to catch issues in this budding industry but also to tune the systems so that each room gets the designed quantity of fresh air the occupants deserve.
Greg Labbé is co-owner of BlueGreen Consulting Group, a high-performance home consulting firm that works with architects, builders, and homeowners to optimize the energy performance of new and existing homes through detailed energy modeling and site testing.
Weekly Newsletter
Get building science and energy efficiency advice, plus special offers, in your inbox.