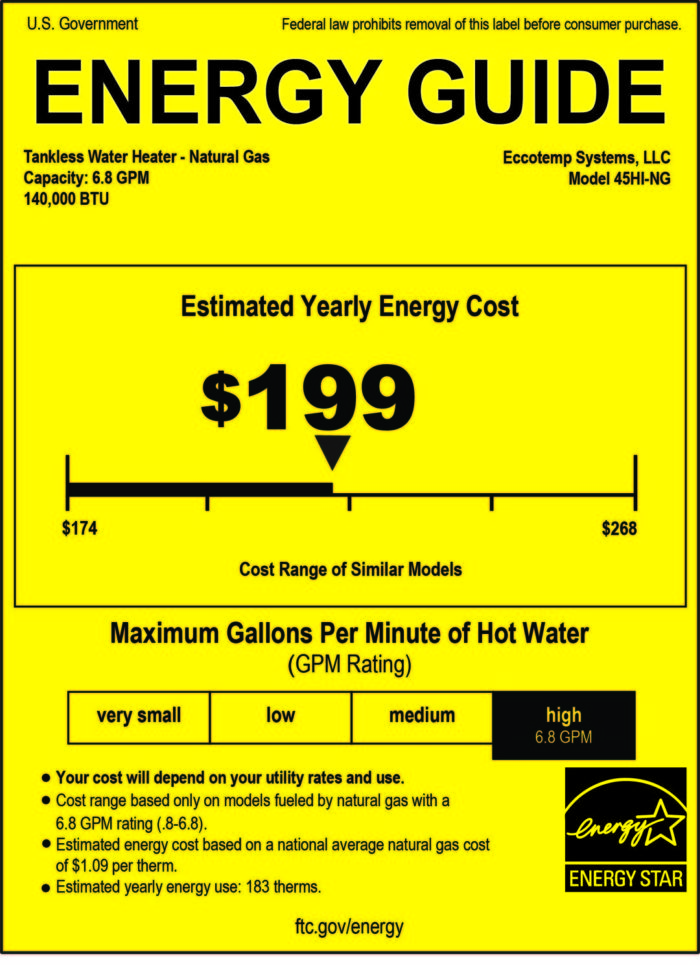 The Department of Energy has updated its testing and labeling standards for residential water heaters, replacing Energy Factor (EF) with a new metric called the Uniform Energy Factor (UEF).
Manufacturers say there's nothing different about their water heaters, only the way the government requires performance data to be collected and reported. Consumers shopping for a hot water heater by using the familiar yellow Energy Guides will see more detailed information than in the past.
Rheem Manufacturing said in a fact sheet that the new standard more accurately reflects real world use and should help consumers make "applies-to-apples" comparisons of different brands. The new rules took effect in June 2017, but manufacturers are still working with code officials and consumers to explain what they mean.
Development of the UEF was prompted by a 2012 law passed by Congress requiring the Department of Energy (DOE) to either revise the old EF metric or create a new one. The department decided to develop a completely new standard and test procedures that all manufacturers must follow, Rheem said.
Rheem suggested that part of the problem with the EF protocol was that manufacturers were interpreting it differently, a potentially confusing situation for consumers.
"Due to inconsistent, unreliable interpretations of High Efficiency (EF) ratings across national brands, all water heating manufacturers are now required to comply with the new DOE testing procedures and rating standards," the company's explainer said.
A.O. Smith explained in its own fact sheet that water heaters are now placed in one of four "bins," based on anticipated hot water usage. The bins are "very small" (10 gallons of daily hot water use); "low" (38 gallons); "medium" (55 gallons); and "high" (84 gallons). Based on the first-hour delivery, a water heater gets a UEF within its bin, with higher UEFs representing greater energy efficiency and lower operating costs.
First-hour ratings, rather than nominal hot water capacity, are key. Bradford White said in an online statement that testing protocols for first-hour hot water delivery have been revamped, resulting in new values for the same appliances.
A.O. Smith cautioned that only UEFs within the same bin should be compared. A "high" bin water heater with a UEF of 0.95, for example, will not have the same efficiency as a "low" bin water heater with an identical UEF.
Shopping by the Energy Guide label
Consumers shopping in a local big box store for a water heater will continue to see the yellow "Energy Guide" labels that list some of the performance specs, like the sample label for a tankless heater shown at the top of this column.
Revised energy labels include several pieces of information:
Storage capacity. For tank style water heaters, storage capacity shows the exact amount of hot water the tank will hold, not just a nominal capacity. Tankless water heaters list gallons per minute.
First hour rating: This is the amount of hot water a consumer can expect to get in the first hour, starting with a full tank of hot water. Results are organized by bin.
The most prominent number is the "Estimated Yearly Energy Cost." Like the old labels, this one shows a range of energy costs among similar models and an estimate of how much the consumer will spend for hot water with this particular appliance.
What's missing? The UEF. Nowhere on the label is the numerical value the new testing protocol should produce.
The Federal Trade Commission (FTC), which administers rules about the label, didn't answer an emailed question about why the UEF is missing, and referred questions to the Department of Energy. The DOE didn't reply to a request for more information.
However, Joshua Greene, vice president for government and industry affairs at A.O. Smith, said by telephone that during the rule-making process, the industry recommended that the UEF be included on Energy Guide labels. The FTC decided against it.
"We as an industry collectively recommended to the FTC that the applicable UEF number for that particular water heater be part of the yellow guide label," he said. "The rationale the FTC gave back to us as to why they were not going to take that recommendation is that that would be one step more than a consumer would have to figure out, and not truly having the intuitive understanding to go through what the UEF really means.
"They felt the more pertinent information was the annualized cost of that water heater to them as a consumer," he continued, "that in the end that was more tangible, more understandable rather than shopping by UEF number and bin."
Greene added the issue would be revisited with the FTC in 2019, when manufacturers get another crack at convincing officials to add the UEF to labeling. He also said the industry had tried to convince DOE to write a primer about the UEF for consumers but so far had not been successful. "We're not there yet," he said.
You can still get the UEF
Shoppers who want to compare similarly sized models by UEF can still do so. One source of information are the manufacturers' own web pages. A.O. Smith, Rheem, and Bradford White, for example, all list the UEF on product descriptions posted at their websites.
Or, Greene said, consumers can call customer support numbers for any manufacturer and ask for the UEF from the product's spec sheet.
More detailed information is available by checking a published list of minimum UEF standards for water heaters of various types.
Buyers who don't want to wade into the details can always use an interactive product selector, like the one A.O. Smith offers at Hotwater.com or the less detailed selector from Rheem.
Mixed reviews
The new test procedures got a mixed reaction from the Appliance Standards Awareness Project (ASAP) when they were announced in 2014.
In a blog posted by the American Council for an Energy-Efficiency Economy, then senior analyst Anthony Fryer said the new procedures were designed to measure energy consumption more accurately for newer types of water heaters, such as tankless, heat pump, and condensing gas water heaters. That was the good news.
But Fryer was critical of the decision not to test heat-pump water heaters (HPWH) at low ambient temperatures, when the devices fall back on built-in electric-resistance elements. Those elements use three times as much energy as the heat pump.
"Because of this sensitivity to low ambient temperature, performance can vary depending on where in the house the unit is installed and what region of the country the house is located in," he wrote. "This means that a unit installed in an unconditioned basement in northern Minnesota is likely to perform very differently from one installed in a garage in Florida."
Heat pump compressors on some models shut down at temperatures as high as 57°F while others continue to operate at 30°F, he said. Rather than factor that into the test protocol, DOE decided to test the water heaters at an ambient temperature of between 66.5 and 68.5°F.
"New water heating technologies offer enormous energy savings potential, and the new DOE test procedure goes part of the way to ensure that all water heaters are tested fairly and accurately," he said. "We hope and expect that it will not be long before DOE revises its test method again to better reflect how HPWHs perform in colder temperatures."
Asked whether those concerns remain true today, Chris Granda of the ASAP said by email:
"Testing HPWH at 70 degrees F ambient can result in significantly lower annual electricity consumption than testing at more realistic ambient temperatures because at the higher ambient temperatures HPWH tend to use less resistance heating. That said, HPWH technology continues to evolve and we haven't reevaluated the current crop of products to see whether the low-temperature cut-out concern is still relevant. In short, ASAP still has this concern, but it requires more study and at the moment there isn't a water heater rulemaking that we could use to encourage DOE to change the test procedure anyway."
Weekly Newsletter
Get building science and energy efficiency advice, plus special offers, in your inbox.