For 20 years, a company called Aeroseal has been marketing a technique to seal air ducts from the inside with an aerosol mist, eliminating leaks that degrade the performance of HVAC systems and waste energy. Aeroseal now says the same approach can be used to seal whole houses, and offers builders a way of simplifying and speeding up one of the most persnickety details of building a high-performance house.
As it is, builders hoping to meet something as stringent as the Passivhaus airtightness requirement or build a net-zero energy house can count on investing many hours in applying acoustical sealant, gaskets, and flashing tape to plug air leaks. Materials alone may run into the thousands of dollars.
David Goodyear, for example, says it took 190 man-hours and some $4,500 (Canadian) in materials to meet the Passive House airtightness requirement on the 2,176 square-foot, two-story house he's building in Flatrock, Newfoundland. Even meeting the much more lenient requirements in model building codes may give some builders a royal headache.
Is there a better way? Ohio-based Aeroseal thinks so. After four years of testing and development, it has started marketing an alternative called AeroBarrier, which it says will prove faster, more reliable and potentially cheaper than air-sealing by hand.
Like the system used to seal air ducts, AeroBarrier works by forcing an atomized sealant into cracks and crevices under pressure and lets the compound gradually plug up leaks. In a few hours, the company says, a typical single-family house can be sealed tightly enough to satisfy most building code requirements. With a little more time, getting to the Passivhaus requirement — 0.6 air changes per hour under 50 pascals of pressure (0.6 ach50)— is entirely possible.
For Aeroseal, adapting the duct-sealing technology originally devised at the University of California made sense as building codes and public interest both lined up behind tighter buildings and better energy efficiency.
"We thought the technology would make a lot of sense in sealing the whole building envelope, which is typically a pretty difficult thing for builders to do effectively," Paul Springer, Aeroseal's manager of business development, said in a telephone call. "We believed that if we could do what we do with Aeroseal on a bigger scale that it would be a great solution for the marketplace."
Here's how it works
According to the company, a house can be sealed any time after rough-in, right up until the time occupants move in. It goes something like this:
Technicians start by setting up a series of spray nozzles (Aeroseal calls them "emitters") throughout the house. The brains of the operation is a machine that controls the flow of sealant to the emitters and controls temperature and humidity inside the building. Depending on the size and layout of the space, installers could use between two and 16 emitters.
Anything that should not be sealed — bathroom fans, for example — must be protected so they don't get plugged. The low-VOC, waterborne latex sealant can fill gaps up to 1/2 inch wide.
With a blower door running, the emitters start misting the sealant. Installers start with 50 pascals of pressure, the same that would be used for a standard blower-door test, but may ratchet that up to as much as 100 pascals. Installers monitor progress on a computer screen. When the building is tight enough to hit whatever target the installer is looking for, the equipment is turned off. Thirty minutes later workers can re-enter the building and get back to work (Aeroseal says the sealant is GreenGuard Gold certified.) During application, everyone but the installer must clear out.
The automated process gives the installer a blower-door readout every 90 seconds. "All the person doing the install has to do is monitor the computer and do what the computer says to do when it tells you to do it," Springer says. "So, if you just want to hit 3 ach50 so you can close on your house and get a certificate of occupancy, we can hit 3 ach50 on the nose. I'm not guessing if I'm going to hit 3 ach50. I know for a fact I'm hitting 3 ach50."
How long the process takes depends on three key factors: the starting air leakage, the volume of the space that's being sealed, and the air leakage target. That's going to vary quite a bit, but the process on a hypothetical single-family house of 2,000 square feet of average construction might take between four and five hours, including setup and cleanup time, according to Springer.
How much does it cost
Cost is the "golden question," Springer said. There's no simple answer and the company doesn't offer a flat fee.
"It's really project based," he said. "If you're starting at 17 ach50 and you want to go to Passive House it's going to cost more than if you start at 7 ach50 and want to go to Passive House."
Installers would like to have at least a rough idea of where they're starting before estimating how long the process will take.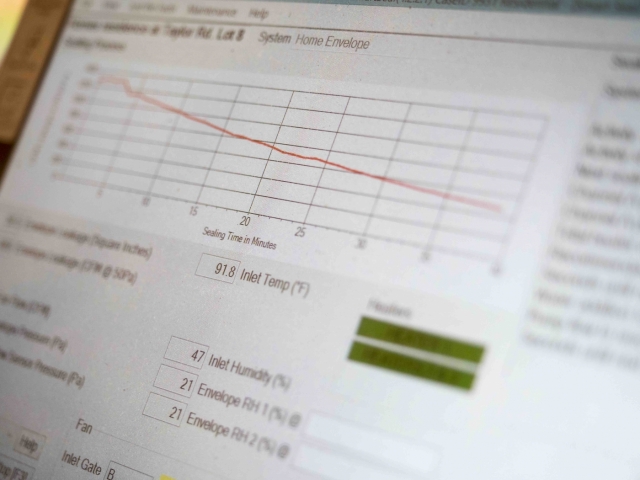 "It's typically priced per square foot, based on volume and different aspects of the project," he said. "It could cost as little as 90 cents a square foot or as much as $4.50 a square foot. It really depends. You can get it as low as 90 cents to $1.50 a square foot. If you don't want certified Passive House, we could get you below 1 ach50 for $1.50 a square foot."
That would make the cost of air-sealing to 1 ach50 or below in a hypothetical 2,000-square-foot house about $3,000.
One key question for builders is how much of the special sealing tapes, foam, gaskets and other specialized products could be eliminated while still getting the house into the 1 ach50 neighborhood or below. Could AeroBarrier replace all of those specialized products, the ones that cost David Goodyear $4,500?
Aeroseal says it is working with the Department of Energy's Building America program to better understand the optimum time for an AeroBarrier application, and what air-sealing products could be skipped by a builder. But the idea, Springer said, is that any product the builder is using specifically for air-sealing and nothing else could be eliminated.
"We could hit point-three ach50 on every install if we really wanted to," he said. "We're tying to have an impact on the building industry by helping builders build better houses every time they build, and take the guesswork out of it. At the end of they day, they have to change nothing in the build process, they can insert us for half a day into the process, and we can hit any number they want."
Experience in the field
Like the Aeroseal duct-sealing technology, AeroBarrier was originally cooked up at the University of California and has been in development for four years. Last year, Aeroseal did some 500 installations using its own crews, but only this year was the technology made generally available. As a result, Springer said, the company doesn't have a ton of data on the long-term durability of the sealant.
"Our subset of testing in the real world is minimal," he said.
However, Springer says lab tests simulating 50 years of wear show negligible degradation of the sealant over that time. He also offered two Building America reports on the use of AeroBarrier in demonstration projects, one in California, the other in Minnesota. The report on the California testing was written by Curtis Harrington, a professional engineer with the University of California-Davis (where the process was originally invented), and Dave Bohac, a professional engineer at the Center for Energy and Environment.
In that field test, AeroBarrier was used to seal four homes in a subdivision in Lodi. Two of the houses were sealed with AeroBarrier after open-cell spray foam had been sprayed at the rim joist and below the roof deck. Here, installers got the houses to an average of 1.09 ach50 at the rough stage of construction (before drywall) with between 1 and 3 hours of sealing time.
"There were slight differences in the time required for sealing and the starting leakage rate which is likely due to differences in the floor plan for the homes," the report says. "The AeroBarrier reduced the leakage in both cases by about 75% bringing them down to 1.11 and 0.95 ACH50, which is roughly 80% below the California requirement of 5 ACH50."
Even before AeroBarrier was applied, these houses were "consistently below code" for airtightness, the report says. "However," it adds, "it appears that the greatest benefit for the AeroBarrier method would be a possible reduction in overall sealing costs by eliminating many of the current sealing practices."
The two other houses in Lodi were sealed before open-cell foam was installed. These required a little more prep work to get the houses to 4.39 ach50 and 3.47 ach50 respectively before AeroBarrier came into the picture. The AeroBarrier process reduced leakage by about 85%, to 2.15 and 1.43 ach50, the report said. After spray foam was installed, air leakage dropped to 1.25 and 1.06 ach50.
"The AeroBarrier installations were all very effective at sealing air leaks in the homes," the report says. "The average tightness achieved was 1.09 ACH50 which is nearly 80% below the California requirement of 5 ACH50, and this is before drywall is installed in the homes. That is compared to an average tightness of 4.10 ACH50 for homes at the same stage of construction but not treated with AeroBarrier."
AeroBarrier's website also includes testimonials from Dwell Development in Seattle, and Mandalay Homes a net-zero developer in Arizona that became a beta tester for AeroBarrier and reports consistent blower door results of 0.6 ach50.
Questions from builders
The process could be a boon for production builders who, in Springer's words, "are struggling to meet code." But both durability and redundancy will be issues for builders to weigh — especially owner/builders who plan on long-term occupancy, not just a sale or a certificate of occupancy.
Eric Whetzel, who is writing a series of posts about building a 1,500-square foot Passive House near Chicago, estimates he has spent about $15,000 on air-sealing products that he's installed himself. He wouldn't even guess how much time he's put into the effort.
"It almost sounds too good to be true," he said in an email. "If it works, it certainly sounds like a game-changer that could make airtight construction available to even the most green-resistant production builder. Presumably, a builder using this product would be counting on it for all, or nearly all, of their air-sealing, so if it fails over time it could be disastrous for the structure."
Goodyear raised the same concerns. In an email, he said: "The only question I would raise is where is the redundancy? I'm not a huge fan of air-sealing without levels of redundancy built in. Should one component fail, another is there to back it up…So, adding multiple products working together decreases the likelihood of failure should the structure change, which it will over the service lifetime of the building.
"It's a great idea," he added, "much more cost effective, but the long-term performance is the big question."
There's also the time factor. In Goodyear's case, that amounted to more than 23 eight-hour days to reach his airtightness goals.
Springer says AeroBarrier could accomplish the same thing in a half-day, and plug leaks that are impossible to see.
"The biggest problem is that if you can't see it you can't seal it," he said. "The chance of missing something is still high. The beauty of our technology is that you don't have to know where it is. Our sealant is going to find it."
Weekly Newsletter
Get building science and energy efficiency advice, plus special offers, in your inbox.